I would appreciate any helpful ideas on organizing toys for my 1 year old daughter. We have not purchased many containers yet. I have seen the shelves with the open bins (interested if people like this or not) and other ideas for a play area and my family room. PLEASE send pictures also if you have examples!
Tina from Somerset, KY

Answers:
Organizing Toys
Here's what I have done, and still do with my 6 year old.

First, go though everything and throw away/give away anything you don't want.

Then, organize everything (dollies, stuffies, outdoor toys) and group together in tubs with lids. Then, rotate everything every couple months or so, so the toys will seem new to the baby (I reminded myself with putting a note on a calendar.)

I also like using those giant Ziploc bags you can buy, they are not as bulky as tubs.
(04/07/2008)

By sarah
Organizing Toys
Here is my toy shelf, I have a family childcare in my home so a single child would not need as much stuff. I have pictures of the contents to help with clean up. (04/08/2008)

By Karen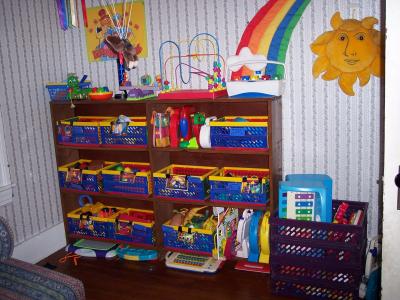 Organizing Toys
As a mom and grandmother of 9, I have discovered the best way to keep toys in "tow" is to separate them. By that I mean, divide them and leave maybe 1/4 of the toys in the room to play with. Children become overwhelmed when there are too many. Once a month or so, take the toys that have been in the child's room and bag them up for future use and bring out another "batch". Just keep rotating them and it will be like Christmas each month! (04/08/2008)
By Grammiecracker
Organizing Toys
Hello! I would also suggest separating the toys with like items. Place them in a bin and then include a picture on the outside. Your child should eventually be able to recognize the picture and help in clean up time. (04/09/2008)

By Amy from Lansing MI
Organizing Toys
I saw this on another site and saved the picture. I am going to make one or maybe two for my niece. They are simply those puzzle mats, you will need six of them. Glue five together to make the sides and bottom of the box and the sixth is loose and goes on for the top. (04/09/2008)

By LEONA LABINE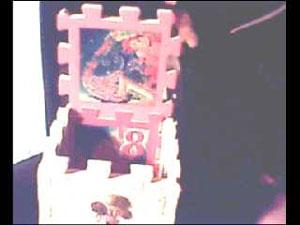 Organizing Toys
I think a deep bookshelf would be good, with shelves wide enough to hold at least 2 containers. Maybe use a top-shelf for books/games and on each lower shelf place containers (with lids if preferred). Divide like-with-like into each container and label the front or stick a picture there. If you want it to be colourful you could use different coloured containers, or match them if you prefer that look.
Containers are very reasonably priced at dollar-type stores, also you can get some bright coloured (kitchen) basins quite cheaply at some hardware stores and these might work too, plus they're dual purpose :) (04/10/2008)
By jojo
Organizing Toys
I also rotate toys. I use the plastic boxes with wheels and lids from IKEA for storage. Pink and white in the girls room and blue in the boys room. They are lightweight and can be easily wheeled from room to room. They cost about $5.00 each! Great bargain! (07/06/2008)

By Bridget
Organizing Toys
I have the toy bins on the shelves. It is very nice. I love it. The nicest part I think is when they start to get too full time to clean them out. The bins also make the room easier to clean. (10/23/2009)

By Stacey