We have two lagre breed dogs (American Bulldogs) that can destroy just about any toy they get. They especially love stuffed animals. But, most of the ones designed for dogs are pricey and don't last with these two. (There is one that resembles a rag doll but designed to look like a cat, snake, etc. that is good.)

My daughter discovered that she can get stuffed animals CHEAP, CHEAP, CHEAP (usually $.99 for a medium sized toy) at Goodwill stores. We just make sure they aren't filled with beads, etc. and when we get them home, we remove the tags, plus any hard plastic parts. I usually wash them first, even though they look clean. Then we give them to the dogs and stand back and watch the fun. (Plus, it's always best to supervise your pets when they play with certain toys.) They have so much fun.

By Pam from Davie, FL

Answers:
Buy Dog Toys At The Thrift Store
We've been doing this for years! Our dogs love when they get new toys and I'm happy to spend 99 cents on something they'll destroy in a week or so. We've also picked them up at Yard Sales, too.

I'm always sure to wash them. Sometimes animals can be sensitive to perfumes or odors. But great tip! (07/10/2009)

By Maggie
Buy Dog Toys At The Thrift Store
This is a great idea as long as the plastic eyes and other face parts are removed, these toys were never meant to be for dogs so be careful of choking hazards! Also, if buying dog or cat toys at the dollar or 99 cent stores, I'd be leery of anything manufactured in China because of the recent food recalls. I read labels now religiously and never buy anything made in China for my dog. (07/10/2009)

Buy Dog Toys At The Thrift Store
I have 2 large dogs so I created the perfect toy for them. I cut the legs off of old blue jeans and tie a knot in the middle of each of the legs. The jeans fabric is really strong and even stronger with the knot. They love these and they last a long time. They also learn not to tear up my little girls stuffed animals this way. (07/10/2009)

By Tammie
Buy Dog Toys at the Thrift Store
Lucky you! The Goodwill here sells them at $4.00 and up for med sized stuffed animals. (07/13/2009)

By Holly
Buy Dog Toys at the Thrift Store
Some good ideas here, but if you have a dog that is like a Tasmanian Devil and can disassemble a stuffed animal in five minutes or less, the used kids' stuffies may not be a good idea.

Even with due vigilance ( taking off eyes, trim and making sure the fill is only polyfill-feel), a hard chewer can immediately tear into one of these and ingest enough fiberfill to either have a choking hazard or a digestive problem ranging from loose stools ( with strings of fill, lots of fun retrieving that!) to an intestinal blockage.

Big, active, power chewers are better off with things like tami 333's idea, the denim tugs are a good, thrifty replacement to some of those pricey fire hose material things you see in the pet stores. (07/13/2009)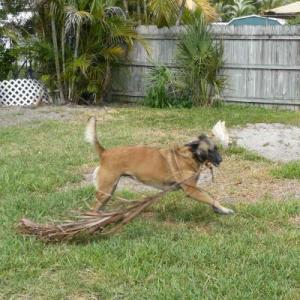 Buy Dog Toys at the Thrift Store
I do the same. But, I go to yard sales, prices are anywhere from .10, .25, .50 and 1.00.

My Georgia loves the ones that talk to her! They will keep her busy for hours! I have to admit though, if I hear Barney sing "I love you, you love me, we're a happy family" one more time, I am going to scream. Needless to say, she does get to play with Barney for a long time. (07/13/2009)

By texylady
Buy Dog Toys at the Thrift Store
We have "power chewers" who would shred any stuffed item, any size. Our solution? Rope toys. The But, rather than spend $7+ at the pet store, we buy them for $0.99 at Save-a-Lot. They're smaller, but last a whole lot longer! Why? Haven't a clue. (07/15/2009)

Buy Dog Toys at the Thrift Store
Okay so I have a dog that can destroy almost anything. She's an American Bulldog, and those fire hose toys are a total waste of money. Good toys to buy are ones from a garage sale for 50 cents. Also wool sock toys, if you can knit. Also toys that are stuffed with tennis balls are awesome and tend to take her much longer to chew through. If any of you are in Canada, check out Pet Planet. They sell really good toys and treats for your pets. (11/30/2009)