I have volunteered for a rescue. I need ideas for dog and cat toys, etc.

By Dogs R Us from Buffalo, NY
Answers:
Rescue Group Needs Ideas for Toys
I made a toy for my cat that is irresistible. My "Roxie" loves it. I knotted one of my old cotton socks at the bottom of the cuff and then shredded (with scissors) the toe part up to the knot, making 1/4 inch to 1/2 inch vertical cuts till the sock resembled a cheerleader's pom pom. Here is a picture of her with it. She's not too enthusiastic since she was napping when I presented it. (05/16/2009)
By Jan Lee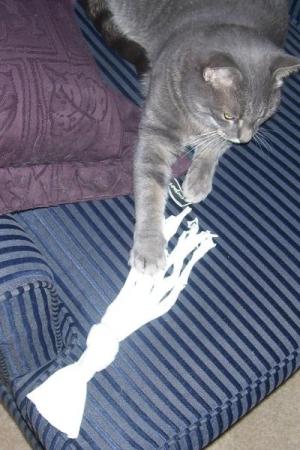 Rescue Group Needs Ideas for Toys
My sister buys stuffed animals from the second hand store for her dog. She only buys the ones that do not have plastic eyes or noses. She said that is how lots of people get chew toys for their dogs. She also told me never to buy used stuffed animals for a child because you never know if they were once a dog's toy. (05/16/2009)
By Anonymous
Rescue Group Needs Ideas for Toys
I got this idea from a cat site: Fill little baby socks with catnip and sew up the top. Almost instant cat toy. My kitty loves it. I made up a bunch at once and put some away for later. I put a jingle bell in with some of them, too. (05/16/2009)

By Toolgirl
Rescue Group Needs Ideas for Toys
For dogs simply knot up some fat rope and unravel the ends. For cats the rings from the lids of milk jugs seem to be my cat's favorite play toys. (05/17/2009)

Rescue Group Needs Ideas for Toys
I make small "pillows" out of scrap fleece or heavy flannel. I add a little catnip inside along with a crinkly plastic shopping bag and double stitch the outside seams to be sure the cats and kittens can't get the plastic bags pulled out anywhere. I have some that are several years old and my cats still play with them. (05/22/2009)
Rescue Group Needs Ideas for Toys
Knotted-up socks are fun chew toys for dogs and a great way to use the ones that always seem to be without a mate.

My cats like tennis balls (which we get for free when we take walks around our neighborhood court, try asking a school or club if you can have the ones that have lost their zing). Please avoid all cat toys that have feathers because my friend's cat chewed one up and got a spine from a feather stuck in the the roof of his mouth, which had to be removed with tweezers (resulting in one mad kitty). (05/22/2009)

By sigma28
Rescue Group Needs Ideas for Toys
If you make the rope toy suggested by SusLuvsVintage, Please cut off the rope strands as they can be chewed off, and swallowed resulting in a trip to the Vet. Been there and paid dearly at the Vet. (05/22/2009)
By JoanDogs

Rescue Group Needs Ideas for Toys
A tennis ball in the toe of an old sock, so when you throw it, the "tail" kind of wiggles like a squirrel. For little puppies these are also easy to catch.

My neighbors swear by a few pebbles in a plastic water bottle (depending on the size of the dog-they have all sizes and use all sizes of water bottles) she throws it for her 4 dogs, and they love it, it crinkles when they pick it up, and the stones rattle when they shake it.
She has added these "rattles" to her play pillows in the house (she shaped them like dog biscuits) and put fiber batting to fill in the other areas, and just sewed them up with the seams on the outside, the dogs don't care (she used left over animal print fleece for the pillow part). Her dogs shake the those like they are trying to kill something, and the "rattle" in the pillow makes all kinds of noise. (05/26/2009)

By savory633
Rescue Group Needs Ideas for Toys
I took a 3 foot piece of yarn and tied it to the end of a dowel rod. On the other end I tied an old toy that my cats didn't play with anymore. I control the "stick" end. My cats love this game, when I get it out they all come running. (09/10/2009)

By tlc0324