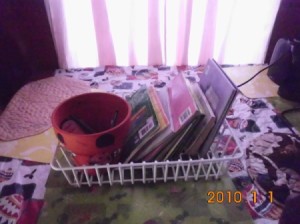 Dish drainers are cheap nowadays and can be bought at the dollar store. You can use them to organize your desk and kids books in their rooms. Some drainers even have silverware holders to hold your pens and pencils. I thought this was a cool idea!
Source: Simply Frugal
By coville123 from Brockville, Ontario
Read More

Comments
I am a receptionist and my office desk is so unorganized with pencils/ink pens and scissors laying around, desk trays, date stamp, rolodex, tape dispenser, etc. I have a large office and it looks so dull. Does anyone have any ideas on how I can organize my desk?
Onesummer from CA
Answers
January 20, 2007
0

found this helpful
Go to the dollar store, most have some great organizing devices. If you can find a silverware organizer, take a black sharpie marker, and write the name of the item that belongs in that section onto it. that way you won't have to remb. where everything goes.
January 22, 2007
0

found this helpful
I use little trays to organize everything. I also would be interested in finding neat ideas for office decorations - pictures, etc. I want to maintain a very professional office, but don't have a lot of funds to decorate. Any ideas would be much appreciated.
Sheri
By Cheryl from Missouri (Guest Post)
January 22, 2007
0

found this helpful
Try a lazy susan for the rubber stamps, etc. Puts everything in one place and makes it easy to find. If you have a file cabinet next to your desk try using magnetic pockets or cups to keep pens and such handy.
January 23, 2007
0

found this helpful
You can find a lot of great items for organization at the Dollar Store or Wal-mart. A large coffee mug can hold pens, highlighters, etc. while adding personality to your desk. Baskets are my favorite way to organize! You can find all kinds of inexpensive ones in all different shapes, sizes and colors. They can hold books, manuals, and other items in the floor leaving your desk free from clutter. Letter trays are always pretty inexpensive at the Dollar Store. You can also find pretty folders there to help add pizzazz. Calendars are on sale right now, so you could find some really pretty ones at 1/2 price or more. You could get one to lay flat on your desk or hang on the wall as part of the decor. Don't forget to bring in pictures of loved ones and pets in inexpensive frames to set around to help cheer you up each day!
By Jenny (Guest Post)
January 23, 2007
0

found this helpful
We have the same problem. What we did is corral little odds and ends into clear plastic tupperware by type, even without the lids. They stack on each other and everything is clearly visible. We also installed file trays that stack on each other and labeled them, so at least we know where everything is. The hardest part with this is making sure everything goes where it belongs. Good luck!
January 23, 2007
0

found this helpful
Thrift stores and dollar stores, and Big Lots offer the most variety. Think outside the box! Unusual baskets make great "collectors." So do short, wide etched glasses (drinking). I have a couple that I lined with purple translucent paper and then stood pens, scissors, markers, etc., in them. You can vary shapes or textures, or go for a unified theme depending on your space. I prefer several smaller containers versus larger ones. None of my holders is standard office issue and it looks great! I get lots of compliments. Also, if you haven't done so already, a small lamp or two strategically placed in the desk work areas makes the space look much more homey and I find it easier to work on tasks with them on.
By Gurth (Guest Post)
January 24, 2007
0

found this helpful
I use a cutlery tray that fits into a drawer for my stationery.
February 4, 2007
1

found this helpful
Do take a serious look at how much stuff really needs to be on the top of your desk - if you're not using it say, twice a week, it's taking up prime real estate and should be in a drawer! :)
By Mel (Guest Post)
July 26, 2007
0

found this helpful
I hate full pen holders on my desk that look messy. I also hate when people walk off with my pens...so I had this idea - you know how some places attach plastic flatware to their pens? Tacky, right? Well, I also wanted to add some nice silk flowers to my desk, so I did both! I bought half a dozen really pretty tulips and some floral tape. I cut the flower stems down a bit and attached them to my pens. Then I bought a tall cylindrical vase at Wal-mart for 3 bucks and some clear glass beads. I put the pen/flowers into the beads, and viola! Pens people can use, they look pretty, and my pens don't walk away. Also, I get a lot of compliments on my idea. A friend of mine took the idea in a little different direction that I thought was another cute idea. She loves the smell of coffee, so she used coffee beans instead of glass beads, and she put her flowers in a terra cotta pot. SO CUTE!!
Answer

this Question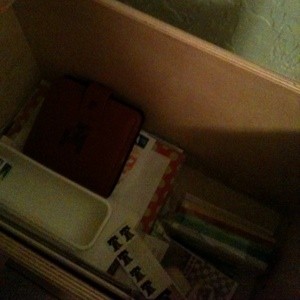 How can I better utilize all of this drawer space? I have an absolutely massive office drawer and I have some stuff in it, but it's all so difficult to access and gets so messy so quickly! I want to use the drawer for stationary and the other drawer on the other side for computer/electronic stuff.
Underneath all of the visible items is a 1000 page ream of computer paper, that's how deep the drawer is. The solution it has to be super cheap or DIY. Thank you.
By Jennie from Tempe, AZ
Answers
August 27, 2010
0

found this helpful
When I had a large computer desk I used several small boxes that I put together on one side. Sort of like tetris sideways. I left a large area on the right for folders (I used to have a lot of stuff in folders and no cabinet). But the boxes helped keep things organized to acquire quickly.
August 28, 2010
0

found this helpful
I'd say go to a dollar store and get some cheap little baskets. I have used a wire file rack on my shelving unit on the wall to help with filing of upright folders. Also, I bought a 2 tier plastic in-basket like they use on desk tops to hold my paper reams in. It looks neat. Use small baskets to hold little items. Go to the dollar store to get ideas.
August 30, 2010
0

found this helpful
Would it be possible to put in a hanging file folder frame and put handing file folders on it? You could definitely use that to store stationery. You can certainly put those little plastic label holders on the file folders to make it easy to see your stuff. The frame, file folders, and label holders are very inexpensive. As far as the other drawer for computer stuff, I would look for some kind of cheap plastic baskets at a dollar store (or even discarded cardboard boxes) to create areas to put stuff, like an area for hard drives, another area for mice, and another for whatever.
September 4, 2010
0

found this helpful
I've used a cutlery tray, picked up at a garage sale, to 'divide and conquer' in my desk drawer. It has a smaller sliding tray on top which provides extra compartments. My drawer is quite wide but your drawer looks deeper. You could still store your paper reams beneath a cutlery tray as it would be easy to just lift out the tray when you needed paper.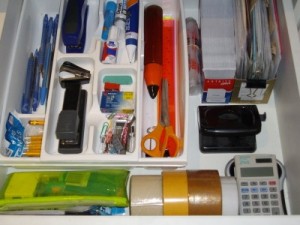 Read More

Answers
How do I organize my desk with folders, books, and other school stuff in it?
By Jessica

Answers
February 6, 2012
0

found this helpful
I use a coffee mug on our dining room table. In it are several pens, mechanical pencils, a pair of scissors, what I refer to as a "box cutter," and two books of postage stamps. Its an Office in a Mug! (chuckle)
If you don't have an organizer for the center drawer of your desk, use an inexpensive cutlery tray. It organizes your pens and other items so they don't roll around.
Have fun organizing your desk! Be creative.
Answer

this Question