I use cardboard squares, which I cut out of cartons, etc., to put in the corner of the guinea pig cage and also in the ferret cage. These animals usually pick a couple of places to go and go there all the time, making this idea work. I just throw away the soiled square, it is so easy.
The squares, in a bigger size also work great for the bottom of the litter box, covered with baking soda and then the litter poured over it. I do this for the litter box most of the time. When it is time to change the litter, there is already a tool to scrape the box out with :).
My ferrets refuse to use the litter box, they are free spirits. Look at Stinker, or Tinker, trying to get out of the cage instead of take her daytime nap.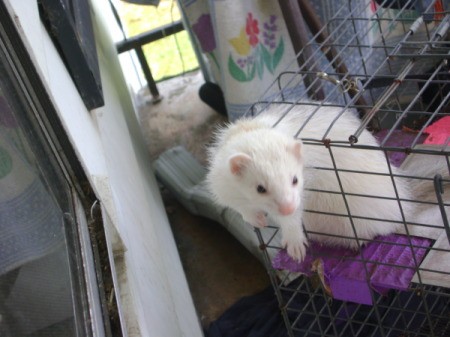 I would already be tearing up cardboard to throw away anyway, so this gives it an extra use before it gets burned or ends up in the landfill.
I also use cardboard squares in the garden to keep weeds from growing. I simply put them in a place and cover them with dirt. I usually dig a moat-like thing around the cardboard square, then use the dirt from that. Then I plant on top of it. I have a picture of a potato hill I made this way, only using an old dog blanket. Of course, this is my yard, where my favorite flowers, Morning Glories have free reign, and they take over everything. They are taking over the potato hill, and then the bugs on the potatoes are killing the plants, but I enjoy the circular flower beds, with no regular weeds in it, anyway.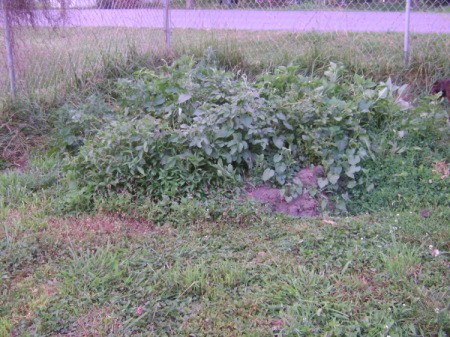 I might end up putting the cheap solar lights from Walmart around this potato hill, as a kind of funny thing. I will do it in honor of my Dad, who was an innovator, an inventor, an engineer, and a nurse. I love, and remember him, especially this time of year, since this is the 8th anniversary of his passing into heaven. He once considered putting a fake UFO in the backyard, but decided against it, but I still remember he wanted to do that.
By Robin F. from Hampton, TN