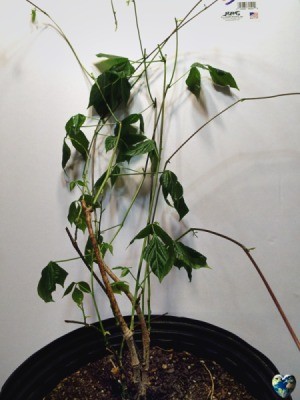 In an earlier post, I mentioned how expensive Cochliasanthus Caracalla seed were. I bought some, anyway. I mentioned in the post that when I harvested my own seed, I would be more than glad to share with anyone who wanted them.
I spoke too soon. While growing these plants, I learned that they almost never pollinate themselves. Hence, they almost never produce seed, naturally. By the time I learned this, and then learned how to hand pollinate the flowers, it was too late.
I did successfully hand pollinate several flowers and they did produce tiny seed pods. But it was too late in the season for the seeds to mature and ripen before frost.
Not wanting to pay far too much for seed, again, I decided to try overwintering a couple plants. If they survived, I wouldn't have to buy seed, plus I would have some established plants in the spring. That should mean earlier flowering and an earlier chance to hand pollinate the flowers.
I did find a much cheaper source for seed, and as extra insurance I bought another ten ($5.00 & free shipping). They can be purchased on Ebay.
I won't make such a bold statement, again. This time, I will wait and see if I do harvest seed, and if I do, I will then offer them again to fellow ThriftyFun members.
This post is also a follow up on the plants I'm trying to overwinter. First, let me say, these plants have a large root system. My pots were sitting on the ground. When I lifted them to bring them inside, I found that roots had escaped through the drain holes and continued to grow, some as much as five feet. So, if you plan to grow your own and plan to overwinter them inside, do make sure they are in 5 gallon buckets. I had to trim several feet of roots before bringing them in.
The top picture shows one of the plants I brought in. I cut off about 20 feet of vine, leaving about one foot. It sat for two weeks and did nothing. I gave it water. Overnight, it grew two feet! I was shocked, I even told my ag agent about it. Since then, I've had to cut back several inches almost every day. I am confident this plant will make it through the Winter. And as the sunlight is already getting stronger, I will take then outside when the light is bright and the temperature is above forty degrees.
This plant is easily propagated. The bottom picture shows a side shoot I rooted. I forgot about it and the frost killed the top. I brought it inside, anyway. In a few days it produced a tiny side shoot. It too, should make it through the Winter. I will keep you posted.
For those of you who didn't read my earlier post or are not familiar with this exceptionally beautiful and heavily scented flower, here is a link to the post and some nice pictures.