I want black counter tops with a faux granite look. I am clueless on what to buy to start and what colors to get to complete the look. Does anyone have any pictures? Any help would be appreciated.
Abbey from Ohio
Answers:
Painting Counter Tops To Look Like Granite
I just recently finished the countertops in my bathroom and I am now working on my kitchen countertops. I used an oil based primer, and kitchen and bath paint for the base coat. Below you will find a picture of my bathroom countertop. You will need to get a dark oil-based primer since you want to paint it black. Here are the steps I used:


1) Clean Surface well (I used bleach and then orange cleaner)
2) Apply oil based primer (let it dry)
3) Lightly sand to remove any rough spots
4) Apply base coat (Your base will be the black paint) (let it dry)
5) Apply additional colors you would like with a sponge (allow color to dry before applying a second color)
6) After you have the look that you want, sponge with base coat, to even any colors that may be standing out more than you would like
7) Once everything is completely dry, apply 3-4 coats of polyurethane (oil base)
8) Use a thin layer for each coat, every coat with the exception of the final coat will need to dry completely and be lightly sanded in between coats.
I hope this helps. (04/27/2008)

By lvngitup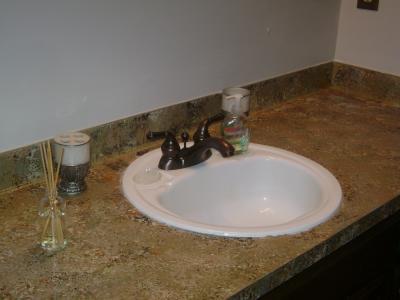 Painting Counter Tops To Look Like Granite
(submitted via email)

Hi, I did this about 10 years ago. I cleaned the counter top with TSP and hot water then sanded the area. Make sure and clean after sanding. I painted the counter black using black varathane, make sure it dries thoroughly then sand lightly. Paint black again, thoroughly dry. Sand lightly, and clean. Then put a little white varathane paint in a lid and, using an old toothbrush, set the bristles lightly in the paint and with an old knife (or your finger) splatter the white over the black. An old sieve or fine mesh screen works too. Make sure the white is fine not globby. Let dry then mix a small amount of the white and black for a dark grey, and again splatter it on the counter. You can add as you like but be sure to dry each time or it will get 'muddy' looking, not sharp. Practice the splatter until you get it just right. Let dry and lightly sand and then put a couple coats of clear varathane. This is a long process and takes time to let it dry between each coat but I had so many wonderful comments. Most people thought I had bought new counter tops. Good luck.
unita (04/28/2008)

By jess
Painting Counter Tops To Look Like Granite
I really like this idea. What was the original counter surface? Can I do it with my melamine counters? (04/30/2008)

By sarabee
Painting Counter Tops To Look Like Granite
They have a kit for that. (05/01/2008)

By cece
Painting Counter Tops To Look Like Granite
This is what I did. I used a coat of high adhesion primer on a clean counter top. After it dried I used two coats of black latex and then used a natural sponge with which I dabbed on white paint. I let each coat dry between doing things. I then used three coats of a clear top coat. I hope this helps. (05/01/2008)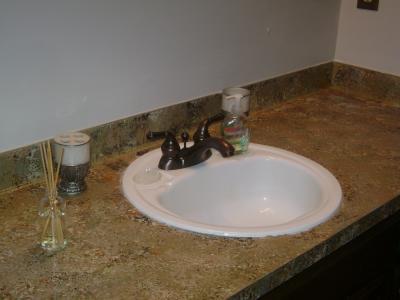 Painting Counter Tops To Look Like Granite
(submitted via email)

I see you wrote this several months ago. Wondering if you ever problem solved your counter issues? I painted mine, too. However, I used water based poly and applied with a foam roller (4 coats). Oil based is much more difficult to work with on a surface such as a counter and water based is considered to be just as tough. It also dries in hours as opposed to days and has virtually no odor. Turned out beautifully. Hope yours worked out. Kathryn

Email: roberts145 AT verizon.net (01/25/2009)

By Sally_Admin
Painting Counter Tops To Look Like Granite
I did my counter tops, primed, painted with latex rustoleum, and used the envirotex in November...awesome! Love the look, no color change in the paint and it went very well doing it by myself. Another hand would have helped. Good luck. (01/25/2009)
By Joan