I would like the instructions on how to get granite looking countertops.

By kenocyndy from Sarasota, FL
Answers:
Painting Counter Tops To Look Like Granite
Not sure about how to get the granite look, but the lady who did her counters sure did a fantastic job! With the white cabinets, here's what I did. I found a sand colored quart of paint that matched the colors of my counter and I sponge painted just the doors of the cabinets. The rest of the cabinets are white. It was very easy to do and I always get compliments on them. (05/12/2009)

By kimmcg
Painting Counter Tops To Look Like Granite
I painted my counter tops about 6 months ago. I didn't go with granite effect, but I did find an actual counter top paint at Menard's for $20. It's made by rust-o-leum and they can mix it to 16 colors. So far this paint is super durable, I use scrubby pads and razor blades to get sticky stuff up and still no scratches or paint peeling.

As a bonus, it's easy to apply. A light sanding and you roll it on with a small super smooth roller. (05/23/2009)

By boxergirl76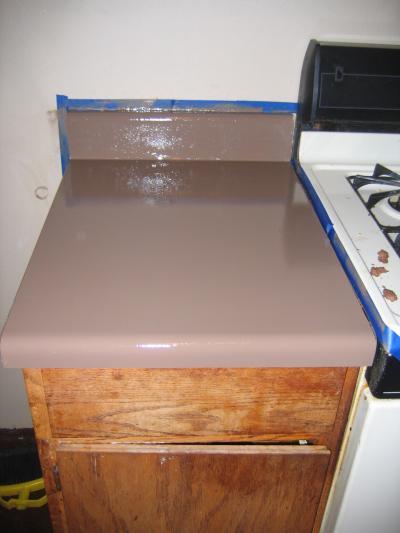 Painting Counter Tops To Look Like Granite
I have investigated this exact thing. Go to google and put in a search for faux granite counters and you will come up with several responses. There is one lady who did all her kitchen counters and it cost her $70. Good luck!

P.S. I am just down the road from you. I am in North Port. LOL (05/24/2009)

By caraing
Painting Counter Tops To Look Like Granite
I sprayed clean formica with rustoleum hammered copper spray paint and it is beautiful. I applied valspar "steel" patina with a damp sea sponge. Carefully add a small amount of black by sea sponge or stippling (all granite has at lest a little black). Add any colors you want to get a depth appearance. Dry each coat thoroughly and use water based paints. To finish mix a resin/hardener product that pours and self settles to coat, seal and shine your counter. Mine are gorgeous! Be sure to protect everything else. (05/26/2009)
By earthgirl