I am repainting my laminate countertops. They were painted about 6-7 years ago, now they have a few more dings and scratches. I have sanded and primed with 2 coats of Gripper Grey primer and have applied my 2nd coat of high gloss enamel. It is not blending well, a lot of brush lines are showing through. Any suggestions?
By Daltonsmom from GA
Answers:
Painting Laminate Countertops
I want to say that this site is awesome. I don't know how to get more than one pic on at a time so I will do this in parts so you can see it all. I started by cleaning with vinegar and then lightly sanding all my work. I did 2 bathroom vanities and my kitchen. I will post my kitchen pics first then the bathrooms. I will also include pics of how I raised up my sinks. I didn't want a "lip" around them that you get even using tape. This was done by unscrewing from underneath then using 2 2x4's cut a little higher that the distance from the floor to the bottom of the sink and wedging them in. It didn't interfere with the plumbing at all and I could put the paint and sealer right under the sink. Much nicer look. The first bathroom vanity I just taped the sink and it has that "lip".
I used an oil based primer (Kilz) after cleaning and lightly sanding. When it dried I put a water based coat of paint on the whole thing then took 3 colors plus metallic gold craft paints with a sea sponge cut into different sizes and started patting away. When I got what I wanted I used water based Varithane for "floors" to seal it. I did 5 coats lightly sanding in between each application. It can be re-coated after 2 hours of drying time. I waited a week before I sat anything on them, but I don't think I would have had to. It says on the can that "normal walking" can be done after 3 days.

Remember, you can put water based stuff over oil, but you cannot put oil based over water. You will get bad results if you do. The pics I have don't really show how pretty they actually are. They shine beautifully and I am using them like I would normal counters. My friends love them and want me to do theirs.
So here is the kitchen pics. Sorry if I do too many posts, but I tried to put them in a collage and it was way to small to see them. (07/16/2009)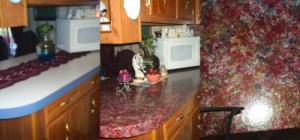 Painting Laminate Countertops
These are more kitchen. (07/16/2009)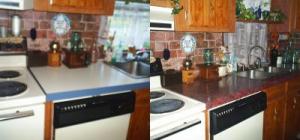 Painting Laminate Countertops
I didn't realize that everything I wrote to begin with would be on the "bottom" you'll have to scroll down and read up I guess. This is the end of kitchen pics. (07/16/2009)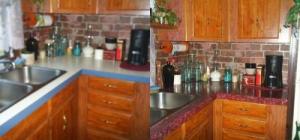 Painting Laminate Countertops
This is the bathroom that ended up with the lip on the sink It's not bad, but I wish I would have thought to raise the sink first. (07/16/2009)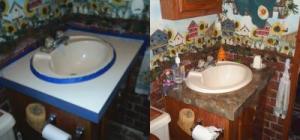 Painting Laminate Countertops
This is the second bathroom. (07/16/2009)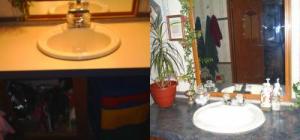 Painting Laminate Countertops
If you scroll down to where I started my first post this picture will make sense. I raised up the sinks so there wouldn't be any build up or lip left after painting. It's explained further down. (07/16/2009)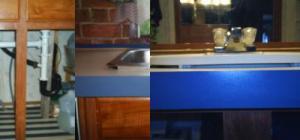 Painting Laminate Countertops
I really loved "Jesse's Five Colour Countertops", but since I'm in the U.S. I couldn't find the colors. I recently went to Canada and while I was there picked up the color swatches to get them color matched here. I really wanted Jesse's countertops. I took them to Lowe's and got them color matched. I just got the tiny sample cans. I figured I'd share the color recipes:
Whalley Abbey: Valspar Satin Base 2: 101-4.25 107-3.5 104-1.725
Contemporary White: Valspar Satin Base 1: 107-0.5 104-0.25 105-3.5
Dark Magic: Valspar Satin Base 4: 101-14.75 107-12 109-1.75 113-8.25
Gothic: Valspar Satin Base 4: 101-6.5 107-6.75 104-2.5 113-19.750
(07/18/2009)
By Liz4891
Painting Laminate Countertops
We ended up using the RustOleum Countertop Coating for our bathroom countertop, and are pretty well pleased with the results. The only problem that we encountered was that when using a foam roller, as suggested in the directions, we always ended up with slight roller marks on the top. I ended up putting a couple of coats on, but always ended up with these slight marks. Maybe it was just my technique, but I was not satisfied with the finish, so I ended up using a cheap HVLP sprayer, and sprayed the finish with a slight textured finish.

Here are the before and after photos of our countertop; we used the "Wheat" color and the RustOlem Countertop Coating as seen here: rustoleum.com.

It's only been on about a week, so we'll have to wait and see how it holds up, but right now we are very pleased with the results. (08/13/2009)

By DC84N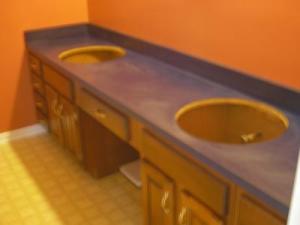 Painting Laminate Countertops
Here's the "After" photo. (08/13/2009)

By DC84N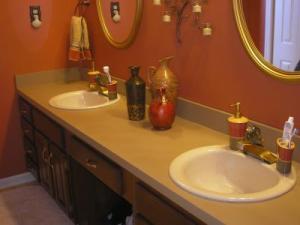 Painting Laminate Countertops
This is a picture before I started my painting. (08/24/2009)

By jdiel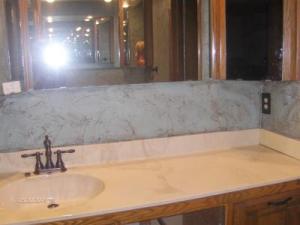 Painting Laminate Countertops
This is a picture after I finished my counter tops. (08/24/2009)

By jdiel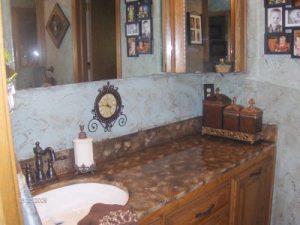 Painting Laminate Countertops
Thanks for all the great advice. I finally did my counters and they came out great. Will post a pic, but it looks better in person. Used Envirotex Lite to seal it and used 4-5 different good acrylics and sponge for paint. I primed the counter before sponging. (08/29/2009)

By emilym74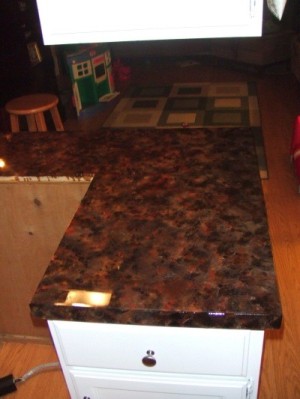 Painting Laminate Countertops
I forgot to take a before, but it was ugly pale blue laminate. Here is one more shot. Colors are a little off on this due to the flash. The first pic is more indicative of the real color. (08/29/2009)

By emilym74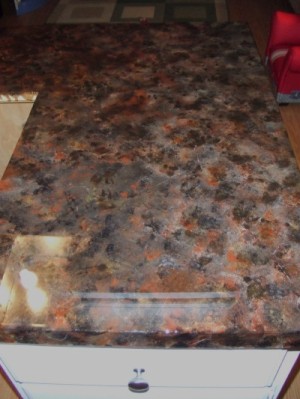 Painting Laminate Countertops
After reading all the helpful posts I decided to try painting my counter tops. They look amazing. I am so thrilled. I used the Envirotex to seal and had to do a second coat. You must make sure you do not put it on too thin. When I put on the second coat, I only did one side of the counter at a time. This prevented the Envirotex from setting up before I could complete. I purchased the Envirotex from Michael's and AC Moore and saved a lot of money when I used the store coupons. Thanks to everyone who posted. You were all my inspiration. (09/04/2009)

By soccermom34