I have metal cellar doors with several rust spots popping through requiring repainting. I currently have black high gloss rustoleum on them now. I need a rust primer or deterrent before repainting. I checked with a local auto body shop who wanted to sell me a product used on cars for over $50.00 a pint.
I don't want to spend that much if I can avoid it. Can anyone who has or had a similar problem suggest an alternative to treat the rust and repaint? I don't want to do this every year. Thanks for your input.
Monica from Northeast PA
Answers
By barry rucker (Guest Post)
June 19, 2007
0

found this helpful
you need rustoleum's rusty metal primer, available in a spray can, about $4.00. Home Depot sells this.
June 19, 2007
0

found this helpful
If you have rust showing up, it's also where you don't see it. I don't know what you need to do about further prevention, but consider the doors to be 'infected' and find out what else you can do.
By rustyreks (Guest Post)
June 19, 2007
0

found this helpful
i am of the opinion if rust is present it really needs to removed as the first person has said if you are seeing some evidece of rust ie bubbling paint you can guarantee there is more by treating the small spot you will just be treating another spot next year.Best way is to have the doors sandblasted even rust kill paints have a max life of 5 years.If you sandblast and then prime and paint you will probably not have to do it again..
By Diane (Guest Post)
June 20, 2007
0

found this helpful
When you sprayed it last time did you just spray it, or did you us a wire brush on it first? Using something on it to remove the badly oxidized rust first is very important before covering up.
I usually use a wire wheel brush on a electric drill before using the Rustoleom paint. This removes the old rust first. Using the primer that someone else mentioned is also a good idea.Make sure you use goggles to protect your eyes.
June 20, 2007
0

found this helpful
First use WD-40 - this should dissolve the rust. Use a wire brush to remove any stubborn spots. After it is dry, re-paint w/Rustoleum. That should do it! Good luck.
By munir (Guest Post)
December 2, 2007
0

found this helpful
I need the solution (painting over rust surface) Please check it & reply as soon as possible. email me munir AT mammut.ae.
Is this type of paint available in Bangladesh? Pls help me.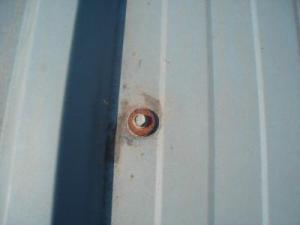 Answer

this Question

...
I have Bilco cellar doors. No matter what anti-rust paint or treatment I use, the rust still breaks through the paint. Is there any product out there that will work to prevent rust from breaking through--either a special primer and a final coat or whatever anyone uses that works. Thanks.
By Monica
Answers
June 6, 2014
0

found this helpful
I would suggest you remove the rust. You could sand it off, but that would take a long time. The fastest way would be to rent something from your local hardware store. Then paint with rustoleum or something similar. If you don't remove the rust all you are doing is covering it up for a bit. When it flakes the paint will just come right off with it. Maybe some kind of epoxy paint would work better. I'm not sure, but sand, scrape, or wire brush the rust off.
Answer

this Question

...