I would like to try and make my granddaughter some sundresses out of fabric this summer. I've been searching the internet and haven't found any. Does anyone know of any sites that have free patterns or directions for a little girls' sundress. Size 3 or 4T.
I'm also the lady that wanted a pattern for a crocheted bodice. Well I made one and put on the skirt and my granddaughter loves it. It was a bit big, but I slip stitched across and it fit perfectly then. Thanks for your help.

Thanks.
Pam

Answers:
Patterns For Girls Sundresses
You might consider finding a sundress at the thrift store that you like, in the proper size. You can often get them for almost nothing. Wash, of course, then carefully take out the seams. Iron each piece flat. You now have a "fabric" pattern.

Another idea is to take a dress you like, but that is worn. Again, take out the seams. Simply make changes to the design by removing sleeves, lowering necklines, adding lace or ric-rack. Bias tape can be used to finish neck and arm holes, or you can make your own facing by using the "pattern" itself. (04/27/2005)
By little me
Patterns For Girls Sundresses
Buy the material that is gathered at the top portion to make it stretchy. Figure out width needed by measuring her chest and cutting it slightly less. By the time you sew the back seam, it should be tight enough to stay up. Or, could take a little off the bottom and make straps for the dress. No pattern needed for this dress. (04/27/2005)

By Linda
Patterns For Girls Sundresses
I am making sundresses for family members as well. this is what I did for a one year old girl.

I measured the chest area, actually taking the material and wrapping it around her to get the perfect size. Cut your material about 1/2 inch longer to allow for seam. Now with the material on her, measure where you would put your straps. Figure out how long you want the dress as well. If you want to get a little fancier take another piece of material and have it sewn to the top, then if you wanted make a belt. You can sew the belt on at the waist area or make loops and use as a regular belt. (06/22/2007)
By Sharon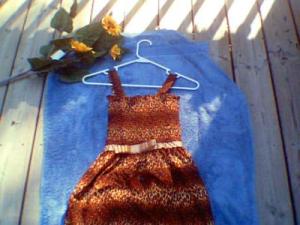 Patterns For Girls Sundresses
Try this site. The sun dress is cute and can be sized up by adding 1 inch for each size bigger than the largest size. (02/09/2008)

By sandy ratson
Patterns For Girls Sundresses
Wal-Mart has a variety of fabric that already has the elastic top. All you do is buy the width you need, seam up the back, attach wide matching ribbon that ties on the shoulders, and hem for the most simple, but beautiful sundress. (05/09/2008)

By Jeanie