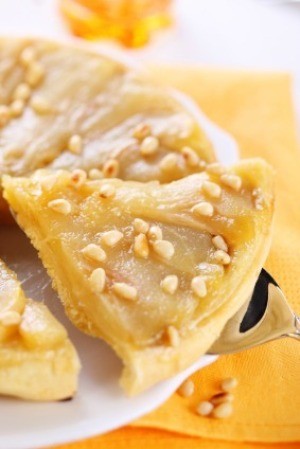 Ingredients
3/4 cup sugar
3 Tbsp. cornstarch
1 tsp. finely shredded orange peel
3/4 cup orange juice
2 Tbsp. margarine or butter, cut up
3 cups sliced pears, (peel if tough)
1 1/2 cups cranberries
1 1/2 cups flour
1/4 tsp. salt
1/4 cup shortening
1/4 cup cold margarine or butter
4-5 Tbsp. cold water
Milk
Sugar
Directions
For filling, in a large saucepan, combine the 3/4 cup sugar and cornstarch. Stir in orange peel and juice. Cook and stir over medium heat until thickened and bubbly. Remove from heat. Gently stir in the 2 Tbsp. margarine or butter. Fold in pears and cranberries. Set aside.
For pastry, combine flour and salt. Use a pastry blender or two forks to cut in the shortening and remaining margarine or butter until pieces are the size of small peas. Sprinkle 1 Tbsp. water over part of the mixture. Gently toss with a fork. Push the moistened mixture to the side of the bowl. Repeat, using 1 Tbsp. of the water at a time, until all of the dough is moistened.
Form the dough into a ball. Slightly flatten dough with hands on a lightly floured surface. Roll dough from center to the edge, forming a circle about 15 inches in diameter. Loosely wrap the pastry around a rolling pin. Unroll pastry onto a 9 inch pie plate or dish. Ease pastry into plate or dish, being careful not to stretch it. Trim pastry to 2 inches beyond the edge of the plate.
Pour filling into the pastry-lined dish. fold pastry border up and over filling, pleating pastry to fit. Lightly brush with milk and sprinkle with sugar. Place on baking sheet to catch any drips. Bake in a 375 degree F oven 45-50 minutes or until pastry is golden and filling in clear. Cool. Serves 8.
By Robin from Washington, IA