One of the biggest difficulties resulting from the shutting down of schools to stop the spread of the coronavirus is that many kids and their parents depend on the kid getting fed at school. It can be the only meal some kids get in a day. The free and reduced lunch program is a huge help to struggling families.
I am in Washington state and our school district is handing out free school lunch at multiple schools around town every weekday from 10-12. It is super easy to receive, you don't even need to get out of the car, as they have set up a drive through pickup (walk-ups are also welcome). You actually do not need to qualify for free or reduced lunch in order to pick up the meal. But, you do need to have the children with you. Kids receive a lunch and a breakfast for the next morning.
If you are wondering what kind of food is being handed out I will tell you what my kids got in today's lunch. The lunch had an Uncrustable peanut butter and jelly sandwich, Cheez-Its, apple sauce, baby carrots, and milk. The breakfast had a Cinnamon Toast Crunch breakfast bar, a box of raisins, orange juice, and a box of milk.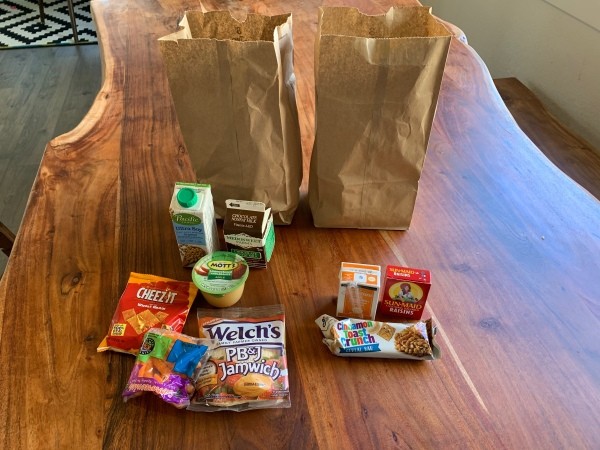 Other than schools, I have also seen a few restaurants offering free lunches for children with the purchase of an adult meal. This is for pickup only as all restaurants have been closed to sit down customers. This might not be an option for everyone, but might be a way to treat your family to something special during this stressful time.