Piquant Four Seasons Pizza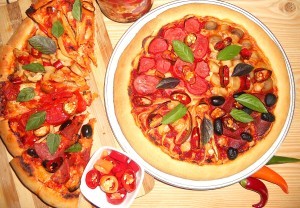 Four seasons pizza is my favorite pizza. This is an internationally known Italian pizza (Pizza Quattro Stagione). The four toppings represent the four seasons of the year, dividing the pizza into 4 equal quarters. Several fillings in one pizza, in my opinion this is a brilliant idea! But since I like spicy food, so I decided to try making this pizza with hot peppers.
I used a recipe for making real Italian pizza Four Seasons, from making the dough to the filling. In my recipe, the bell pepper represents spring, tomatoes represent summer, mushrooms represent autumn and the salami with olives represent winter. I was delighted with the result. This recipe is also suitable for those who do not like spicy food: just don't add hot peppers to the filling.
Prep Time: 1 Hour 15 Minutes
Cook Time: 25 Minutes
Total Time: 1 Hour 40 Minutes
Yield: 8 servings, 2 12-inch pizzas
Ingredients:
Pizza Dough
4 cups all-purpose flour
1 package active dry or fresh yeast
1 tsp Sugar or honey
1 cup Warm water, 105 to 115 degrees F
2.5 Tbsp Extra-virgin olive oil, plus additional for brushing
1 tsp Salt
Tomato Sauce
3 cloves garlic, minced
17.5 oz tomatoes (very red and ripe)
1 small onion, minced
1/4 cup fresh basil, chiffonade
salt and freshly ground black pepper
Toppings
6 oz pepperoni sausage, thinly sliced
7 sq in mozzarella, cubed or sliced (your choice)
6 oz canned button mushrooms, cut in halves
12 pitted black olives, cut in halves
2 bell peppers, sliced
1 hot pepper
Steps:
Start to prepare the dough about 1 hour prior to making pizza: In a bowl, mix together dry instant yeast with a little water, let sit until it foams.
Then add sugar and oil and wait a bit again.
Combine flour and salt in a bowl and make a well in the center. Add water and yeast mixture to the well.
Knead a firm, smooth and elastic dough that will no longer stick to your hands.
Let the dough rest proof covered with a kitchen towel until its volume is doubled.

Divide the dough into 2 balls for 2 pizzas. Allow them to rest until ready to shape.
Passata (tomato purée) for tomato sauce: Wash tomatoes very well and let them dry. Bring water to a boil.
Dip the tomatoes in boiling water for several minutes (blanching). Then pull them out, let the water drain.
Peel off the tomatoes. Remove the seeds and all the internal part: cut tomatoes in half and remove the seeds and all the internal part with a knife.
Grind the tomatoes.
Tomato sauce: Heat the olive oil in frying pan. When it starts to shimmer, add the crushed garlic and onion.
When the onions and garlic are just starting to brown, pour in the passata (squished tomatoes). Bring your sauce to a light bubble.
Add salt, hot pepper and let it simmer for 5 minutes.
Add basil.
Prepare the toppings: Dice or slice your mozzarella.
Cut your bell peppers, mushrooms and tomatoes into 1/4-1/5 inch (5-6 mm) slices.
Cut your olives in halves.
Preheat oven to 445-500 degrees F.
To assemble the pizzas: Place a ball of dough on floured board and stretch to about 12 inches using your hands.
Divide tomato sauce evenly on dough circles leaving a rim about 1 inch (2-3 cm) thick.
Divide the mozzarella on top of each pizza.
Drizzle a few drops of olive oil and sprinkle some salt.
Divide tomato sauce evenly on dough circles leaving a rim about 1 inch (2-3 cm) thick. Divide the mozzarella on top of each pizza. Drizzle a few drops of olive oil and sprinkle some salt.
Part the surface of pizza into quarters. Garnish each quarter:
1st quarter - the bell pepper,
2nd quarter - the tomatoes,
3rd quarter - the mushrooms,
4th quarter - the salami with olives.
Divide the mozzarella on top.
Divide the hot pepper on top. You can skip this step.
Place your pizza in the oven for 10 minutes or until the crust is golden brown.
Take your ready pizza out of the oven, let it rest for a minute. Garnish the pizza with basil leaves, serve warm and enjoy.

Make the second pizza the same way.
Add your voice! Click below to comment. ThriftyFun is powered by your wisdom!
Published by ThriftyFun.
© 1997-2021 by Cumuli, Inc. All Rights Reserved.
https://www.thriftyfun.com/Piquant-Four-Seasons-Pizza.html