My Pit bull is 6 months old and jumps on everyone and bites. Why?

By Dianna from Lubbock, TX
Answers:
Pit Bull Puppy Keeps Biting Us
He's doing what all puppies do. It has nothing to do with the breed he's just being a puppy. I will suggest you try and stop this now though before he thinks it's OK. The best way to do this is to keep a leash on him at all times. When he goes to jump jerk the leash and tell him "no". Then get him to sit, when he does praise him. I find cookies work good for my guys. If you keep this up he'll start to learn that being good and sitting instead of jumping will mean cookies.
Good luck! (04/08/2010)

By bunnylady
Pit Bull Puppy Keeps Biting Us
I have fostered three of them and they each did the same thing. I think it is just because you are his/her pack members and that is what he thinks of in his mind when he wants to rejoice and play and get all happy. The thing to do is to educate him by giving him or her new pictures in his mind to have regarding this sort of thing.

Here are some tips:
Keep soft and hard chew toys for him to have. It is best to have a chew toy to really get serious with, like a Nylabone and other softer ones he can't tear up, like plastic Coke bottles minus the plastic top. I squish them down to where they can gnaw on them. I take a kitchen towel or rag and tie it in a knot for a soft toy.

Place a toy in his mouth when he goes for an arm or a leg. He is asking to play when he grabs an arm or nips at a leg. You are supposed to give chase. Just gently place a toy in his mouth.

If he is really bad, and is awfully rough, I would grab the scruff, without picking him up off the floor and give a shake, not enough to hurt and then say "leave it" or "no". After you are done and he has looked away put him down, put the toy in it's mouth and say "yes" or "good boy" and pat him. At first when you pat him don't overexcite him and make it easier for him to learn to settle down.
I have had to pull pups that didn't start fights apart by pulling them by their back legs from the other dog.

When he jump nips towards faces, grab scruff and shake with a nasty sounding "no" that sounds like the devil is after him and act all disgusted.
It kind of depends on how his personality is. Go to leerburg.com and see if you like any of the free articles and start marker training and doing training for fun. I like to teach them to expect a treat when you click with your mouth, it is great. Then you can base further training later on with that, click with your mouth, and then drop a really small piece of hot dog or bacon or whatever, the size of a green pea or so. Do it about ten or twenty times a day, just for fun. He or she can't mess up, it is all for bonding.
leerburg.com has lots of articles and podcasts and ebooks and such for free, even though I am going to save up for the puppy training DVD because I foster a lot of animals. Click on contact by my name on this post and I will help you with any other issues that arise. I just love this breed, but their little mouths are so strong you kind of have to teach them in a hurry that something is not right without hurting their spirit. I truly believe these make the best pets in the world with the right person.

I had a "Pibble" that had never been trained. He was a "complete" stinker. My arms were bleeding the first day I had him and that was just playing, lol. What a perfect baby he was the day he went to his permanent forever home, just from the tips above and bonding through clicker training and lots of love. He was so well behaved. I was so proud.
Yours will be too! (04/08/2010)

By Robyn Fed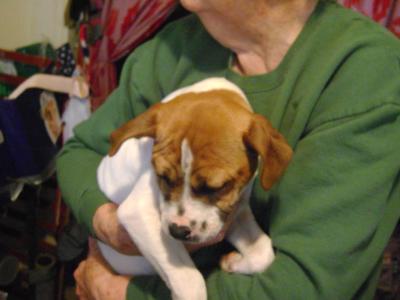 Pit Bull Puppy Keeps Biting Us
It may be because he is teething! Lock up everything you don't want chewed up! Tell your dog "NO", firmly, and give him a bone (bully sticks are great) instead and praise him when he chews it. All puppies teethe and chew up things because their teeth are growing in and their gums are sore. (04/10/2010)