October 27, 2005
0

found this helpful
Did you move into a house with an empty back yard? What you need is a nice deck or patio to enjoy the out-of-doors. Of the many choices is a wooden deck, a concrete slab, a fieldstone floor with planters or a multi-level redwood deck with benches. Let's take them one by one. The common-place wooden deck is fairly inexpensive unless built with redwood, and has an average life of ten years. The concrete slab is inexpensive, but very plain and prone to cracking. It must be properly drained and can be difficult to keep painted. A multi-level deck is beautiful but expensive and needs a space under the deck for ventilation.

The patio design I designed incorporated a free-form kidney-shaped pattern with three in-set oval steps. Around the edge, spaced Italian columns supported a seat-high balustrade railing fourteen inches wide and sixty-six feet in circumference. At one end a straight line formed the back of a fourteen foot built-in barbecue and counter surfaces with storage behind redwood doors.
Colored slate set in concrete decorated the floor and a five percent grade provided the proper drainage. One winter this slight grade which was covered with an inch of glare ice sent my cat flying across the patio and right over the edge!
The balustrade columns, set in concrete formed the base for the railing. After the columns were in place, I set sheets of plywood on top and cut a square hole slightly smaller than the top of each column. I then formed the fourteen inch wide railing on top from stiffly mixed beige colored concrete. When the concrete set, I removed the plywood and the balustrade was completed. Since the patio was two to five feet higher than the surrounding land, I built a yellow brick wall, following the kidney shaped patio floor.
White decorative concrete pots filled with flowers place evenly along the top of the balustrade added color and at one end a wrought iron lamp gave the whole area a nice glow. This patio gave our family many years of pleasurable outdoor living and the satisfaction of giving our creative juices free rein.
By Kenneth Hoffman from Morristown, NJ
July 9, 2012
0

found this helpful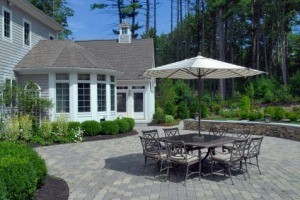 Patios are becoming essential elements for todays backyards. Here are some design tips for creating the perfect outdoor space to use for summer dining and entertaining.
Choosing a Location
When choosing a location for your patio, its wise to consider several factors. Among the most important of them is how you will be using the space. Most patios are located as close to the house as possible and are used as an outdoor extension of indoor space. This makes the patio convenient to power sources for lights and other equipment necessary for entertaining.
Exposure - Another factor to consider is exposure to sun and wind. A warm, sheltered patio will offer you use both earlier and later in the season. If your desired site is exposed to wind, you can provide shelter (and privacy) by planting tall shrubs around the edges of your patio, or erecting trellises or panels made of lattice and covering them with quick-growing vines. A pergola roof will help screen out too much sun, but think twice before locating your patio under large trees. Not only will they cast a lot of shade, but trees continue to drip long after it rains, falling leaves are messy, and the roots may eventually heave and dislodge paved surfaces.
Determining size - The size of your patio should be in proportion to the rest of your landscapetoo small and it may look trivial; too large it will overpower the entire yard. A general rule is to allow approximately 3 x 3 feet per person, plus any additional space needed for a barbeque, potted plants, extra furniture, a fireplace, water feature, etc.
Choosing Surface Materials
When choosing a surface material, consider wear and tear and whether or a material will be slippery when its wet. The choices for materials are nearly endless and include such things as concrete, natural stone, tiles, bricks and pavers, composite decking and wooden planks. Concrete and stone pavers tend have an edge in terms of durability and maintenance, but they are more difficult to install and have a greater up-front cost than wood.
Simple is best - Use restraint when selecting surface materials for the patio. A single, natural colorperhaps with one or two accent colorswill look best. Too many colors may end up looking busy and distracting. Also keep in mind that artificially-colored pavers may weather and fade over time.
Smother weeds - If you decide to use wooden planks as your surface material, install a permeable landscape fabric underneath them first. This will offer additional protection against weeds, but without trapping moisture against the planks.
Grade for drainage - Make sure the grade of the patio slopes away from the house so that water can drain freely. A gradual slope of 1 inch for every 6 feet is usually sufficient.
Landscaping with Plants
Plant vertical layers - For the floor level, use containers and flower boxes. At eye level, use hanging baskets or pots set on tables. For additional height, train vines and climbing plants up a trellis or wall.
Keep walkways clear - Keep container plants out of high-traffic areas and away from doors and other access points where they may be tripped on or knocked over.
Minimize maintenance - Keep messy trees and shrubs as far away from your patio as possible. Certain fruits trees, like cherry, mulberry, and crabapple, can leave permanent stains on fabrics and hard surfaces when blossoms and fruits fall. Large trees can deposit needles and seed pods that constantly need to be swept up.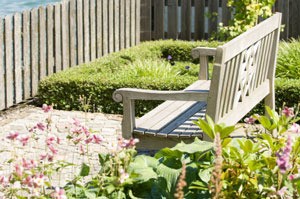 Question:
I am starting to get my back yard cleared out. About 15 trees will be removed, grass seed will be planted and I would like a small patio area to be exposed from the French Doors I hope to have installed.
Are there any websites or ideas you can think of? I am thinking of just an area big enough for a grill, table and chairs, to enjoy watching my child play in the yard. I so appreciate your input.
Amy from NJ
Answer:
Amy, There are LOT of great web sites to assist you in designing your new outdoor living space. A great way to start the planning process is to sit down with pen, paper, and list the following:
Who is going to build it? Are you going to do the work yourself, or are you planning to hire a professional?
What types of materials do you want to use (brick, stone, tile, etc.)?
Do you want to relax in the shade? (e.g. pergola, gazebo, table with umbrella, awning, trees, etc.)?
What type of furniture do you want in the design?
What types of features do you want to include in the area (e.g. grilling, hot tub, fountain, etc.)?
What is your budget?
To get started with your patio design you need some inspiration. Start a folder on your computer labeled "patio ideas". Google "pictures of great patios" and see what you find. Jot down ideas that appeal to you and print off pictures you can take with you when shopping.
I also like this link from Sunset Home. It contains many pictures for and ideas suitable for a variety of backyard spaces.
Ellen Ellen Brown is an environmental writer and photographer and the owner of Sustainable Media, an environmental media company that specializes in helping businesses and organizations promote eco-friendly products and services. Contact her on the web at http://www.sustainable-media.com
Answers
July 3, 2008
0

found this helpful
Hi, Amy!
This is going to be a project that will give you pleasure for many years, so draw yourself some plans and give yourself time to decide where you want things to go. Do you really have to remove so many trees? You might wish you had them during the hot weather, and birds will be more plentiful if you have trees for them to nest in and fly to. Your child might have some creative ideas for playing among the trees, also. And the shade they create is perfect for many kinds of shade-loving plants (which are easier to work on in the shade!) What will you use for the surface of your patio? There are lots of materials; be sure it is an easily-cleanable area that water (and snow) will drain off, large enough to move your furniture and grill around for a little change, and maybe even expandable, in case you want a bigger area. There is a lot of how-to information on the internet and in the library; your local home-projects store might even have some classes on how to do it yourself. Good luck, and please let us know how your project progresses -- take pictures as you go along.
Nancy in NC
By Megan (Guest Post)
August 3, 2008
0

found this helpful
We just did exactly that! We spent about 400 dollars on some natural flagging and made a rock patio. We put some Irish moss in between the rocks to keep down weeds and prevent erosion.Home depots website actually had a lot of DIY ideas for features. A simple pergola and some nice vines are good ways to make the area seem more like an outdoor "room". Have fun!
September 19, 2008
0

found this helpful
I agree with Nancy, please reconsider taking down all those trees! you can build decks around them, hostas are wonderful plants for shaded areas and there are a million varieties. also the shade will help cool your home and provide wonderful habitat for wildlife. try to go green with your decking material there are a lot of choices out there. have fun!
September 19, 2008
0

found this helpful
In view of recent events, one thing I would definitely go overboard on is edibles. Dwarf fruit trees every 5 feet, berry canes, cooking herbs, medicinal herbs, room for a nice deep raised bed vegetable garden. Possibly room for a small chicken coop. I am not kidding. All of these things are lovely and charming. An outdoor baking oven, cooking area would be wise as well. Be the first in your neighborhood to show common sense.
September 22, 2008
0

found this helpful
We planned our patio around an old linden tree and it is the centerpiece of the yard with a nice shade garden around it, so do look for ways to plan around the trees. I'd look for a landscaper who will draw a plan -- you need a plan so you can work it on paper first. Here's a good link I found for patios:
Answer

this Question

...