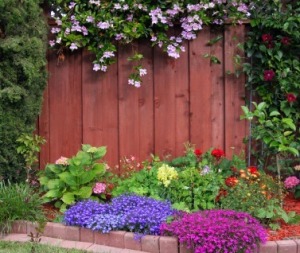 The secret to creating an attractive ornamental border is to create a mixture of permanent plants such as shrubs and perennials flowers, and combine them with annuals, biennials, and even vegetables, to provide extra color during the growing season.
Build a Solid Foundation
If you want your border to support a wide range of plants successfully, you will need to start with a solid foundation of good quality soil. To prepare the soil, dig out any perennial weeds and work plenty of well-rotted manure and/or compost into the soil to a depth of 18 inches. Sprinkle a light dusting of blood, fish, and bone meal (one handful per square yard), over the surface of the soil before planting.
Layering Plants
Borders look best when planted in layers consisting of short plants toward the front, thigh-high plants in the middle, and taller plants in the back. The length of your border isn't as important as its depth. In order to accommodate layers of plants, your border needs to be at least 4 to 5 feet deep (This may require a small path of small stepping stones to access interior plants). You may want to consider starting out small, but deep, and growing the length of your border gradually.
Short plants: These are the plants (often annuals) that define the front of your border. Look for plants with a fine texture and a mounding growth habit (perennial candy tuft) or those that spill over the front edging (sweet alyssum). Depending on your zone, other good choices include pansies, dianthus, creeping phlox, small hostas, scabisoa, nasturtium, lambs ear, short daylilies and dwarf annuals.
Thigh-high: Use thigh-high plants to fill in the middle of the border. These can include annuals and perennials, and even vegetables with varying colors, textures and bloom times. Try to arrange plants in drifts, rather than straight lines. Different plants and colors can be woven together rather than being planted in straight rows. Repeating one color and one type of flower throughout (e.g. white flowers and marigolds) will give the border a feeling of wholeness and unity.
Tall: The back of the border is defined by tall plants, and perhaps a fence or building as the backdrop. This is a great place to add in shrubs or tree form roses, or use vines and climbing plants supported by trellises or the tops of fences. Try clematis, tree roses, dahlias, delphiniums, echinacea, hydrangea, azaleas, etc.
Putting it all Together
When starting out:
Start a new border by showcasing 4 to 6 of the flowers and plants that you love most.
To give your border a sense of order, repeat groups of like plants at regular intervals.
Arrange like species in drifts rather than in straight lines or squares. Plants grown in colonies look more natural and will be simpler to renovate or propagate in the future.
Add a few small shrubs to give the border structure in the summer and define its existence in the winter (e.g. dwarf boxwoods, small junipers).
For non-stop color and texture, consider utilizing one or more foliage plants such as dusty miller, hosta, heuchera, or ornamental grasses.
Until your garden becomes established, cover unplanted or bare areas with a thick layer of mulch to suppress weeds.
As you get to know your plants:
As you add to your border, use plants that have a proven history of working well for you.
Place steppingstones in areas where you often finding yourself a place to stand while weeding and taking care of plants. Small, 12-inch wide stepping stones are easy to move around as needed, and the larger 18-inch stones can provide a decorative element while filling in a larger space.
Move plants around as needed to control growth, expand your border, or create color combinations that work better together. It's best to move plants when they are dormant, but as long as soil remains packed around their roots and they are given plenty of water, you can move them anytime as long as its not during extremely hot weather.
On-going maintenance:
Support tall plants with stakes, cages, or hoops.
Fill in color gaps or sudden bare spot with containers of petunias, geraniums, or impatiens.
Use companion plants to thwart pests organically. Plants with open, flat flower heads (e.g. marigolds) are particularly useful for attracting beneficial insects that prey on harmful insects like aphids.