Potato Fans Recipes
Solutions
Share on ThriftyFunThis guide contains the following solutions. Have something to add? Please share your solution!
Potato fans are a yummy alternative to a baked potato. While they take awhile to cook, they are worth the wait!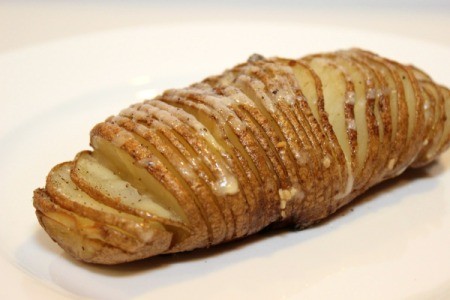 Ingredients:
4 medium potatoes
1/4 cup butter, melted
1/2 Tbsp minced garlic
salt and pepper
1 cup white cheddar, grated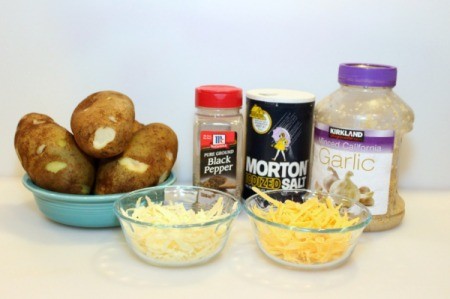 Steps:
Preheat the oven to 425 degrees F.
Using a knife cut off the very bottom of each potato. This will help stabilize them in the pan.

Now carefully cut thin slices into each potato, about 2/3 of the way down. Be careful to not cut all the way through. If you do, just push the potato back together when baking.
Melt the butter in a small bowl. Add garlic, then salt and pepper to taste.
Spray the baking dish with non-stick spray. Place the potatoes into the pan and put in the oven.

Using a basting brush, brush each potato with the butter mixture.

Bake for 30 minutes, then baste them with the butter mixture again. Repeat ever 30 minutes until the inside of the potatoes are tender and fluffy. About 1 1/2 - 2 hours.
Once the potatoes are done, sprinkle cheese onto them and bake for 2-3 minutes to melt cheese.

Sprinkle with salt and pepper, to taste. Enjoy!
The possibilities are endless with this recipe! It's also a great way to use that one or two left over potatoes you haven't used yet. Bake time can vary greatly based on the size of the potato. The bigger they are the longer they have to cook.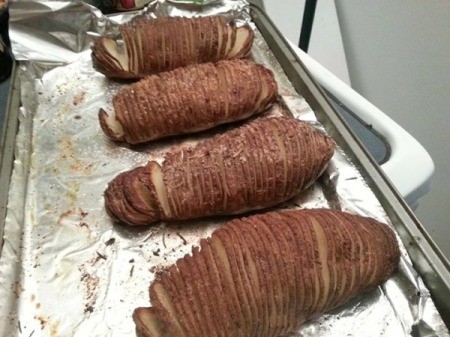 Ingredients:
basting brush
cookie sheet or broiling pan (lined with tin foil to make mess easier to clean after)
salt
herbs or seasonings you want to try (I like crushed dried rosemary with garlic salt and thyme)
2-3 Tbsp olive oil (there are so many other oils out there to try too!)
2-3 Tbsp butter or margarine (for 4 large potatoes)
Steps:
Pre-heat oven to 475 degrees F.
Find the flattest side of the potato, cut a thin slice off the bottom. This is so the potato sits flat on the pan.
Flip it over and make many small slices across the potato. Keep the knife straight up and down to avoid taking out wedges. Be sure to stop just below middle of the potato, so that it fans out.

NOTE: If you accidentally go all the way through, just push it together. It won't be as pretty, but will still work.
Melt butter, then combine equal parts butter and oil. Brush on butter mixture. Start with the bottom where you cut the potato to make it flat. This will keep it from sticking to the pan or foil. Then brush the top and sides of the potato with the oil butter mix.
Sprinkle on any herbs you want, rosemary, garlic salt, jerk chicken herbs, nutritional yeast, you name it! When doing more than one flavor, line the spices up in the order you put them on the potato, in case you need to add more later.
Bake about ten minutes, on the middle rack. Then brush on more butter mix. You don't need to do too much, but this will help it get crispy. Put the potatoes back in the oven and bake until the inside is soft. Smaller potatoes will take about an hour, larger ones (like in photo) take about 2.5 hours!
The outside will be crispy, but the inside will be kind of soft like a French fry. These make a great snack, side dish, or party dish. People love to pull them apart. You can also dip them in your favorite condiment. Enjoy!
Videos
May 22, 2014
0

found this helpful
Potato fans are a yummy alternative to a baked potato. Learn how to make them with this how-to video.
Related Content