Potato Gnocchi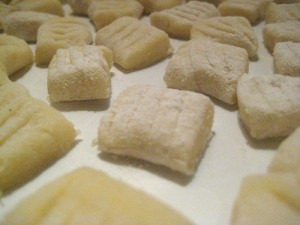 I think we all get very excited when we score that 99 cent 5-pound bag of potatoes. But what to do when you're tired of all the garlic mash and baked spuds? Try gnocchi! Little Italian pillows of love. Here is a very easy way to make some of these classy little dumplings. Serve with your favorite pasta sauce, some sage butter, or just Parmesan cheese. Believe me, they are better than the expensive packaged stuff at the shops!
Yield: 6 servings
Ingredients:
4 baking potatoes
2 beaten eggs
2 cups flour
salt
Steps:
Put unpeeled potatoes in a large pot of water and bring to a boil. Cook for about 30-40 minutes until tender.
Drain potatoes thoroughly. While they're still warm, hold them with a kitchen towel and peel their skins off. Discard skins.
Pass potatoes through a ricer into a large bowl. If you don't have a ricer, you can also mash with a potato masher or fork. Add the flour and the eggs and pinch of salt. Mix everything by hand until you have a nice big ball of dough.
Prepare a work surface by dusting with flour. Divide dough into four balls then turn each ball into a rope 3/4 inch in diameter by gently rolling in floured work space. Cut the tubes of dough into pieces about one inch long.
Using the tines of a fork, press against each piece of the dough. This is for the purpose of catching whatever sauce you use. Transfer them to a floured or lined tray.
Bring a large pot of salted water to a boil and drop half the gnocchi in. Cook until they float to the surface, about 2 to 3 minutes. Remove with a slotted spoon, draining well. Continue cooking the remaining gnocchi dough in the same manner.
Serve with your favorite sauce, butter, cheese, or all of the above. Enjoy!
Add your voice! Click below to comment. ThriftyFun is powered by your wisdom!
Related Content