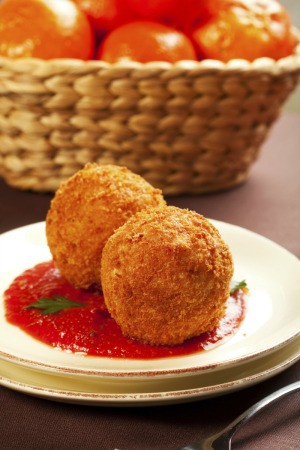 This is great to bring to functions (finger food).
Ingredients:
2 eggs
1/3 cup grated Parmesan cheese
1 Tbsp. dried parsley
1/4 tsp. freshly ground black pepper
1 tsp. salt
1 quart water
1 tsp. salt
1 cup uncooked white rice
1 1/2 cups dried bread crumbs
2 cups olive oil
Directions:
In a medium bowl, whisk together eggs, cheese, parsley, pepper, and 1 teaspoon salt. Cover and refrigerate.
Pour water and 1 teaspoon salt into a large saucepan and bring to a boil. Stir in rice and reduce heat to low. Cook rice until water is almost absorbed, stirring frequently. Remove from heat and slowly pour in egg mixture, stirring rapidly to prevent egg from scrambling. Allow rice mixture to cool for 1 hour.
Pour bread crumbs into a pile on one end of a cutting board. Dampen hands and roll rice mixture into 1 inch balls, then coat each one with bread crumbs.
In a small, deep skillet, heat olive oil to 350 degrees F (175 degrees C). Should have enough oil to completely cover rice balls. Fry rice balls 6 at a time, turning as needed to ensure even browning. Drain on paper towels and serve warm.
Servings:
24
Time:
45 Minutes Preparation Time
15 Minutes Cooking Time
Source: Allrecpies
By LRP from LWL, MA.
Read More

Comments
Good to bring along. In a large mixing bowl add garlic powder, rice, mozzarella cheese, eggs, salt and pepper, mix well. Let set for 15 minutes at room temp to achieve a forming consistency.
Read More...