Connie
Silver Post Medal for All Time! 361 Posts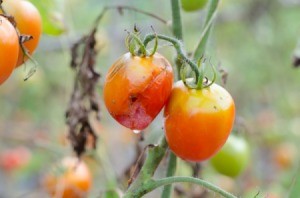 If you have a problem with tomato plants contracting a blight that starts at the bottom and works its way up until the plant is dead, or even the beginning of a blight, you need to cook your garden bed. Once tomatoes are infected, they cannot be helped. The key is solarizing the soil to kill the bacteria before they get to the plants.
As soon as you can work the soil, turn the entire bed to a depth of 6 inches, then level and smooth it out. Dig a narrow 4 to 6-inch deep trench around the whole bed and thoroughly soak the soil by slowly running a sprinkler over it for several hours.
Cover the bed with a clear, heavy plastic painters drop cloth. Lay the edges of it in the trench and cover with soil to keep heat from escaping. The sun should heat the area for at least 6 weeks. The longer you leave the cover in place, the better. In the meantime, try growing some of those new verticillium and fusarium-resistant varieties in another location, or in containers of sterile potting soil, as you let your infected tomato bed cook.
This gardening information comes from Veggie Grow How, by Glen O. Seibert, "The Greenman". http://www.backyardlivingmagazine.com/podcasts.aspx
By Connie from Oden, AR
Read More

Comments

What can you put in the planting holes for tomatoes to prevent blight?
Hardiness Zone: 7a
By Kyra Leigh from Bristol, TN

Answers
Best Answer
At the end of the growing season, after I have removed the plants from the garden, I scatter a bale of straw on top of the garden and set it on fire. It sterilizes the soil so this year's diseases won't affect next year's plants.

Grandma J
Silver Feedback Medal for All Time! 270 Feedbacks
July 19, 2010
0

found this helpful
Best Answer
When you plant, they need some blood meal. Then as the season goes on and blossoms show up, quickly get the espom salts into the soil. Buy the package and read the directions on it for tomatoes.
The soil needs magnesium sulfate (ES) to make good blossoms. Not just tomatoes, all things that blossoms are better with ES.
Answer

this Question