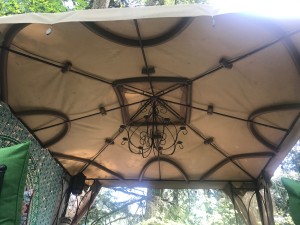 Many people have gotten pretty metal gazebos for their back patios or yards, usually with a canvas cover. If left out during the rainy season, the water can pool and stretch the top in unexpected ways. This can result in an ugly, ill-fitting cover that leaks. Here is a great way to keep the cover in place, without damage or a lot of expense.
My friend sent me some pictures of her creative solution. Buy some round foam tubes (for insulation) from the home improvement store. You can also use pool noodles, but they are not generally a neutral color. Tuck them between the metal bars and the canvas to encourage the water to run off instead of pooling. They even cut notches in the foam to ensure they stay in place.
They also tried picnic table weights and fishing weights to pull it down, but it still would puddle up a bit. The foam was way more effective. The only downfall is that it is a bit difficult to open or close the curtains, but it is easy to pop off the foam and reattach.
Hope this helps!