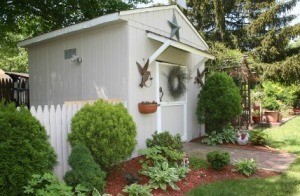 Garden sheds are valuable for storing garden tools and other garden equipment, but before you set out to build one (or buy one), there are several things you will want to consider.
For example, a simple garden shed may be all you need to keep hand tools dry and clean, but a larger shed with space to store your garden tractor may end up being a better investment.
Vinyl may seem like a low-maintenance building material, but if you run into with your lawn mower, it may not be as inexpensive to repair as wood.
Design Style
Whether you are working from a plan or building a kit, there are a variety of different shed designs available. Choose one that fits your personal taste and fits well into the surrounding landscape.
There are three main roof styles: the gable (an inverted v shape), the gambrel (shaped like a barn roof), and the lean-to (a sloping half-roof). If construction isn't one of your skill sets, most large home stores sell prefabricated garden sheds that come completely assembled. Many of these sheds also come with an anchor kit (to protect the building from strong winds), or a foundation kit, which must be assembled before delivery and set up.
Window and door placement:
One thing people often fail to consider when building (or buying) garden sheds is how the placement of the windows and doors affect its overall function. Double doors are a practical choice because they make moving large items in and out of the shed easier. Keep in mind, however, that when the doors are located on an end of the building (rather than on a long side wall), it will be much harder to access items stored at the rear.
It's also important to consider the placement of windows. On the one hand, windows increase air circulation and provide natural light. On the other, valuable wall space is lost wherever they are placed. Items hidden from view also tend to be more secure.
Building Materials
Garden sheds can be constructed from a variety of materials including wood, metal, or vinyl. All have their own unique advantages and disadvantage and the best garden shed may be made up of a combination of all of them. When choosing your building materials, consider the intended use (and abuse) of the shed, your budget, and your willingness to take on long-term maintenance.
Most homeowners find keeping up with routine home maintenance enough to contend with, never mind keeping up a garden shed. If that's true for you, then you'll be smart to choose low-maintenance materials. You may pay a bit more in up-front costs, but you'll be happier in the long run. Examples of low-maintenance materials include vinyl or aluminum windows, faux-slate shingles, composite decking (for ramps or steps) and fiber-cement siding.
Wood: The most natural-looking material for a garden shed is wood. Wood framing also makes it easy to add wall shelving and overhead storage. Sheds constructed of softwood should be made with pressure-treated lumber and will need periodic painting or staining to stand up to the elements. Hardwoods like cedar are more resistant to rot and take on a charming weathered appearance as they age. If you're choosing a pre-fabricated shed made from wood, look for joints fastened together with bolts, wooden screws, or galvanized nails (not staples) for the longest durability.
Metal: Metal sheds typically come prefabricated'made from interlocking sheets of metal. They usually feature a single sliding door and sometimes a couple of windows. These sheds are designed primarily to store tools and small garden implements and although they are limited in the amount of storage they offer, they are virtually maintenance-free and usually cost less per square foot than sheds made from wood.
Vinyl: Garden sheds made of vinyl panels are easy to assemble, and like metal, they are virtually maintenance free and available in a variety of colors. If you plan to heat your garden shed, it's worth noting that like metal, vinyl does not provide any significant insulation (PVC also emits toxic fumes when heated). When struck by something like a lawn mower or garden trimmer, vinyl can suffer cracks or breaks, which usually means replacing entire panels rather than repairing. Its durability and long life also means that, should the vinyl become damaged, it is a difficult material to dispose of safely.
Size
To determine what size garden shed you will need, think of what you will be using it for and what will be stored inside (e.g. tools, garden tractor, potting bench). It's also wise to plan for slightly more space than you think you will need. A good way to get an idea of the overall size you will need is to gather up all of the items you plan on storing that take up floor space, and use stakes and string to rough out the dimensions. If you are going to be using the shed as a potting shed, be sure to leave yourself enough workspace. If you plan to use the shed for separate activities, consider factoring in additional space for a partition.
Choosing a Location
If possible, locate your garden sheds close to where it will be needed most'near the garden. You and your family will be much more likely to put your tools and items away if the access to your shed is convenient. Do you want it plumbed? Will you need lighting? Other things you might want to think about when choosing a location is proximity to water and electrical hook-ups and ventilation.
Building it too close to trees or other structures will block out sunlight and fresh air. Having some space around your shed will also make easier to maneuver when it comes time to paint or make repairs.
Grade: Ideally, your shed will be built on a level grade. If you are locating your shed on more steeply sloped ground, you'll need to put extra thought and care into building in suitable drainage. Most sheds are set at least 6-inches off the ground to allow for air circulation. If you are planning to store wheel barrels and lawn mowers, be sure to consider adding on a ramp.
Local Building Restrictions
Finally, decisions regarding size, location and even style may not be entirely in your hands, so be sure to check with your local municipality to ensure that you are meeting all zoning requirements and that you have secured any necessary permits before you start building.