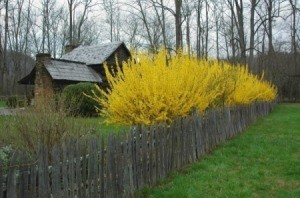 I am pruning a rather large forsythia hedge that has gotten out of control. Can I use Round Up to kill the new shoots coming up out of the ground that are spreading too much or is there something else I can use. I do not want to kill the main hedge, just keep it in check. Also, when is the latest I can trim the hedge so it will still flower next spring.
Hardiness Zone: 6a
Rose from Malvern, PA
Answers

August 16, 2007
0

found this helpful
I would not recommend the round-up, it probably won't be very effective, and you would jeopardize the plant's health, and dump some nasty chemicals into your garden and the environment.
This website gives some good advice on caring for a forsythia
By Barb in Tennessee (Guest Post)
August 16, 2007
0

found this helpful
Boy ! I wouldn't use the Round-up. It might kill plants that you don't want killed.
Just use anvil-type pruners to clip the new growth.
I know this can be tedious, but will be better in the long run.
You can root that new growth easily by digging a small shallow trench, and covering the leaves with soil, leaving the end farthest away from the Mother plant out of the soil. Then you will have new plants.
A "fence" of forsythia is beautiful in the spring. And can be a good barrier along side your property line, a slope or a creek, the side of the house, or where ever. If you don't want any more, other people might....its fun to share.
By (Guest Post)
August 17, 2007
0

found this helpful
No! Don't use round-up as it will kill or disfigure any plant it touches! Prune about 1/3 of the mature shoots (the ones with brown bark) down to about 1 foot in length and reduce the remaining branches by no more than 1/3. To remove more of the branches may weaken the plant so much it may not survive the winter. You can prune 1/3 of the mature branches down to 1 foot each year to rejuvenate the forsythia and keep it healthy and a managable size.
FYI the branches you cut off will root in a bucket of water in a short time, IF you want to create more forsythia bushes or give away to others.
Summer through early fall is the best time to prune.
Denise McCall
Master Gardener, Ohio

August 17, 2007
0

found this helpful
Forsythia can be sheared into a ball shape but that looks gross to me. It's meant to have a loose blousy shape, ragged and natural. So you select which branch is to go, reach deep into the bush to where it starts, and take out the whole length of the branch rather than taking off tips. This lets smaller branches keep growing. If you cut off a tip, several will grow in its place, which causes that ball shape, as it gets denser and more unhealthy.
That's my opinion. Others differ, going for that lollipop shape, like a cartoon of a garden, where everything is butchered into shapes. Awful. One other thing to consider: if you need to prune the forsythia because it's getting too big for where it's growing, the really smart thing to do is to move it.

August 17, 2007
0

found this helpful
Yep-- no RoundUp for this plant.
Agree with pruning the entire branch-- that is the best way to maintain that shaggy shape.
If you prune now-- you may get new growth that the first frost/freeze will kill. I would wait until it is dormant.
Next spring's blooms are probably already "set"-- another reason to cut the stem from the base and leave the remainder.
The recommendation for hard pruning is to do it over at least three years-- one third each year.
Otherwise you risk killing the plant.
Get a friend who is plant knowledgable to look over it with you-- they may have a good recommendation for what you are trying to do-- it's very hard to recommend not only from a distance-- but without understanding your overall plan.
Good luck

August 17, 2007
0

found this helpful
Thanks everyone for your great suggestions. I have already started pruning the bush. Now I just have to convince my husband that this is the proper way and have him stop shaping it into a ball because it is easier. It will no doubt look pretty sad for a year or so.

May 26, 2010
0

found this helpful
My forsynthia has never produced the overall yellow blossoms that make this bush so beautiful. Each spring, it starts producing green leaves with just a smattering of yellow blossoms here and there.
Why don't I get the full effect, then have the leaves appear?
Answer

this Question