I have had a Hibiscus tree for about 3 years now and it is still hardy. I bring it in in the winter. It is getting very large and growing outward. Can I prune it? If so when is the best time? Where should I cut? I am afraid to kill it seeing as I do not have any information on Hibiscus. I have scoured the net but have not found anything about pruning.
Hardiness Zone: 6a

Barb from Phila., PA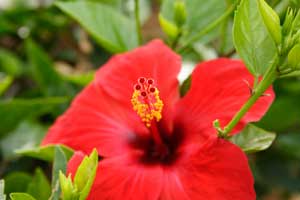 Answers:
Pruning a Hibiscus
(title-green)Q:(/title) Can anyone tell me how far back I need to prune my hibiscus? It has been inside this summer. I have a few leggy limbs with new growth, so I would like to keep them. Its sister looks great. They are the twisted branch type.
(title-green)A:(/title) Lynn,
A hibiscus can live for 20 years or more, and can be kept small by regular pruning. Pruning will invigorate the plant and also give it a better shape. Pruning is usually done in the late winter, but can actually be done anytime. To increase the bushiness of your plant, carefully assess how you want to shape it before selecting which branches to prune. Cut back the selected branches by about 1/3, keeping in mind that new growth will occur below each cut. Leave 2-3 leaf nodes (where leaves once grew) on each branch and leave about 1/2 inch of wood between the eye of the node and the cut. Keep the direction of the nodes in mind before pruning. Leaf nodes pointing out, will produce new growth that points in an outward direction. Nodes facing in will produce new growth pointing back toward the center of the plant.
Ellen Brown is an environmental writer and photographer and the owner of Sustainable Media, an environmental media company that specializes in helping businesses and organizations promote eco-friendly products and services. Contact her on the web at http://www.sustainable-media.com (10/20/2005)

By ThriftyFun
Pruning a Hibiscus
I have two Hibiscus bushes in my front garden that are about 8 feet tall and growing out over my entrance way. How low should I prune them down? By the way, I live in central Florida so we don't see too many frosts. (11/11/2007)

By Jon
Pruning a Hibiscus
I live in Savannah, GA and have planted many hibiscus trees this spring which have flourished. Now I need to know how to prune them as they are now 8' feet tall from 3' feet. Just had temperatures in the 20's and leaves and blossoms are dropping. (01/07/2008)

By newgardener
Pruning a Hibiscus
Well, its a job like taking care of children I have found that out, I also went to a site Hidden Valley Hibiscus which helped me out a lot. I wasn't planing on this, but God has a way of getting you out of the house I see, when your a hermit like myself, lol. I moved into a place that had these trees, I know nothing of them, well this year the leaves started turning yellow.
So here I am, and I am learning, this is like taking care of children, family, me. I will search the web for pictures of pruned Hibiscus, that would be a great help, because I don't know what a pruned Hibiscus looks like, I know my tree could be more full, and these trees have their own food, now come on. Well, let me learn how to take care of the new member of the family. ;) (05/04/2008)
By Thea
Pruning a Hibiscus
Wait, I have found out each type of Hibiscus flower has its own name like our names. Yes, like Mary, Henry, yes, this is going to be fun. hehe (05/04/2008)

By Thea
Pruning a Hibiscus
My hibiscus is about 7 feet tall and very thin. Can I cut it down to a shorter height without killing it? (05/21/2008)

By Susan
Pruning a Hibiscus
Hi, just found your site. I have two hardy hibiscus at the back of my house in the ground with an eastern exposure, and I have always cut back the bushes in late fall after blooming has stopped all the way to the ground. Each spring they are the last to put out shoots but I have the fullest hibiscus with the most blooms of anyone in town (small town). The bush blooms from June through Sept. As I write this we still have blooms and seed pods. Harvested the seed pods and am going to try to germinate the seeds this year. Thanks for all your info on this site. (09/17/2008)

By Margi in Ky
Pruning a Hibiscus
I have had a hibiscus for about 2 years. I don't want to kill it. How do I trim it? It's growing crazy. (09/28/2008)

By cassey
Pruning a Hibiscus
I just trimmed the tips of my hibiscus which has grown over the fence, to remove all the seed pods. I don't want to have a thousand seedling in the spring. My plan is to do some cutting from the tree in early spring. Propagation for hibiscus is the best done in the early spring (late March) based on my experience. I tried to do cutting in April, and I guess it was too late. The cutting didn't root.
IN Zone 5b (10/03/2008)

By Quinike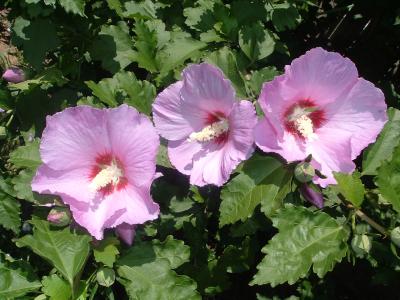 Pruning a Hibiscus
I just bought a beautiful 6' tree. Pink flowers. Still flowering as it was outside until just recently. The last tree I had would never flower after I first bought it. Can someone give me strong hints on forcing flowering. I have a South facing solarium with full sun. shirelyfisher AT hotmail.com (10/20/2008)

By shirely