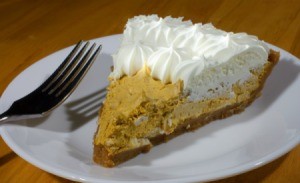 This recipe is a reminder of pumpkin pie, yet lighter and fluffier.
Ingredients:
1 single pie crust (I used Pillsbury roll out dough)
2 boxes of pumpkin Jello pudding
2 cups of cold milk
6 Tbsp. of brown sugar
2 cups of whipped cream (made from scratch) or Cool Whip plus 1 1/2 cups for garnish
4 Tbsp. of butter
1/2 cup of pecan halves or large pieces
Directions:
Roll out the pie crust on a lightly floured surface until 12 inches in diameter. Place in a 9 inch pie plate, do not tuck the edges under as you would with a regular pie. You only want them to drape upward in ruffles. Use a fork to prick the bottom and sides of crust. Bake pie crust in a 450 degree F. oven for 10-14 minutes or until edges are lightly browned. Remove from oven and let cool-about 15 minutes.
Mix both boxes of pudding with with the 2 cups of milk. Beat by hand with a whisk for 2 minutes making sure all the pudding is dissolved
Fold in the whipped cream until thoroughly mixed.
Spoon into cooled pie crust, smoothing out the top.
Melt butter in a saute skillet, when melted add pecans and brown sugar. Cook until butter and brown sugar are blended well remove from heat and let cool 5-8 minutes.
While pecans cool pipe whipped cream around the edge of the pie or you can dollop on what will be individual pieces. After the pecans have cooled a bit spoon over the mousse and garnish whipped cream as well.
If you have more pecans then you care to use store in a Ziploc bag and use on Ice cream.
Refrigerate until serving.
Servings:
6
Time:
10 Minutes Preparation Time
15 Minutes Cooking Time
Source: Inspiration came from a pudding box, I changed a few thing to adapt to my family's taste.
By paula from Mid MO
Comments