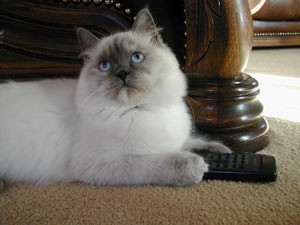 Breed Description:
From a distance this breed appears large and expressive. They have medium-long fur that is soft like a rabbits and begs to be stroked. This is a large breed with males weighing 15 to 20 pounds or more. They are heavy-boned and muscular with a fat pad present on their abdomen, regardless of their weight. This breed is slow to mature and long-lived and its sweet, trusting personality is one of the breed's most defining characteristics.
History & Origin: As the story goes, the Ragamuffin breed was developed in 1994 from Ann Baker's "Cherubim" breed, which began in Riverside, CA. The exact story is likely to remain a mystery, but the name Ragamuffin was chosen because the original gene pool was developed from the street cats in Riverside, CA. These cats were truly Ragamuffins living on their own and surviving.
Character & Temperament: The personality is one of the defining characteristics of this breed. Ragamuffins form deep, strong bonds with their owners. They are said to be like big teddy bears. They are known for their loving companionship toward children, robust play and ability to learn tricks. They are very trusting animals who should be kept indoors to avoid being easily lured away by passers by.
Color: Any and all colors and patterns are allowed.
Coat Type: Medium to medium long, soft, dense and silky. The hairs are slightly longer around the edges of the neck and face.
Grooming: Ragamuffins are low maintenance cats. Their thick, plush coats do not have a tendency to club or mat and are easy to maintain. Claws should be trimmed and ears cleaned only when necessary.
Health Considerations: Unknown
Trivia: Ragamuffins adapt well to traveling. They are easygoing and adaptable to almost any new environment.