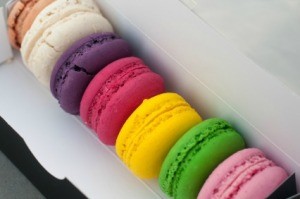 Very colorful and fun. Ideal for Easter/Welcome Spring. Easy to make and everyone likes them!
Ingredients:
3/4 cup butter, softened
3 oz. cream cheese, room temperature
1 cup sugar
1 egg
1 tsp. vanilla
2 3/4 cups all-purpose flour
1 tsp. baking powder
1/4 tsp. salt
assorted colors paste or gel food coloring
24 lollipop sticks
Directions:
In a bowl, cream butter, cream cheese, and sugar until fluffy. Add egg and vanilla.
In a medium bowl, combine flour, baking powder, and salt. Add dry ingredients to cream mixture. Stir until dough forms. Divide dough into fourths. Tint each with a different food color, wrap in plastic wrap and chill for 2 hours.
Preheat oven to 350 degrees F.(175 degrees C.).
Working with half of each color, shape dough into 3/4 inch balls. For each cookie, place one of each color ball together to make one large ball. Shape into a 12 inch long roll (like a snake), and starting at one end, coil to make a 2 3/4 inch round cookie.
Place cookies 3 inches apart on a lightly greased baking sheet. Carefully insert lollipop sticks into bottoms of cookies (could also bake as pinwheels without sticks).
Bake cookies for about 8 minutes or until lightly browned. Cool and store in an airtight container.
Servings:
12
Time:
15-20 Minutes Preparation Time
8-10 Minutes Cooking Time
By Karen from Pawtucket, RI