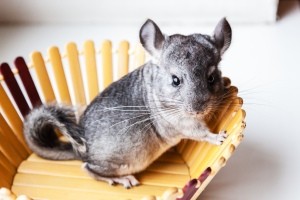 Description:
Chinchillas are small rodents native to the Andes Mountain region of South America-Peru, Bolivia, Chile, and Argentina. Domesticated species have been bred from a species found exclusively in northern Chile that is easily recognized by its giant ears and long, bushy tail.
Size: Chinchillas weigh about 1 to 1.5 pounds.
Compatibility: Chinchillas should only be kept with other Chinchillas. Same-sex pairs are usually compatible, even more so if the pairs are introduced to each other when young or grow up together from the same litter. Adult males are very difficult to introduce successfully.
Appeal: Chinchillas are active and fun to watch and they have a soft, cuddly appearance. They are also clean and relatively odor-free.
Drawbacks: Chinchillas are less popular and less widely available than other small rodents. This, along with the scarcity of certain rare colors, can make them more expensive. They also require a more specialized diet. Although they look cuddly, they do not like to be stroked or handled as much as other small rodents like guinea pigs. They need suitable housing to stay safe from household hazards. They may bite if frightened.
Diet: Chinchillas require specially prepared commercial pellets designed specifically for them. They are often fed hay or alfalfa cubes to supplement their dietary needs. They should only be offered fresh greens in moderation or they will suffer from digestive upsets. Commercially prepared "small animal treats" are not recommended as they do not metabolize things in the same way as other small rodents.
Problems & Health Issues: Chinchillas can be susceptible to dental problems and may suffer from digestive upsets. Chinchillas are adapted to a mountain climate and may become overheated at temperatures above 75-80 degrees.
Lifespan: Chinchillas are long-lived for rodents, 10-15 years.
Interesting Facts: A Chinchillas gestation is about 111 days. Litters of 1-4 young are born and they are weaned at about 56 days.