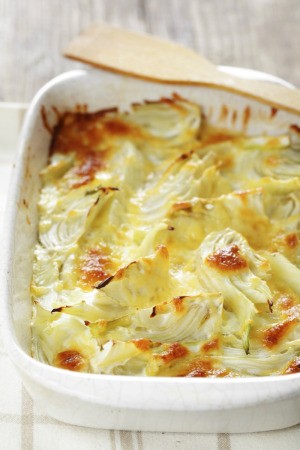 I went to the supermarket and saw fennel for the first time so I bought it, but I don't know how to cook it or use it in food. Can you send me a couple recipes so that I can try something. Thank you very much.
Christine from Trinidad, West Indies
Answers
July 20, 2007
0

found this helpful
Hi Christine.I love fennel and it's aniseed flavour, sometimes I use it raw in salads, just slice it and add to a mixed salad.It is very nice with sliced ham(the Spanish ham Serrano is best) but I am biased because I live in Spain. As a side dish I slice it and braise it in chicken stock. Hope this will get you started.
By Lynda (Guest Post)
July 25, 2007
0

found this helpful
The flavoring works well in many Oriental dishes, although I'm not too fond of how the Chinese have been putting poisoned items into the foods they sell the U.S. right now, so I'd just chop it finely and use it on fish and I believe it can be frozen if not wet. It is one of the main ingredients in "Chinese Five Spice" . The fresher an herb is, the more it takes to get the stronger flavor, depending upon your taste for it. I used to think it was more like dill, but it isn't. God bless you. : )
July 25, 2007
0

found this helpful
Here is a link I found with all sorts of fennel recipes and info. I've never cooked with it but I see it all the time on the Food Network shows. I believe it is used often in Italian cooking. Let us know how it turns out.
allrecipes.com/.../Detail.aspx
Jess
July 29, 2007
0

found this helpful
We use fennel that comes in a jar in the spice section of a supermarket as a tea. Use a teaspoon of it per cup. It has a mild sweet licorice flavor and it is good for colic, indigestion, bloat, gas, and stomache and is a natural relaxant. You don't have to be sick to use it. The taste is pleasant. Several generations of our family have even used it for our babies. My daughter loved it.
By Marta (Guest Post)
July 30, 2007
0

found this helpful
I slice the white part of a fresh fennel bulb into sticks and dip it in good olive oil with some cracked black pepper as a snack. It is also great in salads. But I don't like to eat the green stalky part.
August 5, 2007
0

found this helpful
I use fennel in the spice section jars, it give spaghetti a GREAT kick and everyone loves it.
Actually even if my sauce is shhhh Ragu or store brand canned spaghetti sauce I add a tablespoon or
so of fennel seeds to it.
Answer

this Question
Have you ever heard of adding fennel seed to your homemade spaghetti sauce? Is it any good?

Thanks,
P.J. from Delaware

Answers
May 3, 2006
0

found this helpful
My mother has always adds it to her homemade sauce and it is great.
May 3, 2006
0

found this helpful
Fennel is one of the main spices used when making Italian sausage, it gives it that distinctive sweet flavor associated with Italian Sausage. I would think if you added it to a simple sauce it would give it a more well rounded Italian flavor. I usually use Italian sausage in mine so I don't add extra fennel, but if you were using other meat or making a vegetarian sauce I think a little fennel would give a more authentic flavor. Just my opinion of course!
By Claudia- MD (Guest Post)
May 4, 2006
0

found this helpful
This is a frequent ingredient of italian food and has a distintive licorice-like flavor. Some folks don't like that, but it's worth a try.
May 4, 2006
0

found this helpful
Oh I love it, it says to use in spaghetti sauce on the
spice bottle. My husband really liked it . I really like
in italian sausage try a little bit next time you make
sauce, and taste it! yum.I add a dash to my sauce out of the jar.
May 6, 2006
0

found this helpful
I use to watch my ex Italian MIL make sauce and see her use cinnamon and was told it brings all the flavors together, I am not familiar with the Fennel but thought it may be of intrest to you to know what the cinnamon can do.
By Mary D. (Guest Post)
January 23, 2007
0

found this helpful
Fennel seed, in our family, was always used in sauce for pizza. Havn't tried it in spaghetti sauce, but will. Thanks
Answer

this Question