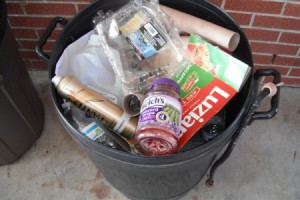 I enjoy recycling and recycle everything that I can. To keep the items we use in the house separated from the trash, I have a container just for recycling. Each day, I empty it into the large container outside which has a lid secured with a bungee cord. When we take the trash to the convenient site, we empty the recycling into the commingled recycling container.
According to a lady from the recycling company, that spoke at one of our meetings, you don't have to wash every container such as peanut butter and jelly containers. Just scrape out as much as you can. Even aerosol containers are recyclable if they are empty.
At the convenient site, there are separate containers for textiles such as clothing and rags, cooking oil, motor oil, oil filters, batteries and electronics. In addition to this, at the transfer station, you can recycle appliances, tires, light bulbs, concrete, and yard waste.
Recycling not only saves landfill space, it has created jobs and saved energy for making other products. Recycling is easy, once you get use to it, and you will find that you no longer want to put these items in the trash.
If you don't know what you can recycle in your area, contact your county's Solid Waste Department.