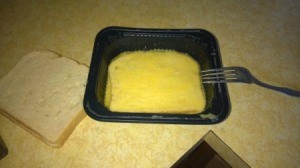 I don't shop at Costco, but I have friends who do. They save me the black, durable containers from their frozen foods. I am sharing the value of two sizes today.
The first is for my sourdough bread, which is not a square but more of an oblong shape. When I make french toast, it's hard to "squoosh" it down inside a square container. This is the perfect size.
The second is for soaking my flatware. I don't use my dishwasher for anything, but draining my dishes, and for plasticware.
So in the morning, I put in some soapy water and throw in the flatware to soak. When I do my dishes at night they are virtually clean.
I also use them for crafts, the bigger ones from lasagna for holding yarn, storing photos, etc. N-JOY!
And if you are wondering, these are #5 which are safe. I never use them for the microwave, but you can use these for non-food stuff if you have concerns.
For the list of safe numbers on food containers check the link below.