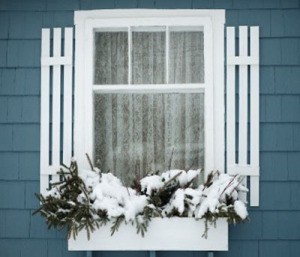 Once January 1st rolls around, millions of Americans find themselves looking for a way to dispose of their Christmas trees. Although most communities offer curbside Christmas tree recycling program, there are also some great ways to put your post holiday tree to work for you in the garden.
Protect Dormant Plants
Pine boughs are a great way to protect sensitive plants during the winter months. Evergreen perennials, less hardy perennials, or perennials that were planted in mid- to late fall, can all benefit with some extra mulching to help them through the winter. Spread the boughs over the plants at least two layers thick. This will protect them from drying winds and help stabilize soil temperatures, reducing the risk of frost heave.
Trellises And Arbors
Pine boughs are also an attractive way to protect plants on trellises and arbors from drying winds. Use twine or zip ties to hold them in place over climbing roses, grape vines, bittersweet, or clematis.
Spring Removal
Pine boughs should be removed in the spring after the danger of severe weather has past. Once temperatures begin to warm up and the tips of early bloomers like crocus or snowdrops start to push through, its time to collect them from the garden. Since most of your plants will still be under an additional layer of protective mulch, its important to remove the pine boughs to allow the soil to warm and increase the air circulation around your plants.
Spruce Up Planters and Window Boxes
Another great way to recycle your tree is to cut the branches down to size and add them to your window boxes.
Using the pine boughs as your base, add in some rose hips, birch twigs, or boxwood to fill in and create texture. Bits of preserved reindeer moss will add a pop of citrus green. To add some warmth, nest (or wire) in some large, sugar pine cones and a few pheasant feathers. Finish the arrangement off with a few pearl holiday ornaments (unbreakable) or white lights, and some winter ribbon. Voila! Beautiful window boxes to transition you through until spring.
Add Traction to Slippery Sidewalks
During a sudden January thaw, toss pine boughs onto sidewalks and walkways and let them freeze into the ice. Not only will they provide you with some good traction (and a pleasant scent), but also with an eco-friendly alternative to rock salt. Just make sure you leave your shoes at the door after walking over them, or you will gum up your floors with pine sap.
Provide Food and Shelter for Birds
Recycle your Christmas tree whole, by placing it in the garden or backyard and using it as a bird feeder. First, make sure the tree is free from Christmas decorations, ornament hooks, garland, and tinsel. Then take florists wire and a large gauge needle to string some edible garland made from fresh apple, orange, and pear slices, cranberries, peanuts in the shell, popcorn, and pine cones covered in peanut butter and birdseed. Birds will flock to your tree to nibble at the garland or take cover in the branches.
To further recycle your Christmas Tree (after giving it to the birds, of course!) is to use it in your garden during the growing season.
In past years I've used mine for supports for green beans or morning glories. Simply remove the branches with a pair of garden snips, leaving stubs between 6 and 12 inches in length, either lean it against a fence or support it in some ingenious way in the garden and plant your seeds at its base.
The vines will grow up the "tree" and use it for support. If your garden plot is large enough, ask your neighbours to give you their cast-off trees if they won't be using them. These supports will last much longer than just one growing season. Not only is this tip helpful, but artistic as well!
Source: Can't remember - but I'll claim it as my own!
By Pam Miller from Beeton, Ontario, Canada