How do you get red kool-aid out of carpet?
Lynn from Lincoln, Nebraska
Answers:
Kool Aid Stains on Carpet
Thanks so much for this tip! My daughter spilled red kool-aid on the carpet yesterday and after using everything else, I tried your suggestion. And after an hour of using the hot water with Dawn and an iron on the acrylic setting, the stain is just about gone. WOW! (03/13/2007)
Kool Aid Stains on Carpet
Thank you guys so much! My two year old left her sippy cup of kool-aid under the couch and I found it three days later. Spilled all over and dried. I tried carpet cleaner, and soap and water, did not work. So then I found this web site and tried the wet cloth with a hot iron. Took me about 30 minutes, but it is out. And I have a light cream carpet! (03/20/2007)

By cami
Kool Aid Stains on Carpet
Is the dawn the regular dish soap or the new oxy stuff? Do you mix with the hot water? I have tons of stains to get out of the rental carpet. Thanks for help. (04/23/2007)

By mobusymom3
Kool Aid Stains on Carpet
WOW! Go straight to the tide/dawn water combo w/ a white cloth and a hot iron. It still took 30 minutes to get it out, but 5 times better than the three plus hours I already spent on the rug. Rarely does my iron get much use. This use is AMAZING! Thank you! (05/05/2007)
By Lynn
Kool Aid Stains on Carpet
I had a red Gatorade stain that would not budge. I went through steam cleaning, spot shot, folex, everything! 1 tsp of dawn soap in 4 cups of water, pour it on the stain, put a white dish cloth over the top and iron the dishcloth. The stain was gone, amazing. (06/09/2007)

By Kelly
Kool Aid Stains on Carpet
It really works. I thought it was stupid, but it really works. It takes about 30 minutes though. You might want to change towels too. (06/14/2007)

By elizabeth
Kool Aid Stains on Carpet
Hi -
I had a few kool aid stains in my sofa. I tried the hot iron with a mild detergent in water and it worked like a charm. Thanks so much for posting this suggestion. (07/08/2007)

By L.A.
Kool Aid Stains on Carpet
DO NOT use Gonzo stain remover on red Kool Aid. It just spreads the stain around, so you're only making things worse for yourself. Thought you might like to know. (07/09/2007)
By Izzy
Kool Aid Stains on Carpet
I must say that yes, the ironing does work. The only bit I would add, just to make it look a little better after you are done, is to not OVER SOAK the carpet. Yes, it probably needs to be a little wet along with the rag, but at the same time, if you over soak or get too much soap on it, then it kinda mats up on you afterward. I had about a 3 day old carpet when this happened and that helped it come out better, but afterward, it looked older on the spot like it had been matted down. It should dry out a little quicker too if you don't over soak. But it does work! (07/10/2007)

By Burrdawg
Kool Aid Stains on Carpet
Thank you for the tip. My son spilled red Gatorade on our new carpet. I used carpet cleaner, rubbing alcohol, peroxide, vinegar and none of it worked. I didn't have Dawn, so I used Bath and Body Works foaming hand soap, water, a rag, and a hot iron. A half an hour later the stain was gone. Thanks for the tip. This could put carpet cleaners out of business. (07/18/2007)
By jabarker
Kool Aid Stains on Carpet
Oh My Goodness! We had rented a rug doctor, tried every other stain recommendation we saw on line and then ran across this! My stain is completely gone! This was an amazing tip!
We used 1/2 tsp tide, 1/2 tsp dawn with 4 cups of water - placed a white towel over the top and ironed like crazy! I knew it was working as soon as I saw the towel turn pink. It took a few times because there was a lot of Gatorade, but wow!
Great TIP! (08/10/2007)

By Ellen
Kool Aid Stains on Carpet
I tried everything I could think of to get the kool-aid out of our light carpet. I had a carpet cleaner come and he only made it worse. I came on this site and found about the dawn dish soap and iron. Let me tell you it worked instantly. It took me 30 minutes to get out what I have been working a week on. I will tell everyone about this! (08/13/2007)
Kool Aid Stains on Carpet
Thanks for the info! We haven't tried it yet, but plan to this weekend. I was also curious about the process and found a website explaining. Hope it helps!
1. 6 drops of dawn into 2 cups of warm water
2. Dampen white cloth lay over stain
3. Set iron to low and lay (do not press) on top of white cloth for about 15 minutes. Wait for cloth to turn red
4. Then start rinsing once you have the desired amount of stain removed.
The website stated it takes patience and time, do not rub the stain instead dab. (08/14/2007)

By Kim
Kool Aid Stains on Carpet
I honestly thought that my oxy-Resolve would do the trick for a three-day old bright red Gatorade stain on my bedroom carpet. So when it didn't work, I googled the question and ended up here. I took the iron/dawn/tide/white towel option because it had so much good feedback. IT WORKED! This stain was about a foot wide and a foot long, it took a little over thirty minutes to remove it...but you could actually hear the iron sucking up the liquid. It was amazing...thank you, thank you, thank you...now I won't be losing my security deposit! (08/24/2007)
By Loa
Kool Aid Stains on Carpet
Whoever thought of this trick is a GENIUS!
My son spilled a cup of red Crystal Light powder (enough to make a gallon) on his light tan carpet, then tried to clean it up with some spray cleaner (I discovered this crunchy stain when I stepped on it at night). There was a large dark maroon-colored stain. I tried scrubbing it for a couple of hours, which only made it worse.
The iron/white towel/hot water & dish soap trick worked like a dream. Less than 1 hour later, the stain is completely gone! Thank you! (09/11/2007)

By Happy Mama
Kool Aid Stains on Carpet
I purchased a program vehicle and after getting it home found that there had been something red, possibly kool aid, spilled on the floor board carpet which was hid by the floor mat. I tried cleaning it with carpet cleaner but it did not budge the stain. I was very skeptical about the dawn dish soap, tide and hot iron method working but figured it wouldn't hurt to try. I am amazed how well it worked! I have gotten 3/4 of the stain out and I'm sure with a little more time I will get the rest (which is the corner and will take a little more time). Thanks for the tip. (09/17/2007)

By Cindy Mc
RED Kool Aid Stains on Carpet
Thanks for the tip. I tried a stain remover and carpet cleaner none of which worked. However, the iron and dawn worked perfectly. Thanks so much! (09/20/2007)

By Keysa Marie
Kool Aid Stains on Carpet
We had red Gatorade on white carpet. Had a cleaner come out and charge $150 and the stain was left on the carpet...faintly there. But very very visible. I did the solution everyone is talking about and ironed on a medium setting with a dishcloth.
It CAME OUT. Wow. I was panicked because our landlord would have been so mad! I will never get a carpet cleaning company again.
Another method a carpet cleaning company told me was a 50/50 mix of rubbing alcohol and clear ammonia. Scrub and iron away! (11/01/2007)

By Tara
Kool Aid Stains on Carpet
I had two kool-aid stains about the size of half-dollar coins. Those stains have been there for the past four years (2003). I tried every cleaner possible and those darn steam machines - nothing worked.
Today, 11/7/07, found this web site and tried the wet wash cloth, dish soap, and an iron. Stains were gone in less than 20 minutes of work. Wet & rinse the wash cloth 5 to 6 times with a little dish soap over the stain and then the iron - bam - all gone.
I can not believe it; the carpet looks great (no more stains).
(11/07/2007)

By Paul M.
Orange Pop stains on carpet
My one year old daughter spilled orange pop all over herself and the carpet. Of course I had to get her bathed and cleaned up first so by the time I got around to cleaning the HUGE stain, 20 plus minutes had passed. I tried everything, Spot Shot, Folex, peroxide and cold water but this is the only thing that worked. I saturated a dish cloth in cold water, put it over the stain and about 15 minutes later it is gone. Not even a tinge of orange on our very light beige carpet. Thanks, Michelle. (11/12/2007)
Kool Aid Stains on Carpet
Oh my goodness, this water/soap/iron technique rocks! I was so worried I wouldn't get the stain out but this worked. The only problem is that I may have done something slightly wrong because the gray carpet is slightly bleached looking, but I don't care it looks better than bright red! (11/15/2007)

By Kelly
Kool Aid Stains on Carpet
The Iron, Dish Liquid, and towel worked miracles on my living room carpet. Our dog got into a packet of dry red cool-aid powder and it was in 6 different size areas on our carpet. We tried carpet cleaners, oxy clean, and then tried the iron trick. It worked miracles. We saw the red come up on the white towels and looked underneath to see the red slowly disappearing! Definitely try this! (11/22/2007)

By Megan
Kool Aid Stains on Carpet
The dawn/tide and iron worked great on the red kool aid (that my wife did not tell me about in her car). I found this and tried it, and it worked great. But it did slightly turn the tan carpet a gray color, but the red stain is almost completely gone! (11/26/2007)

By Greg
Kool Aid Stains on Carpet
I just wanted to let everyone know that this is the best cleaning tip in the world. Four weeks ago someone knocked over an entire glass of fruit punch on my very light blue carpets. I thought I had gotten most of it, but by the next morning it had looked even worse. I finally gave up trying to clean it and figured it would never come out until I read this. It worked miracles! This was a stain that had been set in for 4 weeks, and you would never know that there was fruit punch spilled on our carpet. Thank you so much to the person who put this tip up! (12/28/2007)

By Lindsey
Kool Aid Stains on Carpet
The soap/water/iron method works! Thank you! (01/12/2008)

By Pam
Kool Aid Stains on Carpet
I had orange pop on a tan rug. I didn't have Dawn or Tide. I used what I had with the iron and white towel. It's gone! (01/14/2008)

By Patti
Kool Aid Stains on Carpet
My son spilled pink tropical punch kool-aid all over the carpet. I tried woolite, resolve, kids-n-pets ( an enzyme cleaner that professionals use) nothing worked and I started freaking out. I did not want to replace the carpet. So I tried the iron method. It came right up. 1/2 tsp of dawn, 4 cups water, white cloth and iron. Pour some of the solution over the stain and place the cloth and then the iron and the stain comes up in minutes. I can't believe how much money I wasted on carpet cleaners. This is amazing. (01/21/2008)

By Hope
Kool Aid Stains on Carpet
Be careful not to get the carpet too hot. It will melt the netting that holds the carpet together. (01/25/2008)
Kool Aid Stains on Carpet
This idea is very innovative! It really worked a MIRACLE on my tan carpet. I was about to have it professionally cleaned, but decided to try this concept and it TRULY worked wonders. Thank you so much. (02/08/2008)

By Dee.
Kool Aid Stains on Carpet
It truly works! I didn't have dawn but used whatever dish liquid I had and the kool aid stain came off. The stain had been there for months. It does take patience but you will see the progress. I also put some of the liquid and dish soap onto the carpet as well and that is what made it work. Save your money and use your elbow grease, you'll be proud of yourself! (02/09/2008)

By Melissa
Kool Aid Stains on Carpet
So will this work if the red Kool-aid was spilled in a car also?
(b)Editor's Note:(/b) It should but most car carpets are nylon so make sure you have your iron set at the lowest setting so you don't melt the carpet.
(02/21/2008)

By APRIL.
Red Kool Aid on Carpet
Thank you so much! We soaked a washcloth in hot soapy water, placed it on the stain and put the iron on it. The steam took the stain away! (03/29/2008)

By Joanne
Red Kool Aid on Carpet
The iron/water/soap thing is the best. Be patient, and do it in stages; iron for 30 minutes, rest, 30 minutes, rest. (03/30/2008)

By John
Red Kool Aid on Carpet
Thank you, thank you, thank you! I tried Resolve, Spot Shot, Woolite, and a steam cleaner. I put a few drops of Dawn in hot water and ironed. The spot came out! (04/21/2008)

By Kat
Red Kool Aid on Carpet
First of all, let me tell you I am not an ironer. In order to try this, I had to dig my iron out of a box in the basement! :) It worked, I am so happy. This stain has been bugging me now for 2 years, right in the middle of the biggest area of carpet and now it's gone! Thank you so much! (04/24/2008)

By Kristen
Red Kool Aid on Carpet
Okay so I thought it was crazy, but it totally worked! The two things I would add; 1. Dunk towels in the solution and then iron the towel. Change the towels often; like have one in the solution while you iron with the other. Once the water starts to turn pink change the water. I used plain water when it got pink and needed changing. My carpet looks like it never had anything spilled on it. (04/27/2008)

By Meghan
Strawberry Margarita Stain
This tip worked like a charm on a strawberry margarita stain. I'd wasted nearly half a box of oxy clean, a bunch of borax, a whole lot of carpet cleaning solution, and muscle power (scrubbing with my little green carpet cleaner). The ironing took about 45 minutes, but the stain is practically invisible (it would be totally invisible if I'd done it another 15 minutes). There is a light spot, but I think it's just because that spot is now the cleanest spot in the living room. (05/25/2008)

By Julie
Red Kool Aid on Carpet
I just want to say a huge thank you to whoever posted the original idea. Let me tell you, it saved me replacing a carpet on a home we're moving out of. I had red Gatorade spills on two of my children's carpets -- and some other unidentified stains (Thank God we're moving to a house with all hard floors!). I bought everything on the market and the best it did was turn pink. Used this method and the stains were gone -- it does take patience but it works and it's FREE! Thank you! (05/31/2008)

By Chelle
Red Kool Aid on Carpet
It works! I had a Kool Aid stain in my carpet and it's a rental. I thought "well, there goes my deposit" but it's like it was never there. (06/21/2008)

By Arlene
Red Kool Aid on Carpet
Thanks for the info. I tried the iron/dawn remedy and it worked. I used it on 4 big year old kool aid stains. I was going to buy new carpet and this saved me a lot of money. (06/24/2008)

By mom of twin toddlers
Red Kool Aid on Carpet
We tried everything, including a professional steam cleaner. Nothing worked! I logged on and found this recommendation and it took the entire stain out in minutes. This was awesome. (06/25/2008)

By Dan
Red Kool Aid on Carpet
I just did like Jennifer's posting:
I just had this same problem! Our son managed to spill red kool-aid in four different places in the apartment we were renting until our new house was finished being built. Wanting to get our deposit back I tried everything to get the stains out. The ONLY THING that worked was the iron trick. I took a big tub of cold water, soaked a washcloth in it, folded it in half, then laid it sopping wet over the stain. Next I laid a VERY HOT iron on top of that. Once the washcloth was kind of dry I soaked the washcloth in the cold water again to cool it off and started the process all over again. It took some time but it DID get the stains out! (09/22/2006)
By Jennifer
It worked perfectly this was a little time consuming but well worth it and the carpet didn't get destroyed. (06/30/2008)

By MARIE
Red Kool Aid on Carpet
I tried absolutely everything and NOTHING would get the kool-aid stain out until I tried this! It still took about an hour but it totally worked. All I had was dollar store dish soap and that worked fine. My rug didn't turn pink though, more orange-ish brown, but it still took out the bright red stain. I am so happy that it worked, I was feeling really upset about it. Woo hoo! (07/08/2008)

By Kari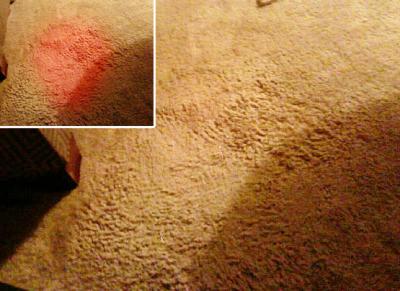 Red Kool Aid on Carpet
This TOTALLY worked! I couldn't believe it. It is like it was never there! Blue Dawn, White washcloth and an Iron. I didn't even need to run out and get anything. I have Tan carpet and I agree with the reader above. It did lighten the carpet a little, but I think that is just because it is so clean. I feel like spending a weekend "dawn ironing" my entire HOUSE! But that's just me! (08/03/2008)

By Anne
Red Kool Aid on Carpet
It really does work! Patience is the key to this. I used this method on my carpet in my car and in my home. Keep changing the towels. Repeat several times, it is worth it :0) (08/11/2008)

By steph
Red Kool Aid on Carpet
Hi all. I had a large red drink stain after my daughter's 18th birthday party. Tried soda water, steam cleaning, scrubbing and just about everything else. It's nylon carpet and I was a bit worried with the iron trick, but after an hour or so, it worked great. I wasn't sure, but had the iron set to steam and we used whatever dish washing liquid we had. It's a rental property with an inspection coming up so I am ecstatic. Many, many thanks from Australia. (08/18/2008)

By Helen
Red Kool Aid on Carpet
Amazing! My 4 year old spilled 16 ounces of Red Kool Aid on the most obvious section of our carpet in our whole house (doorway between the dining room and kitchen). I was disheartened after reading on the Spot Shot website that the only thing it does not work on is Rust and Red Kool Aid which has special dyes in it. I tried steam cleaning, Bissell's green machine, oxy clean, Kirby food stain carpet cleaner, etc. Nothing came close to working. The first time I ironed over the stain I saw a large patch of pink soak into the white cloth. I was so happy I could cry. It's not 100% gone yet, but I will continue to work on it. Thank you! (09/12/2008)

By Kelly
Red Kool Aid on Carpet
Thanks! The iron thing really works. I am a soccer Mom and had a team kid spill red Gatorade in my SUV which has tan carpet. I was not informed until the next day when my own child saw it. Needless to say I was devastated. The SUV is only 3 months old and I have used everything under the sun to try to remove this stain.
I had given up until today, when I thought, "what the heck I will see what the internet has to suggest". I am so glad that I did. I have been working on it for 2 hours and it is almost all gone. I will say that I found it worked the best when you scrub the area with the dawn first, then apply the wet towel that also has dawn on it (4 cups of water & 1/2 tsp of dawn), then use the hot iron. I wish I could thank someone in person for saving my new truck. (09/27/2008)
By Amy
Red Kool Aid on Carpet
The iron and dawn method really worked. I was able to remove a year-old red Gatorade stain from the tan carpet in my car. (10/02/2008)

By larry
Red Kool Aid on Carpet
We tried everything, and this worked great! I was ready to replace carpet. (10/24/2008)

By Lisa