My husband and I are about to purchase our first home. It is a foreclosure so it's buy "as is". There's really not too much wrong with it. I want to make the cabinets in the kitchen a darker color, maybe a nice cherry wood. I'd love to be able to update the countertops. I'm not sure what the countertops are made of though. Any tips that can be offered would be great.
By Lacey from Fort Smith, AR
Answers:
Refinishing Kitchen Cabinets
I stained my previously "golden oak" cabinets a rich, dark brown. It was surprisingly easy.
I simply sanded them lightly and wiped on the darker stain. Then I added bright, white ceramic tile for the backsplash. Altogether, I only spent about $100.

As for the countertops, I splurged and paid someone to replace the laminate. I didn't want to attempt that myself. (10/18/2009)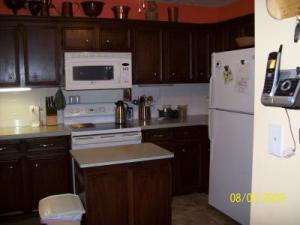 Refinishing Kitchen Cabinets
Another option for your countertops is to remove the laminate you now have and using that as a template, cut 3/4 inch plywood to put on your counter. Then cover the plywood with granite tiles. If you use a grout that is very close to the color of the granite tiles, it almost looks like solid granite. (10/18/2009)

By Patty Lynn
Refinishing Kitchen Cabinets
I just completed sanding, staining, and double coating with polyurethane satin part veneer and wood kitchen cabinets. I used four different stains mixing together half and half, colonial maple and golden pecan for the large middle panel and using half and half mahogany and cherry stains on the outer areas and edges. They turned out very pretty.

I put the first mixture over the whole cabinet door and then used the second stain mixture over the outer area. By doing it this way, the merge of the two stains complimented better. The edges of the cabinets were a sawdust and glue combo and the polyurethane kept it from flaking away as they were old doors on a vintage trailer. I plan on taking a picture and will put it on Thriftyfun sometime.
(10/18/2009)
By Lorelei