How do I refinish kitchen cabinet doors? I want to paint some old cabinets and replace the center with frosted glass. It looks like there is a gloss finish on the cabinets and they are old. I don't want to hurt the wood.
By Stephanie from Bokoshe, OK
Answers
February 9, 2010
0

found this helpful
Best Answer
Don't worry too much about the wood, we did the same at our house, hit it with a sander and then hand sanded the detail (a bit ornate) then primed and painted, was a lengthy process but thoroughly worth it!
February 10, 2010
0

found this helpful
Best Answer
Go to http://www.thisoldhouse.com and enter 'paint kitchen cabinets' in the search box. I used their instructions on my cabinets and they turned out beautiful.
It took me 2 weeks to complete the project. I painted my cabinets white and changed the hardware. I also left off two cabinet doors and glued red & white check fabric to the back.
Answer

this Question

...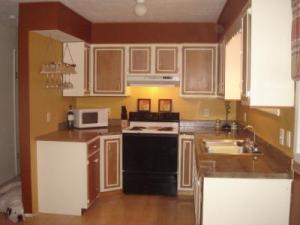 I need some advice on re-finishing or painting my kitchen cabinets. Here's a look at my kitchen. What do you think I should do with these cabinets?
I have no style, just want something that looks good.
By Sabrina from Painesville, OH
Answers
June 23, 2011
0

found this helpful
Best Answer
Completely refinishing them would be a lot of work---you would have to take the old finish off first. I would take the doors off and pick a color of paint you like and paint them and then paint the actual cabinet part in either a matching color or a contrasting one.
Answer

this Question

...
I am painting my kitchen cabinets. After I prime them can I use spray paint? Or should I stay with regular paint?

By sandy from Mountain View, AR
Answers:
Painting Kitchen Cabinets
Depends on the look you're going for. If you want the best, take the doors off their hinges, then go outside and spray them with regular latex or acrylic paint and an air compressor. If you don't have one, use a small foam roller, not a fluffy roller. The foam roller will leave less marks. Spray paint is enamel based and if you use it inside you'll need a quality face mask, a respirator, not just a surgical mask! It's better to stick with water based paint and stay away from oil based.

The oil paint will leave a nasty smell for weeks! Be sure to use a high-adhesive primer like Zinsser 123 or Gripper. I'd stay away from "Kilz" brand as I've had bad luck with it. If you decide to use a brush, choose a quality natural brush, it will leave less streaks than a nylon one.
The nicest cupboards I've ever seen were covered with a woven matting. In a natural color, then sealed with a water based varathine. They were really nice! (06/09/2009)

By Cyinda
Painting Kitchen Cabinets
Preparation is key with kitchen cabinets, so make sure they are clean and dry. I would use a regular paint instead of a spray paint. You can easily get runs with spray paint and not see them until they are dry. Remove the doors and drawers so they are easier to paint. You can take them to a garage where you don't have to worry about being so neat. (08/16/2009)

By Mike
How can I remove the decorative raised beading on my kitchen cabinets prior to repainting them?

By jeri o from Chicago, IL

Answers:
Painting Kitchen Cabinets
My husband is a carpenter, I asked him your question. He said the beading is either nailed on, glued on or both. Place the edge of a putty knife next to the beading, then use a hammer to gently tap the handle end of the putty knife to try and lift the beading so you can determine whether it is nailed, glued or both. If it is nailed, you are in luck. Just continue using the putty knife and hammer to remove the beading. Fill the nail holes with wood putty.

If it is glued or both nailed and glued, it is very difficult to remove. He recommends you use a 50 or 80 grit sandpaper and belt sander. Only sand the beading, not the cabinet door, and only sand until the beading is gone. If the beading is nailed and glued, the sandpaper will also sand the nails down.

After the beading is removed, the doors should be sanded by hand or with a vibrating sander with a fine grit sandpaper. (05/11/2009)

By Joy
Any suggestions on painting kitchen cabinets?

Cathy from Thurmont, MD

Answers:
Painting Kitchen Cabinets
I understand! - When I moved in, the kitchen cabinets were hot pink! No kidding! Not everyone has nice wood cabinets!
HERE'S HOW YOU DO IT:
You'll need to prime them first with a high adhesive primer (like Zinsser 123). It's best to sand them a bit first to give them a bit of "'tooth". But if you use the high adhesive primer you can sometimes get away without sanding first (just make sure to clean with TSP). If you do sand, use a fine grit sandpaper, then make sure to use a tack cloth to get of the fine dust or your paint will not stick

Next: use a high quality semi-gloss or gloss latex paint or even better, instead use a 100% acrylic paint. This is usually sold in paint stores and it's sometimes sold for painting masonry. 100% ACRYLIC is a super high quality paint!
It's not just for artists, it also comes in gallons at paint stores. OR

You can skip the whole priming thing altogether if you want to use Melamine paint. Melamine is that cheap (usually white) coating on less-expensive furniture that looks like white Formica. It's glossy and hard to paint, so they came out with a super-adhesive paint that will stick to anything. It's pricey and it's oil based, so you should wait until the weather warms up so you can open the windows to air out you home if you use it. It gives a lovely, hard finish. You can even buy a melamine primer, although you don't really have to prime if you are using melamine paint. Sand the shelves to roughen them up, prime (if you choose to) and paint. You'll have to wait about 15-24 hours between coats, and a week or two before you can put anything back on the shelves. The smell isn't as bad as oil paints of old. The mineral spirits used for clean up is much worse.

One more option, I had a friend who painted her kitchen cabinets and she swore by Marine paint. You'd have to call a boat or marine store to see where to buy it. It's made to withstand that harsh salt air, so it's super tough! My friend said she had painted her cabinets with Marine Paint and after 15 years they were still in perfect shape!
When I painted my cupboards, they were plain, so I glued on woven chair cane, before gluing I painted the cane and the cupboards, then cut molding to frame them out, painted the molding, then framed the cane on the cupboards. The caning and matting can also be stained with wood stain. Be sure to coat cane and matting with a varnish, like urethane for use in the kitchen. Here's a URL to buy cane, woven mats, bamboo etc. http://www.looseends.com/

Another cool idea that's easy to do is to "Skin" your cabinets with either copper or aluminum. You buy the thin metal as roof flashing in the roofing area of the home center. You just, "skin" the doors, the rest of the cupboards you paint with either an aluminum paint or a copper spray paint, that you spray into a paper-cup then brush on. Or you can use "Hammerite". It looks just like hammered metal, plus you don't need to sand OR prime with Hammerite! This way you can get a stainless steel or a pewter look for a great price! It's really easy.

Cyinda (03/05/2007)

By Cyinda
Painting Kitchen Cabinets
Our house has Quakermade cabinets that date back to the 50's. Originally they were painted in what looked like a robin's egg blue baked on enamel. Over 50 years of use the finish had gotten somewhat scruffy. The cabinets however where in excellent condition. So we thought that we should paint them.
After extensive investigation we hit on the idea of taking them to an Automotive Body Shop. We chose the color right from the car colors (Oldsmobile Almond, I think we used). They were done in less than a week and people are asking us where they can buy the cabinets. They came out that well. So if you can take them out of the kitchen this it isn't a bad idea. Cost wise for the entire kitchen 20 cabinets upper an lower was about $1,800
(06/30/2007)

By Mike