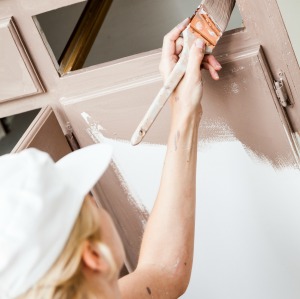 I'm planning on painting my kitchen cabinets and was thinking of leaving the top cabinets their original off-white colour and painting the bottom cupboards a dark brown. I love the richness of the brown colour, but I don't want to paint all the cupboards with it, because it will make my tiny kitchen seem too small.
My problem is that although I think I like this idea, I'm having trouble finding examples of kitchens that have been painted the same way with the top and bottom cupboards different colours. Does anyone know where I can find any pictures like this, or has anyone painted their kitchen the same way? I'd really like to get a better idea of what it would look like before I spend the time and money. Thanks.
By Trix from Toronto ON
Answers

July 13, 2009
0

found this helpful
Best Answer
Hi, I painted my wall and base cupboards in different colours around 3-4 years ago. I couldn't attach a current photo because my hubby's in the process of moving equipment/files/etc to a new computer but I found the post from a few years ago. Basically the painted finish has worn very well, the only things different are that we finished touching up paintwork on the walls were necessary and replaced the dishwasher and toaster (not much is made to last these days!).
Not exactly the colour choice you mentioned but thought the link might help somewhat with a visual idea:

July 16, 2009
0

found this helpful
Best Answer
My solution was a little different. I used the light color on the top cabinets and used a 'picture frame' effect on the bottom. First, I painted the entire door white. When it was fully dry, I used one inch masking tape on the sides, top & bottom edges creating a rectangle area in the middle. Then, I used the dark paint on the untaped area. When the tape was removed, it looked like a white picture frame with brown in the 'picture' area.
This provided the dark area where dirty marks don't show, but kept the lighter look to help make the room look bigger. I did the same thing with the drawers, and got wooden knobs which I also painted white. I don't have a picture, but it was a nice, crisp effect.

July 13, 2009
0

found this helpful
I've seen this painting technique done on HGTV, maybe you can go to their website, www.hgtv.com, and find some pictures of the finished product there.

July 20, 2009
0

found this helpful
Take a picture of your cabinets and go to your local Home Hardware. They can load it onto their computer and show you what it will look like with different colors.
Answer

this Question