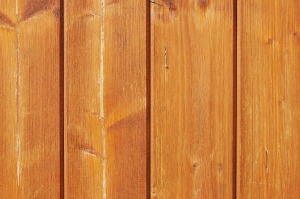 I have one room in my house that is all paneling. Every wall is floor to ceiling. At first I really liked it, but it is mostly a spare room and when my outdoor chain link fence fell, I kept my big, completely outdoor dogs in that room as I did the repairs. Needless to say the beautiful wood paneling is now scratched and nicked and hideously damaged in more than one spot from my dogs jumping up on the door, window sill, etc.
Most of it could possibly be sanded out, but there are multiple deep grooves and it would be a lot of sanding. I had planned on covering or replacing it anyway, but now I don't know how to go about it. Should I just rip it down or should I sand it and paint it? I know nothing about this kind of home improvement, but I don't have the money to pay someone who does. Any advice would be appreciated!
Corie from Nashville
Answers

January 12, 2009
0

found this helpful
If you remove the paneling you may find a lot more to fill in. I would get plastic wood and fill the scratches. There is a plastic wood that is easy to sand but I don't remember the name. Then buy an electric sander, they are not expensive and will eliminate a lot of work. You can then paint or wall paper the room.
By lori (Guest Post)
January 13, 2009
0

found this helpful
Hi, we remodeled our living room on the cheap. We had the old 1970's paneling on the wall. By this time we had discovered joint compound in doing the master. We bought a like 28 lb bag of dry mix for under 30 bucks, and mixed it with water as told in a big bucket. then we mudded our walls with the spackler whatever its called. but the point is we filled in all the paneling grooves and then swirled it in there making it a decorative finish with random protrusions from the compound.
then after drying we did a two color paint treatment on those walls. a rusty brick background and then i took a sea sponge and randomly went over the top of it with eggshell white. for less than $80 or so we had the room looking so cool. make it your own art expression!
By (Guest Post)
January 13, 2009
0

found this helpful
Nothing new to add but the last house we bought is almost all paneling and that does get to you after awhile. The first room I did I put spackling in all the grooves, primed it with Kilz and wallpapered it. Lots of work but it turned out really cute. Now 4 years later the paper is starting to curl at the seams. I had kinda hoped that it would stick good and I could possibly paint over it some day. In my hallway, I applied Kilz again and then painted the walls a light creamy color.
Really brightened up a dark hallway. Last year, hubby and I decided to see what was under the paneling in our living room. There was 1/2 inch sheetrock that needed mudding and taping. So we did that and it was a lot of work and it turned out really nice. Next I will do my bedroom and bath. Havent quite decided what I will do in there. Good Luck, Karla

January 14, 2009
0

found this helpful
Hi Corie,
I had natural wood paneling in my sunroom and could not stand how it looked. So I lightly sanded the paneling, primed the walls and painted. (Don't try to skip priming the walls: this extra step will provide the proper base between the paneling and your chosen paint color. Without the primer the paint could easily peel off the paneling). The resulting look is reminiscent of old fashioned bead-n-board.
It looks wonderful. Also, I added a chair rail around the room and walled papered by bottom half of the room with a lovely vine and leaf pattern paper. Painting the room really opened it up and made it a very welcoming space.
FYI. if the grooves are really deep you can always fill them with wood putty to even out the wall prior to painting.

January 18, 2009
0

found this helpful
We had paneling in our gameroom and it made the room very dark. We just used Kilz primer and Benjamin Moore taupe colored paint. It was very easy to do and really brightened up the room. We also used MDF for crown moulding and baseboard.(very easy to paint and to work with in general). The room looks great and it has been about 5 years. Just go for it.
Sandy from Pittsburgh
Answer

this Question

I have stained and vanished custom wood picture frame paneling in the living room and some in the dining room. I would like to whitewash or paint the paneling in the living room to give it an old Western or antique type of look. Anyone have some suggestions on how to achieve this finish?
By Barbara from Greenville, TX
Answer

this Question