Does anyone know if it is possible to refresh wood veneer? I have a lovely old table but the top has had much use over the years and the veneer looks terrible. The top has been varnished as well. Can I gently sand the top and then re-stain and re-varnish? Any help or advice would be appreciated.
Thank you,
Lisa from Greece
Answers
October 2, 2007
0

found this helpful
Yes, you can refinish wood veneer. You just have to be a little more gentle than if it were solid wood. Do not let any water sit on it if you use a refinisher because it will lift the veneer. Do not sand very deep either, especially if the veneer is really thin. I have done many veneer pieces with no problems. Hope this helps.
Answer

this Question

...
My sister, brother, and I live together. Sis and I found a table we wanted in a used furniture store. When they delivered it and we could see it in good light we realized it was a disaster. We have to fix this or our brother will never let us live it down.
The table has has big whitish looking spots all over it. Nothing we have tried is working well. We did manage to get a few of the spots off but it took the shine off, too. Nothing we have tried will put it back.
There are tons of gouges and scratches down to the wood on the chairs in places it looks like they tried to saw hunks out of it. I sanded it smooth and put wood stain on it and it looks really good if you don't look real close.
It's been 3 days and the stain still feels tacky. We don't know if it is veneer or laminate and don't know how to find out. Please help us we are desperate not to have to listen to him for the next twenty years. Thank you so much.
By Granny Pat
Answer

this Question

...
July 19, 2013
0

found this helpful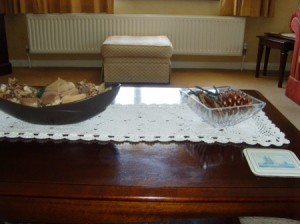 Our mahogany veneered wood table has a dull mark on it. I've tried cleaning with diluted white vinegar, but it hasn't improved it. Any suggestions?
By Tess from Market Deeping, England
Answer

this Question

...