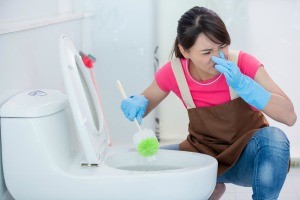 I just recently bought a house and did some updating by painting the walls. Now, I have this stench in my bathroom that I can't get rid of. I have tried a fan, leaving the door open, and Febreze. Nothing seems to be helping, but thankfully it is contained only in the bathroom. Please advise.
By Margaret McMeel from Houma, LA
Answers
Best Answer
Before you can fix the problem, you have to find out what is causing it. Check all the drains to see if the smell is coming from one of them, then check under the sink. A water or drain pipe might have leaked sometime in the past and caused water to get under the sink, into the floor.
Another possibility is where the caulking is around the bathtub, water could have got behind there. Or it could be coming from the bottom of the toilet where someone could have often "missed" and got urine under the toilet. Good luck in tracking it down.

Judi
Bronze Feedback Medal for All Time! 239 Feedbacks
July 2, 2009
0

found this helpful
Best Answer
I also think you need to find the source. You can look in drains, caulk, and around the toilet but I suspect you'll find the floor under and around the toilet to be the problem. You may need to reseat your toilet after replacing some flooring.

July 5, 2009
0

found this helpful
Best Answer
Something that hasn't been mentioned. I live in a 109 yr old rental house, and a lot of things aren't updated nor up-to-code!
Anyways, a plumber told me 2 years ago, while snaking out the old toilet, that the horrible stench I smell sometimes (not ALL time nor everyday), is the smell of sewer, because the tub has no trap! Heck it doesn't even have a drain plug! So it could be no trap, allowing back up sewer smells. It smells like an outhouse when it happens! Thank God it comes & goes. Time to get outta Dodge soon!

July 6, 2009
0

found this helpful
Best Answer
Once you found the source of the smell (I agree with one tip that you need to find the source of the smell first) use a can of Lysol spray preferably the original scent and not a flowery one. I could only find the spring waterfall scent, but it worked. It controlled a bad odor in the garbage bag until I had time to take the garbage out - spoiled can of dog food left out - and had forgotten about it because the odor was gone.
For some reason during a week or so between laundry day some kitchen towels and dishcloths kept under the kitchen sink got a musty smell to them. I sprayed the lot with Lysol including the container they were in and the house smelled fresh even before I collected them to put in washer. So when we finished all the fancy and more expensive and/or flowery odors we put a can of Lysol in the bathroom. We have a very small house and any odor is soon all over the house and this is the only spray that worked.
With the very hot temps we've had lately and we have the dog in the house in late afternoon and evenings spraying the bathroom after using the toilet each time is a good way to rid the bathroom of any smells and keeping him from being lured there to "potty". As soon as we spray he is not interested in the bathroom anymore, but is at first lured there with the smell or ammonia or other smell and my husband said we had to keep him from thinking it was ok to go in the house. Amazing for we never house trained him, yet he only drinks water and "potties" outside.
If you have a pet this would help there too. Our house had been empty for over two years and wish I had known this when we first bought it and saved a lot of money on sprays and things that didn't work. Good luck on finding the source of your smell.
Answer

this Question

I am smelling poop and urine coming from the toilet stool. I have cleaned repeatedly and changed the bowl wax. The smell is still there! I have used Liquid Fire, baking soda, ammonia, and other cleaners and chemicals to remove the odor, but I can still smell the odor in the hallway and the next room.
Please help!
Answers

Pghgirl40
Bronze Feedback Medal for All Time! 196 Feedbacks
March 31, 2020
0

found this helpful
Best Answer
If you are in a rental, I would have the landlord look into it. You could have a sewage gas issue.
If you are the homeowner, I would call a plumber. We had an issue like this with a drain and toilet in the basement and it was something with a back up of sewage gasses in the pipe about 50 feet from the house that caused by tree branches.
Post back what you learn.
Answer

this Question