Removing Body Odor Smell From Clothing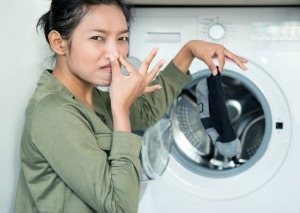 My 14 year old daughter has terrible BO. I just found a bunch of t-shirts that have been sitting in a pile for a long time. Most of them are black. I washed them with regular Tide detergent and they still stink terribly. Does anyone have any laundering advice? Will the vinegar take the black color out of these clothes? I need help. I have never had a BO problem, so I am at a loss. Thank you.
Kelly from Victoria, BC
Answers

March 20, 2009
1

found this helpful
Best Answer
The vinegar will NOT take the black out. My gram has used vinegar on my gramp's black pants for years and she says the vinegar actually keeps them black longer. As far as the smell, switch the vinegar to lemon juice. If you can't line dry, try not using dryer sheets because sometimes the scented sheets can smell sour. If you do use dryer sheets, make sure they are the same scent as the detergent.

March 21, 2009
1

found this helpful
Best Answer
Ditto on the baking soda. I use about a half a cup along with my regular detergent and it really does the trick. A bit of detergent and baking soda in a presoak also helps.
Borax is great for odors too, though you might check for color fastness first.

Louise B.
Silver Feedback Medal for All Time! 337 Feedbacks
March 22, 2009
0

found this helpful
Best Answer
Ammonia does take the color out of some materials. I used it on my kelly green bathroom towels, and now they are an olive color. DO NOT use ammonia on your black things. Baking soda should do the trick. Ammonia will take the smell out very well, but it does cause color fading, and don't believe anyone who says it does not. It is not as bad as bleach, but it will. Baking soda is much milder.
I have heard that vinegar in the rinse also works, but I have never tried it. Just don't use vinegar with ammonia or baking soda, as they neutralize each other, and all you will have is salt water.
Does your daughter have problem perspiration as well as BO? My sons did. One uses Mitchum as it works better than all the other brands, and another had to use a product called Drysol. Ask your pharmasist for advice.

March 23, 2009
0

found this helpful
Best Answer
I normally only use cold water to wash my clothes, but I have found hot water is sometimes needed to remove odors caused by the bacteria you are describing. Teens have extra oily skin and its more of a problem for them than for adults, imho. I'm sorry I didn't know about hot water to remove odors and grease when my kids were that age. It would have helped with their bedding. Good luck.
Answer

this Question
More Questions
Ask a QuestionHere are the questions asked by community members. Read on to see the answers provided by the ThriftyFun community or ask a new question.

My husband works outside a lot and sweats. I wash his jeans and they still have a faint smell of sweat. I have a front load washing machine, so I can't just add something to the rinse cycle. Anyone have any suggestions to get his jeans smelling fresh in a front load washer?
By Tara from NC
Answers

August 7, 2010
0

found this helpful
Best Answer
I agree with the poster who said to use one cup of white vinegar. I have a top loader, and not sure how well a front loader soaks, when we have smelly laundry, I fill up the washer, and put the vinegar in, then let the clothes soak over night, then spin that water out, then wash as regular.
If your front loader won't let you soak well enough, try putting the jeans in a five gallon bucket filled with water, and about a half cup vinegar.

August 11, 2010
0

found this helpful
Best Answer
Baking soda mixed in with the detergent or borax and detergent works wonders, also. I do the laundry for my mom and sister who are both in a nursing home and there are accidents and this totally takes out all of the smell and leaves them fresh smelling. I also have a front loader. Good luck!

August 11, 2010
1

found this helpful
Best Answer
Do you have a Sam's Club near you, and are you a member? Sam's sells a deoderizer called Odoban. It works for laundry, scrubbing floors, cleaning almost any surface. I have a front loader also and I just put a little in with the soap and let it go.
The clothes come out smelling so good. Also, I saw an episode of Myth Busters that said vodka gets the smoke smell out of laundry. I would think if it works for smoke it would work for sweat.
Answer

this Question
I have read all of your suggestions and also some of your questions. But none of you said if the clothes you have the odor problem with were white or colored.
My son loads and unloads planes for a living. Like most young men in their 20s (that live on their own) he comes home from work and throws stinky sweaty shirts in the laundry. By the time he goes to wash them the odor is impossible to remove!
Then he comes to me for an answer to remove the odor. I have suggested that he not put them in the laundry wet with sweat, but to hang them up to dry first. Even then the odor is still there, but not as bad even after washing. I thought it was the laundry soap he was using, but still I found that didn't really work to remove the odor. It just masked the odor making it so the next time he wore the t-shirt it smelled even worse once he started sweating.
His work shirts are blue and I'm worried that anything I use will cause bleaching or fading. That would be my worst nightmare knowing he only gets 3 to 4 t-shirts a month. So what is the best thing anyone has found to take the odor out and not fade colored clothing?
Thank you.
By Wendy W. from FL
Answers

October 5, 2013
0

found this helpful
Best Answer
I use white vinegar for cleaning most everything. Odors go away with white vinegar. I keep some full strength in a spray bottle all the time. Just spray some on all the stinky places and let them set awhile. I always add about 1/2 to 3/4 cup to every laundry load EXCEPT when using bleach. I also use white vinegar instead of fabric softener in the dispenser. All clothes come out soft. The vinegar smell does go away in a bit and sure smells better than stinky smells.

Lizzyanny
Bronze Feedback Medal for All Time! 226 Feedbacks
October 5, 2013
0

found this helpful
Best Answer
Try Borateem (Borax) My target odor is cat pee, but it works wonders. I use 1/3 cup in the wash cycle for a front loader. I also use vinegar in the rinse cycle. It will not fade colored clothes.
Answer

this Question

Joan
Bronze Feedback Medal for All Time! 174 Feedbacks
What is the best way to remove a strong body odor smell from a black wool sweater? Is it safe to use ammonia? Any suggestions would be appreciated. Thank you.
By Joan
Answers

January 11, 2012
1

found this helpful
Best Answer
Can it be washed in the washing machine on a gentle cycle? Some newer machines also have a hand-wash cycle. Ours does and I use it for machine wool sweaters all the time, adding a cup of vinegar to subdue those tough odors:)
Check the label on the sweater to see what the washing instructions are. A lot of the wool clothing can be machine washed now on gentle or the hand-wash cycle. The label should also tell you the highest water temperature the wool can stand without becoming felted. If the label is missing, try washing the sweater in cold water by hand in the sink or a basin.
Use a good quality detergent labeled for wool, then add a cup of straight vinegar to the rinse water. You may need to rinse it several times with the vinegar added to clear the odor the first time, then whenever you wash it again, remember to add at least a half cup to keep it fresh and really clean.
Nice thing about vinegar is that it disinfects, eliminates odors, and moves the detergent out of the fabric during the rinse, I always add at least a half cup to my laundry load.
Answer

this Question
White vinegar often works well to remove perspiration odor from clothing. This is a page about solutions for removing armpit odor on clothing.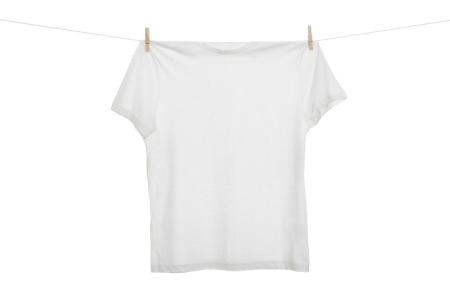 This is kinda embarrassing, but my husband's shirts, in the armpits, are very stinky even after I wash them (he's not, just the armpits of the shirts). This is a page about shirts with stinky underarms after washing.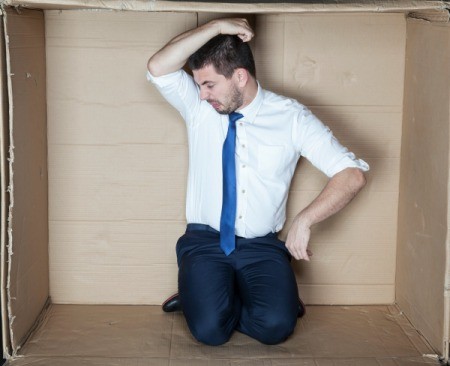 11 Archives
ThriftyFun is one of the longest running frugal living communities on the Internet. These are archives of older discussions.
Does anyone know how to get sweat smell out of clothing? My husband just returned home from serving in Iraq and the people in charge of doing laundry for the soldiers did a terrible job.
Read More...
Published by ThriftyFun.
© 1997-2022 by Cumuli, Inc. All Rights Reserved.
https://www.thriftyfun.com/Removing-Body-Odor-Smell-From-Clothing.html