I cooked a corn dog in the microwave and it burned. Filled the room with an acid smelling smoke. I can't tell you how many times I've washed out the interior of the microwave and it still reeks. Help!
Holly from Richardson, TX
Answers:
Removing Burnt Smell From Microwave
(submitted via email)

I read your message about your son and the kd bomb. My son has done the same thing. How did you get the smell out? I've tried vinegar and water with cleaning, and the smell is still there. I'm thinking I'll have to get another microwave. Kathleen (12/21/2008)
By jess_admin
Removing Burnt Smell From Microwave
The best thing to use is candle fragrance. You can order a small bottle of your favorite scent, put a small amount in a paper bowl, turn on microwave for about 2 minutes, then let bowl sit inside with door closed for about 15 minutes (potpourri would probably work just as well). (01/11/2009)

By tim
Removing Burnt Smell From Microwave
Couple of days ago my 10 yr. old step-son made a "grilled" cheese sandwich. The bread was frozen, so he put it in for SIX MINUTES. Vinegar didn't work. My microwave is yellow inside and still stinks. Lemon didn't work. Pet enzyme stuff didn't work. Every time we cook something it STINKS. I'll have to try the cloves, vanilla, and/or tea bags. I have to say burnt cheese and plastic (the plate died too!) is actually worse than burnt popcorn. (01/14/2009)
By Lea
Removing Burnt Smell From Microwave
My son Kyle burned not one, but two bags of popcorn in a row. Let me tell you guys, it is raunchy in our kitchen. What I've tried so far is mothballs, kitty litter, and a little cat pee. So far, no luck. Maybe I will try to use some wood chips and snowballs later on. I also find that Old Spice Deodorant works well. (01/19/2009)

By JAD
Removing Burnt Smell From Microwave
I am trying the vanilla method. I have a sign on my microwave "Luke may not use without supervision" (my 10 year old). I think I will keep it there until he graduates from college! (01/19/2009)

By Lisa H.
Removing Burnt Smell From Microwave
Once my partner and I were having guests over for dinner, he put a small bowl of rice in the microwave for a friend's baby and instead of pressing 2 min., he pressed 20min and left the room. Well we were all at the other end of the house and were only alerted by the smoke detector going off. The house smelled for days. Back to the main subject, I got the smell out of the microwave by putting a bowl of water with dish soap and a tablespoon of Borax. That stuff works for everything, really.
Linda (01/19/2009)
By lindaj448
Removing Burnt Smell From Microwave
I have burnt my microwave while making popcorn, the smell stunk and the walls were so yellow! After reading lots about it on the internet on how to fix the issue, here are 4 steps that worked very well for me:
1) Add fresh coffee grounds to a bowl with water and boil it at least twice (will get most of the odor off).
2) Then "cook" cinnamon or something else you like the smell of (will help get rid of the smell in the vents).
3) Clean the yellow dirty walls with cotton pads & nail polish remover (I used acetone based, but they say the acetone free works too).
4) Repeat step 2 as often as you need to fully remove the popcorn smell
I was about to consider buying a new microwave but gave it a chance trying this out and VOILA :) (02/12/2009)

By Ati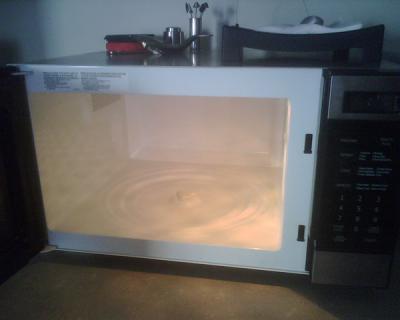 Removing Burnt Smell From Microwave
First of all, I really enjoyed all your stories. My story involves none other than me as the main character. Had a porcelain dish and then covered it with an ordinary metal cover with a plastic handle on top. And so I charged the microwave for a four minute 80% program and sat back down in front of the computer to do some work.
Well, suddenly there was this awful smell spreading in the kitchen. Then it struck me. First of all, metal and microwaves = no good combination. Second of all, the plastic handle on that lock is probably not a microwave certified one. So what did I get that master of science degree for? :) Cheers! (02/20/2009)
By James C.