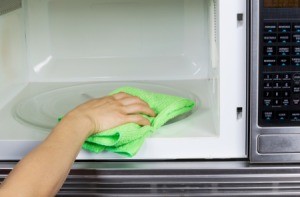 I burnt up plastic in my microwave. Now the walls are yellow and I cannot get rid of the horrid smell.
By CARRIE1964 from San Marcos, CA

Answers

February 21, 2011
2

found this helpful
I used acetone (from nail polish remover) right after I burnt the popcorn in the microwave..and it did the job!

May 7, 2013
5

found this helpful
I read all of these above and thought about getting some Acetone or Cutex. But, I keep Goof Off on hand. Goof Off will damage many plastics, but, the damage is usually limited to that of softening some of the color off non-white plastics. Since the original color of the inside of my 16 year old microwave that I've had for 15 years is white, and tonight, stained yellow, it shouldn't matter what Goof Off does.
I tried it on a small area and it immediately cut through the yellow without hurting anything else. So I proceeded with it. Goof Off worked! My 16 year old microwave looks almost like new with a nice and clean white interior. Didn't need to leave it on for more than 30 seconds, and kept clean white paper towels in hand to keep the Goof Off any other plastics of a non-white color.

March 27, 2014
1

found this helpful
Easy-off oven cleaner. Awful stains came off after about 30 minutes of soaking.

March 30, 2018
1

found this helpful
Where can I buy Goof Off to remove yellow stain from inside of microwave walls?

May 29, 2018
0

found this helpful
I tried using goof off and it does not work!

November 10, 2018
3

found this helpful
You are a genius!!! We purchased Goof Off and Acetone. The Goof Off worked like a charm and then we used Acetone. Thank you for taking the time to inform the public !!!!

December 30, 2018
0

found this helpful
I burned a bag of popcorn in my microwave and it left a yellow stain. I put non acetone nail polish remover in a small spray bottle sprayed the surfaces and wiped away with a paper towel.
It did the job and it's back to its original white color.
May 6, 2019
0

found this helpful
Don't leave oven cleaner on for more then 10min it will take the coating off and rust the metal, found out the hard way

September 28, 2019
0

found this helpful
Can i use goof off for badly burnt all over my microwave its almost orange

December 5, 2020
0

found this helpful
Sorry it didnt do it for you...It worked perfectly in mine!
Answer

this Question