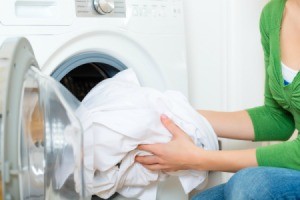 Almost every piece of white clothing I own has a mysterious yellow stain on it. I think it might be rust from the washer, but I'm not sure. The stains' are very small, but I notice them. Anyways, does anyone know how I can get them out?
Kristen from Tempe, AZ
Answers
By Crystal (Guest Post)
September 23, 2007
0

found this helpful
I recently used OxyClean to wash a wedding dress I purchased at a thrift shop. It worked like a charm. I am a true believer. I have a large container I had bought at a Costco a while back. I filled my tub 3/4 with water. I added about 2 cups of OxyClean and dissolved it. I then soaked my dress while I was at work. Came back, rinsed it and it was great! I know there are many stain removers out there, but I would definitely recommend OxyClean. =) Good luck!
By Roz (Guest Post)
September 23, 2007
0

found this helpful
It could be rust from the washing machine. Sometimes the tub gets cracked or damaged and will rust.

Marjorie
Silver Feedback Medal for All Time! 290 Feedbacks
September 23, 2007
0

found this helpful
Yes, they are from your washing machine because I've got the same problem. My DH's white undershirt has a yellow mark on the collar and I haven't figured out how to remove it yet.
By b (Guest Post)
September 25, 2007
0

found this helpful
Here's what I think is the "best" at removing rust stains from clothing: Simply wet the stain and apply a bit of ZUD cleanser from the can and brush it in with an old toothbrush or just rub the paste in. Wash as usual, and the stain will be gone!
I've done this for about 20 years with my kid's clothes that got rust from overall hardware, etc. Works every time!! You can find ZUD at the supermarket in the cleaning aisle, with Comet, Ajax, etc.
By Eeyore1950 (Guest Post)
September 25, 2007
0

found this helpful
Have you tried doing a load in your washer without clothes and running some white vinegar through it ? If that helps, use some 20 Mule Team Borax in each load after that. (That stuff is just wonderful !)

July 7, 2009
1

found this helpful
Well, I had this old, old white dress blouse that I liked to wear under my suits. I've had it for 6+ Years and back in the day I problems with sweating. Now my shirt had horrible yellow but I mean YELLOW pit stains. Not pastel yellow it was really yellow almost orange. (I know gross) I didn't want to get rid of it because I LOVE my blouse and I figured that since I wear it under my suits that I would be ok. So, yesterday I decided to do my own invention to try and get this stain out. I've heard some people tell me that Lime others told me Baking soda and vinegar so I tried all 3.
First I put Baking soda on the stains and then I put the vinegar (Next time I'll put vinegar first and then baking soda) and then I waited for it to stop bubbling and then I squeezed half a Lime into both pits and waited like 2 hours (I think it was more like I forgot that I had left the shirt outside he he he) I came back out took the shirt hand washed it with cold water and my detergent and put it outside to dry. I checked it like 3 hours later and VOILA! the pit stains were GONE! I couldn't believe it!
April 19, 2016
0

found this helpful
Salt and lemon juice scrub. Don't let it sit to long. Repeat if Needed
Answer

this Question

I have two pair of white pants that are older. They both have severe yellow discoloration on top of the pants as well as down parts of the legs. What can be done to make them white again? I have tried the tip about using a mix of baking soda/white vinegar. That did not help.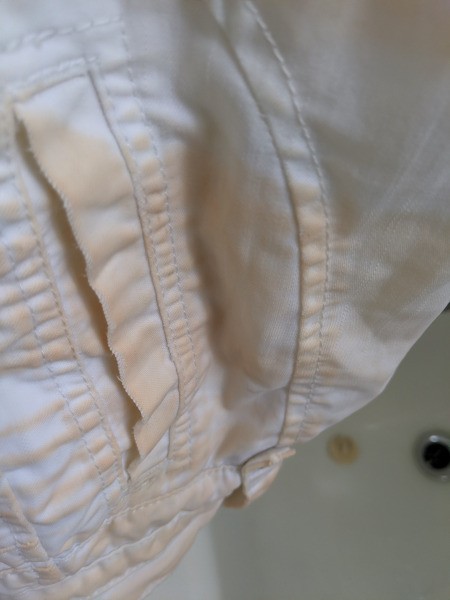 Thanks.
Answers

Judy
Gold Post Medal for All Time! 677 Posts
July 10, 2019
0

found this helpful
You could have a food or suntan lotion stain. Fill a 5 gallon pail with hot tap water. Add 2 T each hydrogen peroxide and dishwasher powder.
Soak overnight. Wash in the morning. Good luck.

July 11, 2019
0

found this helpful
Liquid Cascade will bleach out most stains, but it will weaken the fabric. My son's BF had a white chef's coat that was filthy, and he'd been washing it in hot water. When I told him it should be cold only, he said, "But it's whites!" I told him that meant sheets and towels (what do you expect from a 17-year-old?) He was living with us through the end of their senior year.
I worked on the coat for him, coating the stains (from an Italian place, so you can imagine the red ones) with Cascade. I'd let it dry and it would eat the stain. I might have had to treat some of them more than once, but when I got through, his chef's coat was pristine.
Just be warned, it will weaken the fabric. I've only done this in desperation when other things, like Stain Stick or bleach, don't work.

July 14, 2019
1

found this helpful
If these are stains from being in storage for a long time as you noted, I believe you can probably remove the stains by placing in direct sun.
Lay them out on a table - on a towel if you like - wet with plain water and keep putting water on the stains for 2 or 3 days. Leave outside if possible as the dew will also help to remove the stains.
I always use 2 tablespoons of baking soda in every wash of white and light colored clothes and it works better than any bleach to keep clothes white and bright - no fading and no wear on clothes.
Just add to wash with normal laundry detergent.
Answer

this Question