Removing Sunscreen Stains from Clothing
Solutions
Share on ThriftyFunThis guide contains the following solutions. Have something to add? Please share your solution!
Having freckly/fair skin I need to wear sunscreen every day. Some brands can leave a yellow/brown stain on light clothes. To remove this stain: moisten the area, rub with plenty of dishwashing liquid (I use a popular clear green type), and scrub with a nail brush if the fabric can take it. Then soak overnight and wash as usual. I've come across this tip only once, and it works so well it bears repeating.
August 20, 2012
5

found this helpful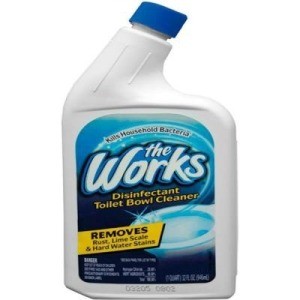 After reading all the comments about chemical reactions I decided to do a little experimenting myself. I found that The Works tub & shower cleaner takes out the stain. I spray it on wet or dry clothes, rub it gently and walk away for 5 minutes. When I returned the stain was gone. It's very inexpensive (under $2) and can be purchased at Walmart or Kmart. It works great on rust stains in toilets & tubs too! Their website is theworkscleans.com and you can enter your zip to find a store near you.
By Barb
Questions
Ask a QuestionHere are the questions asked by community members. Read on to see the answers provided by the ThriftyFun community or ask a new question.
How do I get stains from sunscreen out of my clothes? It also left stains on my enamel on steel bathtub.
Answers
November 5, 2017
0

found this helpful
Best Answer
With a little bit of pre treatment and some time it is possible to get sunscreen stains out of clothes
Step 1
First make sure the clothing is dry.
Step 2
Then take baking soda and sprinkle over the stain to absorb any excess oil. You will want to let it sit for about 30 minutes.
Step 3
Next dust off any remaining baking soda and take some liquid dish soap and rub into the stain, let it sit for about 5 minutes.
Step 4
Now you will need to mix 1 teaspoon of laundry detergent into a bowl of hot water and allow garment to soak in this mixture for about an hour. Rinse with hot water then launder as usual.
I would like to credit Michelle Manetti from StylelistHomewriter for sharing these instructions.
Answer

this Question

...
How can I get the orange stains from sunscreen out of white clothes? I cannot find Biz bleach, which was recommended for an enzyme pre-soak. I also tired The Works but the stains reappeared as soon as I washed the clothing.
By Gail from NY
Answers
August 14, 2010
0

found this helpful
Best Answer
Bar Keepers Friend: Thanks for the tip! I had given up on my new white blouse badly stained from SPF cream, but I followed the instructions provided on this site and I can wear the blouse again! Many thanks to all who alerted me to this product which I had in my kitchen. It also removes stains from bathroom sinks, rust stains in the toilet basin and of course, shines the stainless steel sink to look like new. You all saved me a great deal of money!
Answer

this Question

...
Archives
ThriftyFun is one of the longest running frugal living communities on the Internet. These are archives of older discussions.
December 3, 2010
1

found this helpful
Sunscreen seems to be staining my t-shirts around the neck and also the tops of ankle socks. I've tried pre-cleaners and bleach and still no luck.
By Nancy
Feedback:
Dawn
Try Dawn dish washing liquid. I just used it for the first time to get rid of human urine on decorative bathroom rugs. (05/16/2010)

By metroplex
My Stain Tests
I have had the same orange problem for several years. Recently I did my own experiment with sunscreens we have at home. As many others noticed any with avobenzone left dark orange stains. However Walgreen's Baby Sunscreen stick, Neutrogena Pure and Free Baby, and Coppertone Sensitive Skin left no stains even after washing. Their active ingredients are tianium dioxide or zinc oxide instead of chemical sunscreens. They do go on thicker and slightly white, but I think it's better than ruining all my clothes.

I think our hard water is part of the problem. I also think that clothes that have been washed in hard water will hold a small amount of that rust in the fabric because there was almost immediately an orange discoloration on the old white cotton sock I used for my experiment, the stains became darker after washing.
I have attached a photo of the sock I used in my experiment. Below is the meaning of the letters on the sock.
CTS = Coppertone Sensitive - SPF 50
NB = Neutrogena Pure and Free Baby - SPF 60+
WB = Walgreen's baby pure and gentle stick - SPF 60+
CTU = Coppertone Ultraguard - SPF 50
NU = Neutrogena Ultrasheer - SPF 70
MS = Meijer Sport spray - SPF 50
MK = Meijer Kids spray - SPF 50
By Shellie
The Works
I read many of the recommendations and tried "The Works" toilet bowl cleaner because I didn't have any of the bathroom cleaner. It worked instantly, no scrubbing needed! The stains just disappeared, even old stains that had been washed and dried multiple times. I went out and bought "The Works" bathroom cleaner and it worked just as well. I am so relieved. Don't try anything else, just go out and get "The Works" because it works!

By Bridget
July 16, 2010
0

found this helpful
I have recently returned from my holiday with white cotton clothing that is no longer white. The yellow color my whites have turned is thought to be sunscreen, but I'm not 100% positive. Does anyone have any suggestions that will help me?

By Tina Leeson from Dronfield, Derbyshire, England

Answers:
Removing Sunscreen from Whites
There is a product here in Canada called Yellow Out. I don't know if they sell it in the UK. Other than that, what about Vanish either the bar soap or the powder? I know it just about removes any stain. And there is the oldest soap I know,
Fairy Soap in the bar form. I would not try anything with bleach in it. It may yellow the stained areas even worse. I hope this has helped. (09/30/2009)

By lesley
December 7, 2007
0

found this helpful
I have a number of white cotton t-shirts that have orange and red stains around the sleeves and neck from what I could only imagine is sunscreen. These stains magically "appear" when I wash them. I use ALL Free detergent, borax, and vinegar in each wash. Anyone have any ideas on how to get these stains out?

Rebekah

Answers:
Bar Keepers Friend
I have the same problem. I use Bar Keepers Friend and have good results. It's a cleaner similar to Comet or Bon Ami. I usually wet the stained shirt, sprinkle with Bar Keepers Friend, work it in (sometimes scrubbing with a brush) and let it sit a few minutes, then wash it out in the sink. It works like magic! Warning: Be sure not to mix it with detergents or bleach.

I live in Oregon and use well water. Our water has a lot of iron/rust in it. I haven't noticed this before and wonder if it's due to some ingredient in the new sunscreen I've been using. It's Neutrogena Ultra Sheer Dry-Touch 45 SPF.

By Kelly
Whink
We have the same problem. Use "Whink" in the brown bottle and the stains will come right out with no scrubbing!

By Elizabeth.
Well Water
I just wanted everyone to know that I spoke to a lady at Coppertone, and she advised me that there can be a chemical type reaction between the sunscreen ingredient avobenzone (also known as Parsol 1789) and the minerals in the well water. I'm now trying a chemical free brand called Blue Lizard, and so far the "sensitive" formula has NOT caused any stains! Since it's chemical free, it is more expensive and harder to find but may be a solution for others!

By Kara
Soak Clothing Overnight
I don't have well water (our water is soft) and had the same problem this summer, especially on the t-shirts my son wore when he played tennis. He used Neutrogena Ultra Sheer dry-touch sunblock SPF 55.
For years I have used Biz stain activated booster powder (about 1/2 cup mixed in with half a dish container of water) to soak stained clothing overnight and it seemed to work pretty well on these stains as well. I always scrub the affected areas and try to make sure the stain is out before washing.

By Diane
Related Content