Sunscreen seems to be staining my t-shirts around the neck and also the tops of ankle socks. I've tried pre-cleaners and bleach and still no luck.
By Nancy
Feedback:
Dawn
Try Dawn dish washing liquid. I just used it for the first time to get rid of human urine on decorative bathroom rugs. (05/16/2010)

By metroplex
My Stain Tests
I have had the same orange problem for several years. Recently I did my own experiment with sunscreens we have at home. As many others noticed any with avobenzone left dark orange stains. However Walgreen's Baby Sunscreen stick, Neutrogena Pure and Free Baby, and Coppertone Sensitive Skin left no stains even after washing. Their active ingredients are tianium dioxide or zinc oxide instead of chemical sunscreens. They do go on thicker and slightly white, but I think it's better than ruining all my clothes.

I think our hard water is part of the problem. I also think that clothes that have been washed in hard water will hold a small amount of that rust in the fabric because there was almost immediately an orange discoloration on the old white cotton sock I used for my experiment, the stains became darker after washing.
I have attached a photo of the sock I used in my experiment. Below is the meaning of the letters on the sock.
CTS = Coppertone Sensitive - SPF 50
NB = Neutrogena Pure and Free Baby - SPF 60+
WB = Walgreen's baby pure and gentle stick - SPF 60+
CTU = Coppertone Ultraguard - SPF 50
NU = Neutrogena Ultrasheer - SPF 70
MS = Meijer Sport spray - SPF 50
MK = Meijer Kids spray - SPF 50
By Shellie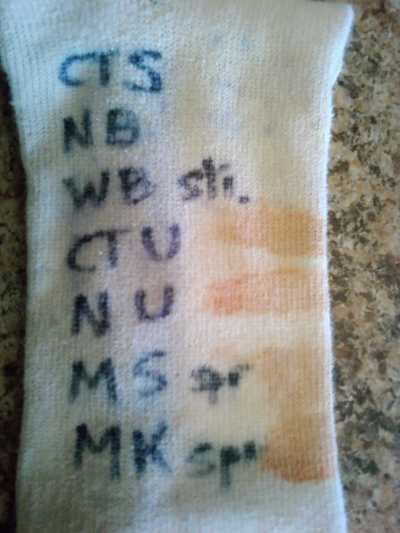 The Works
I read many of the recommendations and tried "The Works" toilet bowl cleaner because I didn't have any of the bathroom cleaner. It worked instantly, no scrubbing needed! The stains just disappeared, even old stains that had been washed and dried multiple times. I went out and bought "The Works" bathroom cleaner and it worked just as well. I am so relieved. Don't try anything else, just go out and get "The Works" because it works!
By Bridget