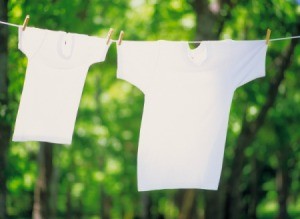 My husband just got a brand new white dress shirt. While he was getting dressed, he noticed that he got a tiny spot of blood on his collar from shaving. He didn't want to change, so I took him in the bathroom and dabbed it with peroxide, which got the blood right out. The problem is that the area that I put the peroxide on, is now yellow.
I tried shout, oxiclean and even the combination of dishwashing soap, bleach, and hot water. The shirt says to only use non-chlorine bleach, but the rest of the shirt in super white, it's just the spot that I put peroxide on. Does anyone have any suggestions?
Lisa Monit
Answers
By Terry (Guest Post)
May 10, 2007
4

found this helpful
Best Answer
Here's what worked of me. I dribbled some peroxide on a favorite white cotton cami to get out perspiration stains and hung it out on the pool towel rack, thinking Florida sun would help. Well it yellowed.
I soaked it for five days in regular detergent, I used Tide and cold water, changing the water and soap every day until it came out. And it did. It's pure white now!
It's like bleach on white laminate countertops, it will come out eventually with soap and water. Patience is the key.
Answer

this Question
I used hydrogen peroxide to remove a stain from a white shirt and it turned the fabric yellow. How do I get it white again?
By Yvonne
Answers

September 12, 2011
0

found this helpful
Try denture cleaner, prepare according to instructions for dentures and just soak the part where the stain is. I know this works for cloth that is yellowed by age, so maybe it will work on a yellow stain.

September 12, 2011
0

found this helpful
You might check out Rit Dye. They make a product that takes all color out of an item, rendering it completely white. If your blouse has any colors on it though, it would also take these colors out.
I've never tried it yet, but I want to, on some stained white bath towels whose binding turned yellow from using powder bleach in the wash water. Good luck!

September 13, 2011
0

found this helpful
There is a product in the laundry isle called Mrs Stewarts "bluing". It also works on white clothes that have become grey and dingey over time. Works well.

Louise B.
Silver Feedback Medal for All Time! 337 Feedbacks
September 13, 2011
0

found this helpful
I would find out what material you are dealing with. If you have rayon or something like that, it will not stand the same sort of stain treatment that cotton will. I suspect this shirt is not just cotton or polycotten, as peroxide does not turn cotton yellow.
It may also not have completely removed the stain, and that may be the yellow residue. To be truly helpful, here, we need to know the type of fabric the shirt is, and what the original stain was.
May 5, 2016
0

found this helpful
I had a tiny spot on the color of my 100% cotton blouse and poured peroxide on the spot, the spot disappeared and now I have a huge yellow spot ....so looks like I ruined the shirt.

August 20, 2017
0

found this helpful
I tried bleach right away and it worked!!!!!
July 15, 2018
1

found this helpful
I have a 100% cotton tshirt that turned yellow with HPeroxide
August 28, 2018
1

found this helpful
Oh yes it does! I have 100% cotton sheets, put some peroxide on and in sun and BAM! it's yellow!

August 5, 2019
0

found this helpful
I use hydrogen peroxide for most of my whites especially blood stains .. it eats it right out of any carpet or fabric .. however, I was disappointed when it did turn an all cotton white expensive shirt yellow.
I tried wetting the yellowed area and pouring table salt on top, letting it dry and soaking it. Nothing worked. I'm going to try some of the soaking with white vinegar and powdered borax.
Answer

this Question
I tried to remove a stain from a white t-shirt by using hydrogen peroxide, then setting it in the sun. The stain seems to be gone, but anywhere the peroxide was, the shirt turned yellow. Is there any way to get the yellow out caused by the peroxide?
By Kimberly A.
Answers

(Guest)
Gold Post Medal for All Time! 846 Posts
August 1, 2011
0

found this helpful
What kind of fabric blend is it? 100% cotton or is it mixed with another fabric fiber? I've never seen hydrogen peroxide do that to a cotton fabric before, white or not.
Perhaps it was because you put it out in the sun while the peroxide was on it?

March 7, 2014
0

found this helpful
I have had the privledge of the same thing happening. A nice pair of white capri jeans (cotton & 2% spandex) turn yellow in the sun after peroxide use. Are they toast now? I have washed them several times now and they still remain yellow.
November 28, 2015
0

found this helpful
We are trying a combination of white vinegar & baking soda to remove the peroxide stain from a white karate uniform. We used the peroxide to get out a dried in blood stain.
Now we are trying to fight the yellow. It seems to be lightening the yellow spot as we speak, we are on the second time.

February 11, 2018
0

found this helpful
Try white toothpaste, take a generous amount and a toothbrush you dont use and try scrubbing the stain out that way. Make sure you use a pure white toothpaste otherwise your just making another stain.
June 4, 2019
0

found this helpful
It will do same with100% cotton. Im dealing with it now on my white cotton slip covers. Got blood on cushion and now have a yellow peroxide stain. Im using white vinegar and soaking in cold water (4x). Its still there but is slowly fading. Any other suggestions?
Answer

this Question

I have a sports bra. I am not sure the fabric (maybe rayon) that had a tomato stain on it I treated it with Oxiclean. It didn't get the stain out so I put hydrogen peroxide on it and put it in the sun and now there's yellowing where the hydrogen peroxide is.
Any suggestions on how to fix this?
Answers

July 23, 2019
0

found this helpful
Place your workout bra on a towel on a table in the sunshine and wet it for several days and you may have success.
Make a mix in a pint (or 2 liter soda bottle) of plain water with 1 or 2 teaspoons of blue Dawn and keep wetting your bra until the stain lightens.
I think it might work.
Leave out overnight if possible for dew also helps remove stains.

Pghgirl40
Bronze Feedback Medal for All Time! 196 Feedbacks
July 23, 2019
0

found this helpful
I would alternate letting it sit overnight in a bucket with 1 cup of white vinegar and 3 cups of cold water and the method cybergrannie gave you. This should be the one-two punch needed to get rid of it.
I works well with cotton, rayon may be the wild card.
Hope you it works for you!
Answer

this Question