Hydrogen Peroxide really does clean your dirty suede/buck work boots. It makes them look almost like new. Pour the hydrogen peroxide in a small bowl, grab a stiff brush and clean cloth, and start cleaning up those waterproof boots. This really does work, and work very well.
My boots were so dirty from wearing them out in the yard for gardening, etc. that I thought I was only going to be able to wear them around the yard only. I was wrong! My boots look almost new, now that I cleaned them with H2Os/3% strength. I even change the shoe laces and replaced them with speaker wire. My friends and family are shocked by the transformation. Do it folks! You won't be sorry.
Source: eHow.com
By Joyce from Bloomfield, CT
Comments
March 7, 2015
0

found this helpful
Top Comment
I used this last night on grease soaked toes of suede boots. I used peroxide and a suede brush and a new white clean towel. Dab the area with peroxide, brush with suede brush. Repeat 4 times.
Finally, apply more peroxide, then pour baking soda over it and let it set for 12 hours. Shake off baking soda and brush it in all directions. No stain! I thought they were ruined but they are looking great!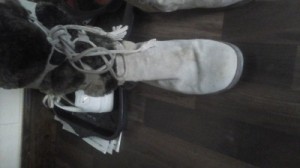 March 7, 2015
0

found this helpful
Top Comment
After you remove the stains, spray them with suede protectant and water proof spray. Must do this!
February 12, 2011
0

found this helpful
Excellent tip-I have suede boots that have salt stains from winter&I never would've thought of hp to clean them,they're my favorites but look so bad-thank you! My mom's going to love this one too,esp since her weakness is shoes,I know she'll be at it all weekend. Happy V-Day.
February 12, 2011
0

found this helpful
This one is new on me. I wonder if it works as well on boots that have been waterproofed? I have a pr. of suede Ugg-type boots that have gotten grimy.
I wonder if I would have to waterproof them again after cleaning? I will wait until they are really dirty to try this, but it's nice to know for all my suede shoes. Hmm, will it fade dye?
Read More Comments