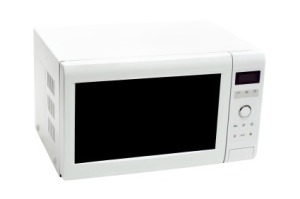 Here are several ways to clean a burnt microwave.
Simple Green
Did you leave that microwave popcorn in there too long? Do you have a brown, yucky mess? I did too! I tried one tip that barely worked, then I remembered using something to clean off the soot on the inside of my wood stove window: Simple Green.
Yes, it's simple and it's in a green can. I like the fact that it's also non-acidic, non-toxic, and bio-degradable. And boy does it work! I used it to get off the brown stains in my microwave from really OLD popcorn. I sprayed it on, waited 2 minutes (if that), and wiped with a paper towel and that was it. No more brown stains! Hallelujah for Simple Green.
By Dustie Jackson from Tuscola, TX
Acetone
The finger nail polish remover, acetone, to remove the yellow burnt stains works! Also, using it direct on a flat cosmetic swabs worked best, believe or not. Use your knuckles in the swab and quick strokes with the swab worked best. It will take a few times over, but now it looks like brand new.
By Robert
Fingernail Polish Remover
I first cleaned a lot of the yellowing off with laundry detergent, but the smell was still there. I didn't use acetone, but I did use fingernail polish remover... mine was non-acetone. It worked on the rest of the discoloring, and on most of the smell! (In just a few minutes. I'm steaming with some of the vanilla, just because I like that smell better.
By George
Removing the Odors
Grandma burned some previously cooked chicken in the microwave, attempting to recycle it for the dog. Bad idea. Came home to billows of smoke and ghastly smell. The house cleared with airing and orange oil air fresheners. The microwave was more difficult. I cleaned the stains with nail polish remover (thank you!) followed by baking soda and water baths. Boiled vinegar (some better), followed by boiling water with lemon oil and vanilla several times a day. Everything helps a bit, but if it doesn't clear in another day or two, will soon be microwave shopping.
By Linda
Freshly Ground Coffee
I have had this problem numerous times, mostly from burned popcorn, but today, from a burned brownie (the kind that come with microwaveable meals, I cut out the section with the brownie one day when I didn't want the brownie, and saved it for later, but when I tried to cook just the brownie portion today, I didn't adjust the cook time, and voila, instant house filled with thick smoke that smelled like pure burnt sugar).
I tried everything, from vinegar with baking soda to Windex to orange scented cleanser to Pine-Sol, and nothing worked to kill the lingering smell inside the microwave. I refused to admit defeat, because it's a brand new microwave! I'll save my rant about the popcorn button on it for some other forum, let's just say, the only way I can cook popcorn without burning it is to underpop the stuff. The microwave is too powerful for it's own good, and even reducing the power level doesn't help, because then the popcorn stops and starts popping a lot, which results in disaster.
Finally, I thought of something: Coffee absorbs odors! I put two tablespoons of freshly ground coffee into a ceramic coffee cup, and added enough water to bring it to about half full. When you do this, be sure to sit the coffee mug down into a microwave-safe ceramic or glass bowl or something, because it boils over all over the place). Put that in the microwave and nuke it for about two minutes (long enough for it to boil all over the place, or preferably into the bowl). It will splash out around the microwave some, but that's a good thing in my opinion!
Open the door, carefully remove the bowl and mug (carefully! It was boiling a second ago, remember?!) and sit it gently down into the sink to cool. Immediately wipe out the microwave with a damp cloth or paper towels, and if you have a pool of liquid in the bottom of the microwave, use a handful of paper towels to soak it up so you don't get any on yourself and burn yourself.
After you've wiped it all clean, poke your head in and smell the inside of the microwave. Smell anything other than a little coffee smell? Repeat if you need to, I had to do it twice, but the smell seems to be gone now!
I also wiped the inside down with some windex afterward to be sure I got all the coffee to prevent coffee stains.
By Lisa S.
Read More

Comments