Cleaning a Burnt Microwave
Questions
Ask a QuestionHere are the questions asked by community members. Read on to see the answers provided by the ThriftyFun community or ask a new question.
March 16, 2013
0

found this helpful
I was heating a dry towel in my microwave and the towel burnt and left burn marks on the inside of the microwave. I put baking soda and vinegar inside to take away the odor. It doesn't have an odor unless I have something something in for longer than 5 minutes, then the microwave has that burnt smell. I'm sure it's because I can't get the burnt marks off. I've tried a baking soda paste and even a soapy Brillo pad, but I just can't get the stains off. Is there anything short of buying a new microwave that someone could suggest?
By Nancy W.
Answers
May 26, 2014
0

found this helpful
Best Answer
We had a burn mark in our new microwave due to a small metal tie around a package of frozen hamburger rolls. We tried all the products we learned on the internet. Nothing worked. I then remembered the Quixx scratch remover I had bought for a scratch on our car. I followed the directions and it really removed the burn mark and all the discoloration. We were amazed.
Answer

this Question

...
October 13, 2000
0

found this helpful
I burned popcorn in my microwave and the inside is now stained yellow. Does anyone have any ideas on how to get this out?

Laurie
Answers
By guest (Guest Post)
April 28, 2006
1

found this helpful
Best Answer
Acetone will take care of the yellow stain.
Answer

this Question

...
How do I clean a microwave oven that had a burnt popcorn melt down? There are lots of yellow areas that look horrible.
By Laurie
Answers
March 17, 2011
0

found this helpful
There are a few things you can do. A 2 tablespoons of ground coffee in some water and mix it in a bowl ( 1/2-2/3) the way full or use fresh coffee you've already made in a cup put it in the microwave for a few minutes (let it boil over. It will spill clean it. You may need to do this twice but coffee removes Odor. It should work.
But if you don't want the mess of that, get a product called simple green (at Walgreens and most hardware and home improvement stores) spray it, let it sit for a few minutes and wipe clean. Also nail polish remover will get rid of the yellow stains.
Hope that helps!
March 19, 2011
0

found this helpful
I wouldn't use acetone around a heat source, that could be very dangerous! To remove odors, put a couple of tablespoons of baking soda in a bowl with a cup or two of water, and let it go on high for about 5 mins. This should help take the smell away. Remove the bowl carefully! Now your oven is nice and moist, and will be easy to wipe down with a bit of vinegar and/or lemon juice. No chemicals, no cost. By the way, a plain bag of popcorn is so much cheaper and healthier, not to mention you can flavor it in so many ways if you do it yourself on the stovetop.
September 10, 2016
0

found this helpful
Microwave is yellow inside how do I clean it
Answer

this Question

...
Solutions
Share on ThriftyFunThis guide contains the following solutions. Have something to add? Please share your solution!
July 6, 2017
0

found this helpful
When food gets burnt in a microwave it can leave behind a strong burnt odor that can be challenging to remove. This page shares advice about removing burnt smell from a microwave.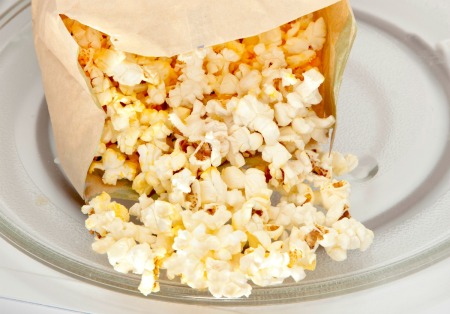 June 4, 2007
0

found this helpful
Here are several ways to clean a burnt microwave.
Simple Green
Did you leave that microwave popcorn in there too long? Do you have a brown, yucky mess? I did too! I tried one tip that barely worked, then I remembered using something to clean off the soot on the inside of my wood stove window: Simple Green.
Yes, it's simple and it's in a green can. I like the fact that it's also non-acidic, non-toxic, and bio-degradable. And boy does it work! I used it to get off the brown stains in my microwave from really OLD popcorn. I sprayed it on, waited 2 minutes (if that), and wiped with a paper towel and that was it. No more brown stains! Hallelujah for Simple Green.
By Dustie Jackson from Tuscola, TX
Acetone
The finger nail polish remover, acetone, to remove the yellow burnt stains works! Also, using it direct on a flat cosmetic swabs worked best, believe or not. Use your knuckles in the swab and quick strokes with the swab worked best. It will take a few times over, but now it looks like brand new.
By Robert
Fingernail Polish Remover
I first cleaned a lot of the yellowing off with laundry detergent, but the smell was still there. I didn't use acetone, but I did use fingernail polish remover... mine was non-acetone. It worked on the rest of the discoloring, and on most of the smell! (In just a few minutes. I'm steaming with some of the vanilla, just because I like that smell better.
By George
Removing the Odors
Grandma burned some previously cooked chicken in the microwave, attempting to recycle it for the dog. Bad idea. Came home to billows of smoke and ghastly smell. The house cleared with airing and orange oil air fresheners. The microwave was more difficult. I cleaned the stains with nail polish remover (thank you!) followed by baking soda and water baths. Boiled vinegar (some better), followed by boiling water with lemon oil and vanilla several times a day. Everything helps a bit, but if it doesn't clear in another day or two, will soon be microwave shopping.
By Linda
Freshly Ground Coffee
I have had this problem numerous times, mostly from burned popcorn, but today, from a burned brownie (the kind that come with microwaveable meals, I cut out the section with the brownie one day when I didn't want the brownie, and saved it for later, but when I tried to cook just the brownie portion today, I didn't adjust the cook time, and voila, instant house filled with thick smoke that smelled like pure burnt sugar).
I tried everything, from vinegar with baking soda to Windex to orange scented cleanser to Pine-Sol, and nothing worked to kill the lingering smell inside the microwave. I refused to admit defeat, because it's a brand new microwave! I'll save my rant about the popcorn button on it for some other forum, let's just say, the only way I can cook popcorn without burning it is to underpop the stuff. The microwave is too powerful for it's own good, and even reducing the power level doesn't help, because then the popcorn stops and starts popping a lot, which results in disaster.
Finally, I thought of something: Coffee absorbs odors! I put two tablespoons of freshly ground coffee into a ceramic coffee cup, and added enough water to bring it to about half full. When you do this, be sure to sit the coffee mug down into a microwave-safe ceramic or glass bowl or something, because it boils over all over the place). Put that in the microwave and nuke it for about two minutes (long enough for it to boil all over the place, or preferably into the bowl). It will splash out around the microwave some, but that's a good thing in my opinion!
Open the door, carefully remove the bowl and mug (carefully! It was boiling a second ago, remember?!) and sit it gently down into the sink to cool. Immediately wipe out the microwave with a damp cloth or paper towels, and if you have a pool of liquid in the bottom of the microwave, use a handful of paper towels to soak it up so you don't get any on yourself and burn yourself.
After you've wiped it all clean, poke your head in and smell the inside of the microwave. Smell anything other than a little coffee smell? Repeat if you need to, I had to do it twice, but the smell seems to be gone now!
I also wiped the inside down with some windex afterward to be sure I got all the coffee to prevent coffee stains.
By Lisa S.
January 29, 2017
0

found this helpful
Cleaning products used in a microwave can leave stains and odors, if the oven is inadvertently used prior to rinsing them off. This is a guide about cleaning chemicals burnt into microwave.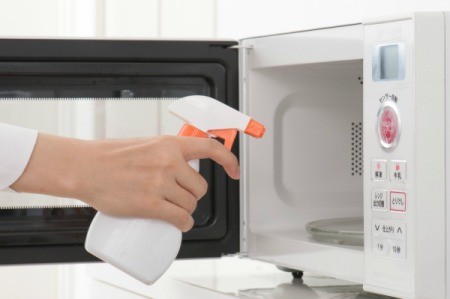 Thanks for all the great suggestions. Vinegar and lemons didn't really help. Neither did the coffee. A Hot Pocket burnt to charcoal as was the plate.
On hearing the suggestions to cook food, I popped four bags of popcorn and right now anyway, that's the predominant smell. I am also perking coffee on the stove below. The house now smells like popcorn and coffee, far better than burnt charcoal. I'm going to continue to pop popcorn and get some bacon to cook. Also I used an erase away pad on the yellowed interior. It is almost perfect. I will get Simple Green. Thanks again.
By betray
January 28, 2003
0

found this helpful
My son tried to burn up my Microwave the other day with microwave popcorn. It has been almost 1 month and I still can't get the smell out of my microwave. I've cleaned, scrubbed it. I even put a lemon in water and turn it on for 1 minute increments. It didn't help. I would appreciate any and all helpful hints. Really am getting tired of the smell.
TIA,
Karen in PA
Answers:
Vinegar
Put a bowl of vinegar in the microwave and turn it on so that it will steam, probably 1 or 2 minutes depending on your machine. Let it sit in there for 10 minutes and wipe it out with clear water. It seems to really help. Also make sure any removable parts are run through the dishwasher or washed well. Hope this helps. (01/28/2003)
By Susan
Baking Soda and Water
I used the water/baking soda combo for 2 increments of 2 minutes each. The smell isn't that strong anymore, and it also helped me wipe away what the cleanser couldn't get. Thanks for the tip! (02/13/2005)
By redcatt
Water and Lemon
How can you get rid of that disgusting BURNT POPCORN smell in the microwave? Pour 1 1/2 cups of water into a large microwave-safe bowl. Then add 1/2 sliced lemon & 4 to 7 cloves. Bring to a boil and let sit in the microwave for at least 10 minutes. Take out and leave the door open for a while so it can air out. THis should work. (04/20/2005)
By Gallagher
Vanilla and Boiled Water
Tried the vanilla and water boiled for 3 minutes. Then wiped at out with bleach and water. Thanks for the help jockocheeze. (07/02/2005)
By OD
Acetone
One word, Acetone. The power of the carbonyl group is wonderful (for the organic chemist out there!) (08/20/2005)
By john
100% Pure Acetone
So our babysitter tried to burn the house down with a bag of popcorn a week ago. So far nothing had helped until I read this discussion thread. The boiling of water and baking soda didn't seem to do much. However, I found 100% pure Acetone (nail polish remover) at Albertson's and it seems to have helped remove the yellow stains. It's not as white as new but a major improvement. I used a sprayer from another cleaner bottle, after rinsing it clean, and that helped spread the acetone. I sure hope this helps the smell too. Careful because acetone is some strong stuff, make sure your windows are open and fans are on.
http://en.wikipedia.org/wiki/Acetone (11/12/2005)
By Kerry Brown
Comet
I used Comet, the scratch free kind in the yellow container, wet a paper towel or 2, poured the Comet on and burnt stuff came right off. The reason I'm on this site however is the smell. I think I have a few tricks now after reading some of your suggestions! Hope one works!(02/03/2006)
By Christie
Acetone
I came here this afternoon to ask the same question about a yellow/brown stain from popcorn in my microwave. I got a new microwave two years ago today. About a week later I tried out the "popcorn" button that was supposed to be pre-programmed for a store-bought bag of microwave popcorn. Well, instead of yummy popcorn, I got a burning mess that left a brown/yellow stain on the whole left inside wall of the oven.
I was really upset! I tried everything, oxiclean, bleach, baking soda, you name it. The smell went away within a few days of cooking, but the stain lasted. I had a service guy here from the manufacturer for another problem with the microwave and he said "Oh, you'll never get rid of that popcorn stain".
As I said, I came here today to ask about getting rid of the stain. I tried acetone and it worked! I used cotton balls, a sponge and then a "scotch-brite" pad (the green nylon things that don't scratch) and it's gone! My microwave looks as good as new!
Thank you so much for the suggestions here and to whomever keeps this board/site running. What a great resource! By the way, when the stain was all gone, I soaked a washcloth with vinegar and wiped all the inside surfaces with it. Then I used some soap and water on the inside surfaces. I let that dry, then did the little trick with the vanilla and the inside smells fresh, no harsh odors, and the food cooked in the microwave came out smelling/tasting "normal".
Thanks again! (02/19/2006)
By CK
Acetone Worked for Me, But Don't Inhale It!
I got 100% Pure Acetone in a clear 16 oz bottle from Wal-Mart for $1.97. You can see the burnt spots dissolve into the fluid when you pour it on. But I'm dizzy from inhaling it. It takes about 30 minutes, so be well ventilated like in the garage or shade outside. Don't smoke. (04/12/2006)
By Bob
Acetone
I tried everything and nothing worked until I used Acetone. I even tried carburetor cleaner, engine degreaser and NON-flammable break cleaning fluid. I think the regular flammable break-cleaning fluid might work. Acetone is flammable also, but it dries (vaporizes) fast. Wet cloth the microwave with water anyway. (04/12/2006)
By Bob
Acetone Warning
Inhaling Acetone warning:
http://www.worldofmolecules.com/solvents/acetone.htm (04/12/2006)
By Bob #3
Simple Green
I tried microwaving some old carmel popcorn (didn't realize how old it was) & followed directions for 4 1/2 min. on high. Well none of it popped, but did turn my house into a smoke factory & my microwave oven into a brown mess inside. I tried the 1 cup water & vanilla thing & helped a little. Then I remembered my SIMPLE GREEN spray that I used to clean soot off of my wood stove. IT WORKED GREAT!! I just followed the can directions and waited 2 minutes and all of the brown came off without scrubbing, I think it will also help with the smell. This Simple Green is non-acidic, non-toxic and bio-degradable. (07/26/2006)
By Dustie
Archives
ThriftyFun is one of the longest running frugal living communities on the Internet. These are archives of older discussions.
June 11, 2009
0

found this helpful
The inside of my microwave got very burnt, a microwave rice cooker burnt to cinders. It is very brown and burnt on the inside. What can I clean it with to get rid of the burnt look?

Patricia from Miami, Florida
Answers:
Cleaning a Burnt Microwave
I used a vinegar, water, and lemon juice spray first then scrubbed the hard to get off spots with a paste of baking soda and water using a toothbrush. It worked pretty well. I then left a bowl of baking soda in the microwave for a few days, that helped with the smell. (06/20/2007)
Coffee, Simple Green, and Nail Polish Remover
I wiped down the microwave with the nail polish remover 5 times and with Simple Green 2 times. They helped with the cavity of the micro, but not the air ventilation system, where the burnt smell stays. I tried the coffee grounds idea and did it twice for thoroughness. I have no more smell. The coffee method did leave a coating of coffee inside the cavity, but I just Windexed and wiped, and now I'm good as new. (09/16/2007)

By Matt
Cleaning a Burnt Microwave
As far as the odor, put it outside for a couple of days. This worked for us when our daughter burned Canadian bacon in ours. (11/03/2007)

By Donna
Cleaning a Burnt Microwave
After burning up a bag of popcorn, the stench was horrific. I thought I'd surely have to just replace the microwave. So, I tried the acetone. Took the yellow right off. Then I put a couple tablespoons of coffee in a mug, filled it half full of water; set that in another microwave bowl and let it go for 2 minutes on high. Smell is gone now too. I merely wiped it out with a damp soft towel and all is well in microwave land again. Thanks to all of you for your suggestions. (02/17/2008)

By FlyGirl
Cleaning a Burnt Microwave
OK, so the acetone works well inside the microwave, but the smell didn't seem to be leaving the area. I realized it was because the vent fan circulated the burnt popcorn smell as well. Turning the fan on to high and sending some Febreze mist right into the intake (bottom of microwave above the stove top) seems to do the trick if you keep spraying some in every 5 minutes or so. (06/25/2008)
Cleaning a Burnt Microwave
I well-overcooked the microwave popcorn. Thanks to all for the finger-nail polish remover. The microwave was badly yellowed and the nail polish did the trick. We used non-acetone and it worked just fine. For the smell, we heated the cut lemons, but still had a smell of hot lemon and nail polish smell, so I added some Cascade dishwashing liquid with lemon scent, just a few drops into the bowl with the lemons. Now we've got a clean detergent smell. Hope this last step helps someone else. PMV (07/14/2008)

By PMV
Related Content