How do I remove white rings from wood furniture?
Mary from Oak Park, CA
Answers:
Removing Drink Rings From Furniture
Thank you Dave! I was removing an ink stain from a piece of clothing with rubbing alcohol when I left the bottle of alcohol on my dining room table. It left two white rings that would not come off with mayo. I tried the "Dave" method of ironing a dry kitchen towel over the stain and Voila! it came right out. You are awesome, Dave. Thanks. (08/02/2006)
By Linda
Removing Drink Rings From Furniture
Raele, as you can see "Dave" is our Hero. Be sure to read our Assistant Hero "Two Ens" procedure also. (01/20/2007)

By Cheryle
Removing Drink Rings From Furniture
OH MY GOSH! I just got off the phone with my mom and she told me about the ashes trick, but I didn't have any ashes so I tried the iron trick! UNBELIEVABLE! It totally worked! Yahoo! Thanks SO much! (01/21/2007)
Removing Drink Rings From Furniture
The iron and cloth seems to have worked on three individual tea stains on my modern teak dining room table. However, now I have some slight shadow type lines from the outline of the iron, the front part that's shaped like a cone.
Any ideas on how to remove these would be appreciated. (01/23/2007)

By Norman
Removing Drink Rings From Furniture
Wow! I can't believe how well the iron and cotton worked! I had about 12 heat rings on my wooden table and now they are gone! Amazing. You just need to make sure to keep the iron moving a reasonable amount as when I didn't move the iron very much the varnish melted on a small patch of the table and some cotton stuck to it. Even with that, it looks so much better than before! Dave, you are a Star! (01/26/2007)
By Louisa M
Removing Drink Rings From Furniture
The iron and towel thing works on laminate tabletops too! I was really nervous, especially because it's not solid wood, but after cooling cakes on the table and leaving massive filmy splotches I had nothing left to lose. It is spotless! (01/27/2007)

By Brigid
Removing Drink Rings From Furniture
DO NOT LIGHTLY SAND! After trying the hairdryer, mayo, etc., my husband told me to forget it because the polyurethane finished table would have to be professionally refinished. So I lightly sanded the areas (feeling I had nothing to lose) trying to remove the white places. THEN I READ THIS POST!

The iron worked in less than 5 min. on SEVERAL terrible heat marks! Amazing! The only thing you can faintly see now is the light sanding (darn it!). I finished with some wax & it is good as new! THANK YOU! (02/05/2007)
By Bridgette
Iron and a Cloth
Dave, you are a life/table saver! I didn't think there was any way this could work (how could heat fix damage caused by heat?) but it did, perfectly. Just start with iron on medium and slowly increase the heat until you get into the right range. Our teak table is good as new! someone give Dave a prize. (02/11/2007)

By Ted
Removing Drink Rings From Furniture
I read all of the wonderful remarks about removing white rings from wood. CAUTION! I tried the iron and cotton towel method on my Stickley cherry finish table and am sick about what happened. The table now has streaks where the iron went back and forth and it also removed some of the finish. (02/15/2007)

By Marge
Removing Drink Rings From Furniture
I just bought a new faux antique coffee table on Sunday, it's beautiful! So I was HORRIFIED to see the white ghostly mark today when I got home from work. I actually cried, even swore a little.
I borrowed mayo from a neighbour and it worked like a dream. Thanks, genius! :) (02/21/2007)

By Dena
Removing Drink Rings From Furniture
The Warm Iron worked in a few seconds. I am so amazed! I left the iron in one place for about 10 seconds and the pattern of the cloth transferred to the table so go very slow. (03/14/2007)

By Manuel
Removing Drink Rings From Furniture
Dave, I love you!
I just spent a firstly tentative and then delerious half hour getting four huge white marks off my previously beautiful mahogany table. (which only yesterday my mother said I'd have to get rid of as it looked terrible).


It looks as good as new I am so excited I want to call my mother up right now, but it is six am so best not.

Better still than that I have a lovely little nest of tables that were also destined for the dump, because the aforementioned mother was ironing beside them, left the iron on the ironing board to cool and water ran out of it and blanched the whole corner of one of the tables. 10 minutes of patience with the iron and tea towel completely removed the whole stain even round the fancy edges.
Furthermore one of the marks I removed from my dining table had been on it since I bought it second hand 18 years ago and I have always had a plant pot sitting over it. Can't wait to see her ladyship's face when she sees it. Off to polish now, I am just a bit happy! (03/18/2007)
By Alie.
Removing Drink Rings From Furniture
I'm renting a furnished apt. in France. They had this horribly ugly, stained yellow table cloth on the table and when I removed it found a gorgeous vilas dining table. But....I did my ironing on it and left huge white blotches! Dave, thank you so much. I thought I'd have to pay for a new table but your trick worked wonderfully. I also found you had to use a thin cloth working my way from a med to a higher setting.
Thanks again! (03/26/2007)

By Kristy
Removing Drink Rings From Furniture
Way to go, Dave! It works well! My husband and I will recommend this to everyone! You saved a maple dining tablet and 2 leaves! Thank You! (04/30/2007)
By Kit
Removing Drink Rings From Furniture
Ate dinner on paper plates. Left a white blotch. Used Mayo on it and presto! White blotch gone.
Thx (05/24/2007)

By Anonymous
Blow Dryer Removes Heat Spots From Furniture!!
It has been many months since we ruined our beautiful Mid-Century Rosewood table by not putting adequate protection beneath hot dishes and food. We had at least 4 white spots on the table - our favorite piece that we own. We tried the toothpaste trick but it did nothing. We were told it would have to be refinished.

My husband read the suggestion to use an iron. We couldn't get the moisture out of our iron and suspected it might make matters worse sine it was heat and moisture that left the whites spots in the first place. Then last night I was steaming some veggies for dinner and when the timer went off the steam from the steamer left a wet white mark on the kitchen cabinet above the counter where the steamer was.

I ran to get the blow dryer. Put it on high heat and watched as the moisture was pulled out of the wood and the color returned to normal. My husband took the blow dryer from my hand and went to the table. I thought it had been too long but had we thought of that months ago when it first happened it would have worked. I was wrong.

The spots are gone! Just use the attachment that directs the air flow to a narrow stream (used for straightening your hair). Put it on full force and high heat. Its amazing! I'm thrilled! (see before & after pictures) (06/09/2007)

By MAP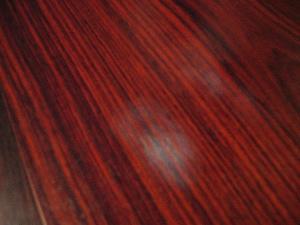 Blow dryer Removes Heat Spots From Furniture
Here's the after photo: (06/09/2007)

By MAP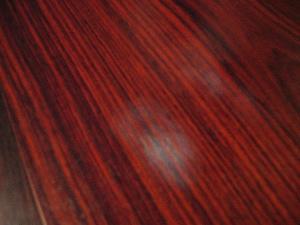 Removing Drink Rings From Furniture
Tried the Iron and a dish towel on a cherry dining table. I warmed the towel up for a few seconds keeping it moving, then turned the steam on for a second to transfer the heat, then removed the towel to wipe the spot as it cooled.

It took a few times, and in 5 minutes I removed a 4x8 spot and a few cup spots. My wife's guilt for causing the spot melted away. I'm sure it will happen again so I will get a before and after pic then. (06/14/2007)

By Steve
Removing Drink Rings From Furniture
We have a beautiful collectible wooden dining table, and after only 6 months it had 5 white heat rings from coffee mugs, and casserole dishes. I tried the mayo and ash with hair dryer a few times but it didn't seem to work for me, and then we did the steam iron with white t shirt trick and within seconds each ring vanished!

We did it very, very quickly and checking progress often, as we didn't want any further heat marks from the iron. The marks just disappeared so quickly, I would strongly recommend this technique! Watch the utube that was posted on this forum, very insightful. Thanks! (07/21/2007)

By Liz A
Removing Drink Rings From Furniture
I've just bought a mahogany dining table off ebay which was full of large white spots. Did the iron & white cloth with no success. As a last resort before sending it to the french polishers I rubbed T CUT on the white spots, after a few attempts the white spots vanished & the table is like new.
Colin/Manchester (07/26/2007)

By Colin/Manchester
Removing Drink Rings From Furniture
Blow dryer worked pretty well and quickly. Used it on high about 2-3 inches from the surface. Still have a little ghost of the ring that looks like a texture change in the finish. I'm gonna go back with the mayo or furniture polish and see if that finishes the job. Learning point--don't underestimate how hot your bowl is when it comes out of the microwave! (08/05/2007)

By Tony in Nashville
Removing Drink Rings From Furniture
Wow! The iron and t-shirt works wonders. I have a solid cherry table that will seat 14 people. Needless to say it has seen a lot of family dinners. A family member set a paper plate on the table he had just removed from the microwave. The mark left was almost the size of the plate. I was heart broken. Found this column and went right to work.

The entire blemish is gone! And, I was able to remove a smaller one left there over 9 years ago by a hot pizza box. Not only am I thrilled with the results, but the family member who left the plate on the table is also very excited. He's been looking for a furniture re finisher! Thank you! (09/03/2007)

By NiteGeni
Removing Drink Rings From Furniture
I left a paper cup on my nightstand made of wood with a marble top and it left a huge white ring. I felt bad about it because it looks terrible and also the nightstand was a birthday present. I tried soap and water. Didn't work. I just used the mayo suggestion and it looks like it worked. Amazing! Thanks for the suggestion. (10/21/2007)

By Jeni
white spots on oak dining table
I had friends over for poker, we had hot soup in paper bowls, we had napkins under the bowls. To my unhappy surprise, there were white spots on my new table. I used the towel and hot iron--they are gone Thank you so much! (11/04/2007)

By Barb F.
Iron and a Cloth
Dave , you are the man who has save me. I made a heat ring on some furniture we have had for 20 odd years and I was not in wife's good books. Tried your iron and towel and it worked a treat.
Thanks. (12/04/2007)

By Allen
Removing Drink Rings From Furniture
Hey, I cannot find the instructions for the towel and iron method for getting the white ring off a dresser. Can anyone help? E-mail me at donna AT futureforwardcreations.com. I appreciate it! (12/20/2007)

By donnalou
Removing Drink Rings From Furniture
Hi Donnalou,
I think you're referring to "Dave's" method, which is around 40 posts down. Also, be sure to read "Two Ens" information also (around 49 posts down). I'd suggest to keep the iron moving in a circular motion, don't let it rest, and check under the T-Shirt or soft Cotton dish towel as Dave states. Check it at 6 to 10 seconds to see how things are progressing by lifting everything up and away from the wooden table top. Watch the dry heat on the iron, don't' put a really hot iron down on the cloth to start out with but carefully raise the heat.

"Mary's" method of Mayo (41 posts down), "Kyle's" method of Baking Soda and Toothpaste (36 posts down), and the awesome pictures from "Map" and her husband's Blow dryer method are some of the major posts on attacking the dreaded white spot. All of the posts are from kind people who have taken the time to help with important information about the various procedures and results. And "Fan O' Dave's" post will put a smile on your face. (12/21/2007)

By Cheryle, Longview, TX
Removing Drink Rings From Furniture
Just tried the iron and cloth method on my girlfriend's stained birch dining table - BRILLIANT! No more white ring and no more girlfriend moaning about her lovely table being ruined every time she walks past. (01/01/2008)

By Phil
Removing Drink Rings From Furniture
I am utterly astounded! The iron and cloth method really works. I thought my dining table was ruined and would have to be refinished. I had tried the mayonnaise technique and toothpaste and neither worked. The most difficult thing about this is working up the courage to place a thin piece of cotton cloth between your table and a very hot iron! Praise God that He gives us simple solutions to everyday problems. (01/21/2008)

By Sheryl
Removing Drink Rings From Furniture
Dave, are you single? I think I want to marry you. My teak coffee and dining tables owe you their lives! All it takes is the nerve to take an iron to your beloved tables. Bless you man! (01/22/2008)

By tweetlady
Removing Heat Stains From Furniture
Dave, this is a marvelous solution which just saved me from having to get a French polisher out. Over the phone he was banging on about having to set it a light, so really pleased I trusted your advice. Thank you (02/03/2008)

By Julian
removing white heat marks from furniture
Tried the hairdryer trick and worked a treat, was so proud of my self so I called my family and shared this fantastic remedy! Thank you! (02/03/2008)

By Susan
Removing Drink Rings From Furniture
Magic, simply magic! Thanks Dave! (see Dave's post below, copied for convenience, hope you don't mind Dave :)

Iron and a Cloth
Keep it simple, quick and clean. It may sound counter-intuitive but, just use a hot iron on dry heat and a dishtowel. Place a soft cotton dishtowel over the area of the tabletop containing the heat ring(s) and apply the iron to the towel surface, moving the iron over the affected area. With sufficient heat, in about 20-30 seconds, the rings will disappear like magic! Gets rid of the accidental grey coffee mug rings from my cherry dining table (that even form through the tablecloth) every time! (03/18/2006) By Dave

(02/07/2008)

By Another Fan-o-Dave
Removing Drink Rings From Furniture
I left a hot cup on a cherry table that had been left to my husband by his mother when she died and it made a really bad white ring. I felt really awful and my other half was upset about it, then I read about Dave's cloth and iron trick. I have to say I was skeptical but after trying everything else I gave it a go and it has come up like new. Thanks Dave you are a life saver. (03/19/2008)

By Tracy
Removing Drink Rings From Furniture
Thanks my daughter made a hot drink and put her cup on my mahogany sideboard tried the iron trick worked beautifully. No need to upset the wife. (04/12/2008)

By Ian
Removing Drink Rings From Furniture
After reading all the responses I decided to try Dave's method for removing drink rings from a Dining Room table. I was astonished to find it worked on lots of marks on the table. It took a lot of nerve to try it. I held the very hot dry iron on the cloth over the mark for 30 seconds and hey presto. However, make sure you use a cloth with no pattern such as a pillowcase otherwise if you hold it in place a touch too long the pattern may be transferred. (05/01/2008)

By Tess
Removing Drink Rings From Furniture
I have a white heat ring on my dining room table that's been there for awhile. I tried orange oil on it and some of the ring came off, but not all of it. Can I still use the iron method or is the ring set now that I've used the orange oil? --Thanks (05/07/2008)

By Julie
Removing Drink Rings From Furniture
IT WORKED! Much to my surprise, the hot iron and soft white cloth did the trick at removing the numerous white spots and rings on our kitchen table. Have tried other hints, like the mayo, even heard milk would do it, and also vinegar. Nothing! But in a matter of a few seconds with the hot iron on each spot, I had a "new" table! Just stumbled onto this web page looking for a remedy. AND THIS WORKED! Thanks! (06/12/2008)

By LaNell
Removing Drink Rings From Furniture
Wow! I am in the process of moving, and while dishes are all packed heated up a soup in the micro. Panicked, as we have sold the furniture with the house, I googled up this website. Thinking "it can't get any worse". I used the iron/t- shirt method. Rings are gone! Thank you for sharing your stories, b/c if I had simply read the idea I would've been beyond terrified to try ironing my white rings! Take Care. (06/19/2008)

By melanie s.
Removing Drink Rings From Furniture
Had a surprise pizza party for my husband's birthday. My surprise was a huge white patch on my dining room table from a hot pizza box. I tried the iron and towel method described but with only minimal success. Probably because some folks had run their fingernails over the spot to see if it would come out but only made it worse. So I tried the equal parts non-gel toothpaste and baking soda applied with fingertips. I worked beautifully. Especially on the part of the patch that had not been disturbed by fingernails. Thanks to everyone for their input.
(07/17/2008)

By Deb
Removing Drink Rings From Furniture
Dave your method iron and cloth worked great. I've had these ring marks on my bedroom furniture for years, spent a fortune on various substances to remove them, 20 secs with the iron and cloth and they're gone. (07/23/2008)

By Mike
Removing heat marks from table
I had a huge heat mark on my dark brand new table from a pizza box. I was so heartbroken! I tried the blow drying method and it didn't work for me. I tried the iron method, at first with a thick dishcloth and pretty high heat. It didn't work. I tried a thinner dishcloth and higher heat, the mark disappeared in seconds. I'm so glad! :) (07/29/2008)

By Emilie
Removing Drink Rings From Furniture
Dave's simple but magic remedy worked for me also, instantly. I was getting berated over a white coffee cup ring and as we do these days I said I know there would be a way, I will look it up on the web. I read all this thread and noted some negatives however maybe the iron too hot and not moved around.

I noted the obvious hints like keep the iron moving over the mark, gentle pressure, check every 6 to 10 seconds, dry iron, increase the heat a little if it does not work. Mine took 10 seconds and gone. Thanks to Dave (08/02/2008)

By Murray
Removing Drink Rings From Furniture
Amazing, had the same problem with a pizza box, and in seconds the stain from my NEW coffee table has disappeared. Thanks! (08/04/2008)

By Ann-Marie
Removing Drink Rings From Furniture
It's a miracle! I thought we were toast but this did the trick. Dave, thank you, thank you, thank you. (08/19/2008)

By Marsha
Removing Drink Rings From Furniture
HOORAY! Hairdryer worked -slowly- on expensive table. Didn't have the nerve to try the iron, but probably would have worked, too. Thank you, thank you.
(08/25/2008)

By Sheryl